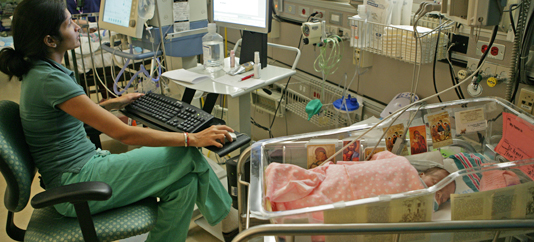 The 50-bed Neonatal Intensive Care Unit (NICU) was opened in 1997. It provides a wide range of newborn services specially tailored for individualized care of extremely premature neonates and newborn infants requiring medical or surgical intervention.

A full range of pediatric consultants attracts the transfer of sick infants from multiple hospitals. Comprehensive surgical care is provided by general, cardiothoracic, urology, plastic, maxillofacial facial and neuro-surgery physicians. The Department of Pediatrics offers consultation by all pediatric subspecialties.

NEWBORN CARE

An active newborn service with 6000 deliveries per year includes an extensive infertility program and high-risk obstetrics. Prenatal counseling during high risk pregnancies is provided in a close collaboration with obstetricians and perinatologists.

Healthy newborns are cared for in the family centered "well baby" newborn nursery. A seven-bed Continuing Care Nursery is a part of the larger Well Baby Nursery and provides care for healthy infants with minor medical problems.
Prenatal Counseling and High Risk Pregnancy Care
The Perinatal Center at Weill Cornell is an internationally recognized facility in fetal diagnosis and counseling. The Center is dedicated to offering multidisciplinary, high quality, state-of-the-art care in one location for both the mother and fetus/newborn.

For more information, visit the Komansky Center's Newborn Medicine page.


Contact
525 East 68th Street
N-506