Coming Soon: Paperless Billing
Beginning January 10th, 2022, all active Connect patients will transition to paperless statements. Based on your communication preferences, you will continue to receive notifications when a statement is available to view and pay in the Connect patient portal.
Online Bill Pay
Paying your Weill Cornell Medicine bill online is easy. We accept all major credit cards: American Express, Discover, Mastercard, and Visa.
Please do not use gift cards as they will not accept a refund if a refund is required.
Already a WCM Patient?
You can pay your bill by logging onto our patient portal, Weill Cornell Connect.
Pay Bill As Guest
If you don't have access to Weill Cornell Connect, you can still pay your bill online.
What You'll Need
You'll need two pieces of information from your statement:
Guarantor account number
Guarantor last name
Sample Statement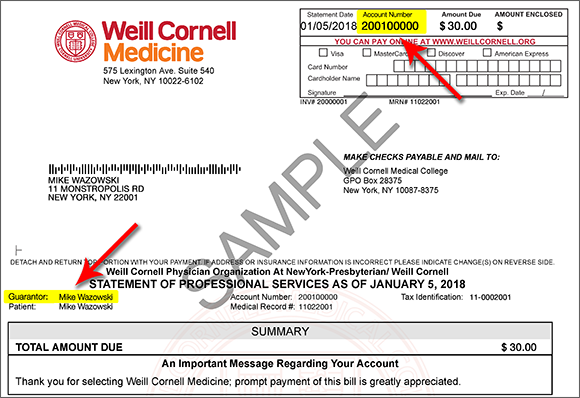 Need More Help?
If you have additional questions contact our billing office.