Living kidney transplantation has a rich history at NewYork-Presbyterian/Weill Cornell Medical Center.  Our Transplant Program is constantly growing and changing, incorporating the latest innovative strategies that allow us to maximize transplant opportunities for all patients that come to us seeking transplantation. This also translates to advancing the care of the living kidney donor. 
The Weill Cornell Transplant Program has one of the nation's largest experiences with living donor kidney transplantation, being the largest living donor kidney program on the East Coast and is the second-highest volume program for living kidney donation in the United States over the past several years.
We have a dedicated team of specialists whose sole function is to care for the living donor and to ensure that the donor's best interests are protected. The transplant recipient team cares for your potential transplant recipient separately. The health and emotional well-being of the living donor is the first priority of the Living Donor Kidney Center.
At our transplant center, kidney donors are managed by the same group of professionals from the moment they step forward as a potential donor through the follow-up that occurs years after donation — and every step in between.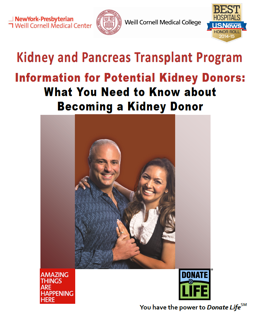 Download our living donor booklet, "What You Need to Know About Becoming a Kidney Donor" which contains additional important information about the living kidney donation process that potential living donors receive during their evaluation. 
All potential donors must be evaluated for donation by a living kidney donor team that functions completely independently of that of the transplant candidates' team.
The job of the living donor team is to protect the potential donor not only their physical health, but also their psychosocial, emotional and socioeconomic well-being and personal preferences. 
The Donor Team exists to ensure that the potential kidney donor:
Is not himself/herself at high risk for developing kidney disease, usually caused by chronic health problems such as high blood pressure, diabetes, and obesity, either now or in the future
Does not feel coerced into donating
Is not putting himself/herself at psychosocial, emotional, or socioeconomic risk by donating