A Transplant Patient's Peak Experience
March 1, 2023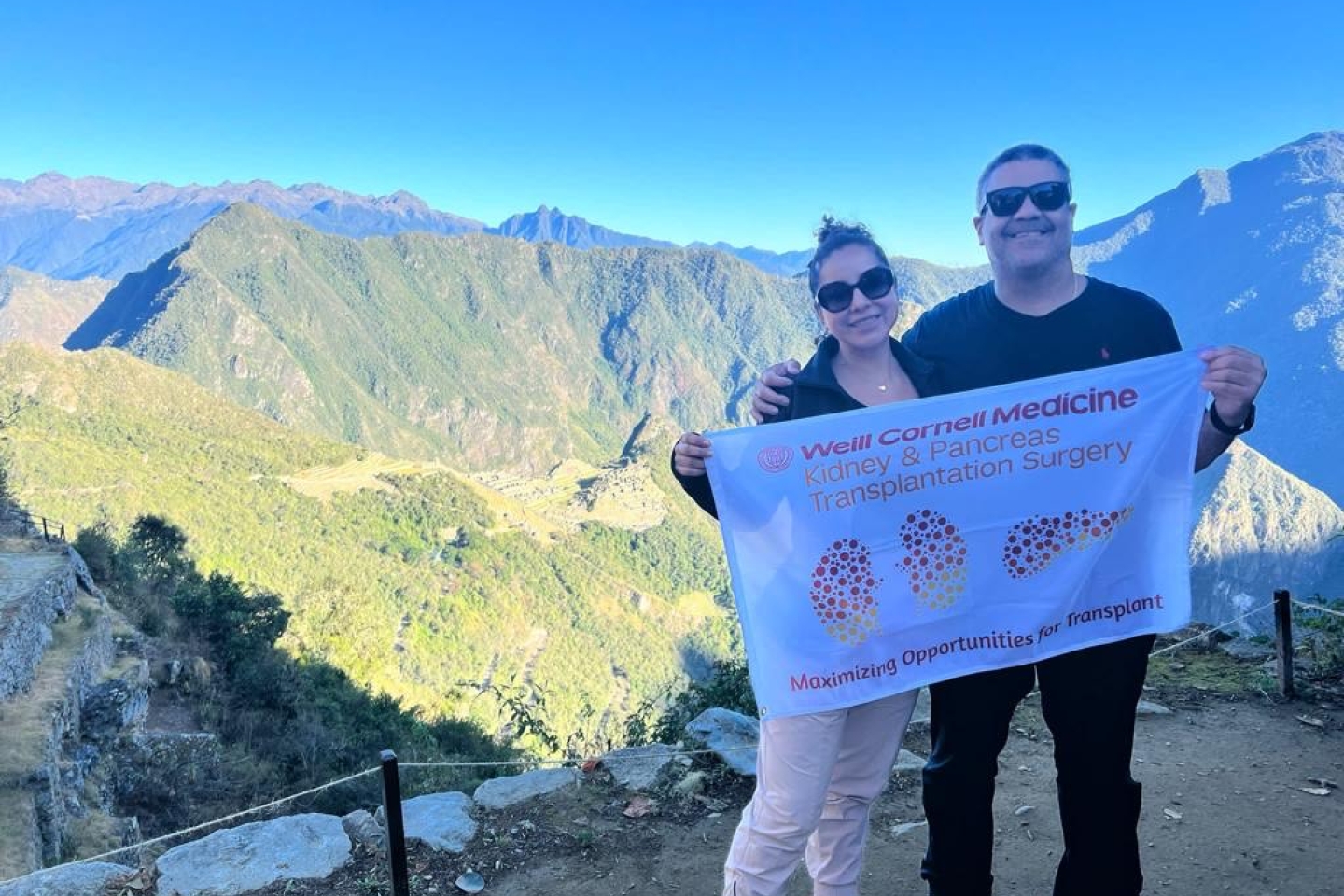 In 1993, newly married and hopeful about his future, Hector Sanchez told his wife, a nurse, about a long-standing problem. Since his teens, he had periodically seen blood in his urine. She urged him to see a specialist, and he followed her advice. Hector will never forget the nephrologist—Dr. Morton Kleiner, formerly at NewYork-Presbyterian Hospital—who treated him with compassion and diagnosed his condition: IgA nephropathy.
Dr. Kleiner explained that the most common reasons for kidney failure are diabetes and long-standing high blood pressure. Hector did eventually develop high blood pressure, but that did not lead to kidney failure in his case. Instead, IgA nephropathy would cause his kidneys to deteriorate. Twenty years later, they'd stop working altogether.
Before and after a kidney transplant
IgA nephropathy is a rare disease—also known as Berger's disease—that occurs when a particular protein builds up in the kidneys over time, causing inflamation and damage, explains Dr. Sandip Kapur, chief of transplant surgery and director of Weill Cornell Medicine's Kidney and Pancreas Transplant Program. The National Institute of Diabetes and Digestive and Kidney Diseases (NIDDK) describes IgA as an antibody made by the immune system to protect us from foreign invaders, such as certain bacteria or viruses. But in IgA nephropathy, the body produces too much of a good thing.
Fast forward to December 2018, when Hector, then 51, had a kidney transplant at NewYork Presbyterian Hospital. "I was afraid of what might happen after surgery," he says, "but I walked around the floor 24 hours after the procedure, and 10 days later, I was discharged from the hospital.
"At first," he continues, "I felt like an 85-year-old. That's how weak I was. But I went back to work after 6 or 7 weeks, and by April, I started traveling again"—travel being a requirement of his high-stress Wall Street job.
It has been a bumpy ride, Hector admits, what with other health problems slowing his recovery, including a severe case of COVID-19 just two years after transplant surgery. Never one to let the small matter of an enlarged aorta, knee surgery or even COVID get in his way, he jumped back into his demanding life as soon as his doctors gave him the green light.
A self-described overachiever
Hector describes himself as "intense," whether at work, at home or in his spin class. And he traces that quality—some of us might call it "grit"—to his upbringing as the son of low-income Puerto Rican parents, both factory workers. "When I was a kid growing up in Staten Island, all five members of our family would sleep on one big mattress," he said, recounting his quintessentially American story of struggle, determination and success.
And he has passed these traits on to his children. His son is in medical school, where he's studying to be an anesthesiologist, and his daughter recently earned her doctorate in physical therapy.
In addition, Hector is a global citizen, having lived in Australia, Brazil, Colombia, Mexico, New Zealand and the UK for 1 to 2-year stints as part of his job. It makes sense that post-transplant, he would dream about another kind of travel that would take him to the top of a fabled mountain in Peru.
To the mountaintop
For many years, long before his transplant surgery, Hector used to imagine climbing Machu Picchu.
That sought-after destination is almost 8,000 feet above sea-level. The United Nations Educational, Scientific and Cultural Organization (UNESCO) calls Machu Picchu one of the "greatest artistic, architectural and land use achievements anywhere and the most significant tangible legacy of the Inca civilization," as well as a UNESCO-designated Historic Sanctuary.
"Some people discouraged me from even considering the climb because of my weight, which has fluctuated between 225 and 270 pounds," he says. Undeterred, a little more than 2 years after his transplant, he started making plans to realize his dream.
Seven of his closest family members ended up joining the intrepid transplant survivor in what proved to be the adventure of a lifetime. On July 15, 2022, the group landed in Cuzco by way of Panama and Lima, took a 4-hour bus ride to the foot of the mountain, and started their hike in earnest on July 18.
"There were no bathrooms, and it was raining. I was also a little daunted by the prospect of climbing the 75,000 steps built by the Incas long ago. And the steps aren't the same size. No exercise program can prepare you for that!"
On the second day, Hector hit his stride. He developed a method for climbing at his own pace: "I'd climb 30 to 40 steps, take a short break and then climb another 30 or 40."
His guide confessed that he was sure Hector would turn back. Clearly, though, he didn't know who he was dealing with.
The entire group made it to the top. Hector proceeded to plant the Weill Cornell Transplant flag there and took a selfie with the majestic mountain towering behind him.
Advances and achievements
Dr. Kapur was not surprised to hear about his patient's bold achievement. Others have challenged their physical and psychological limits after a transplant, running marathons and excelling in team sports. Still, Hector's climb remains uniquely inspiring as an example of what's possible in the aftermath of a kidney transplant, he says.
Dr. Kapur joined Weill Cornell Medicine's transplant team in 1998. That's when the pace of progress in the field started to quicken, he recalls.
Earlier, patients desperate for a kidney transplant had to wait for a deceased donor to come along, preferably one who would be compatible with the recipient's blood type and other factors. That could take from 5 to 8 years, during which the patient would likely be on dialysis.
Then, a major innovation came along that has dramatically increased the donor pool and reduced waiting time to a fairly brief interval: the live donor program.
Approximately one third of patients who come forward with potential living donors are incompatible with them. Patients can turn to treatment options that may help to overcome those incompatibilities, but a better option is often available: "exchanging" donors with someone else who needs a kidney but also has an incompatible donor.
Kidney Paired Donation (KPD) facilitates these exchanges by connecting patients and their incompatible donors to other mismatched pairs. The donors in each pair effectively switch places, increasing the chances of a favorable match and allowing a transplant to take place. As the founding center of the National Kidney Registry, the Weill Cornell Medicine Transplant Program has led the national effort in making use of paired donation, advanced kidney donation and the exchange process to maximize identification of the best possible transplants for our patients.
"Patients in need of a kidney are virtually guaranteed to receive a high-quality organ from a healthy living donor while avoiding the ravaging effects of dialysis," says Dr. Kapur.
Evaluations of donors and recipients are kept completely separate to avoid bias and protect privacy. "No one is pressured to become a living donor. The decision remains the individual's choice all the way through. But it's a beautiful event when it happens," Dr. Kapur says—as it did when Hector's ex-wife gave him her kidney.
For detailed information about Weill Cornell Medicine's Kidney Transplant Program and how the process works from start to finish, visit weillcornelltransplant.org.
To Machu Picchu and back
Hector's sense of accomplishment was almost as great as the impact on his psyche of the stunning world wonder he had encountered, climbed and communed with during one unforgettable week in July. "Some people visit Machu Picchu seeking its magical powers or even a miracle. But I didn't need to wish for more than I already had. Everything—my life, my world, my family, my very self—felt like enough."
The first person Hector saw as he approached the top of the mountain was his brother Nelson. The two men embraced, and Nelson said: "Now you can rest."
But resting is not Hector's style. The whole group returned stateside on July 25, and the very next day, Hector was in spin class.
To learn more about Weill Cornell Medicine's Kidney and Pancreas Transplant Program or to consult with a surgeon, please visit weillcornelltransplant.org or call 212-746-3099.
Clinical Service
Practice
Physician