The Transplant Program at Weill Cornell Medicine and NewYork-Presbyterian has been a national leader in the innovative and advanced programs that have resulted in the expansion of opportunities for transplantation. Some of these strategies are described below.
Donor Exchange
For patients with a willing but incompatible living donor, the recipient and donor have the opportunity to enter a donor exchange program.
At Weill Cornell Medicine and NewYork-Presbyterian, we partner with the National Kidney Registry.  The recipient and donor are entered into a database and are matched throughout the United States with other incompatible donor and recipient pairs at other participating transplant centers.
When suitable matches are found, the kidney from the donor that matches the recipient is sent to our transplant center for the transplant. The incompatible donor donates to the person in the exchange program for whom they are the best match.  Compatible donor/recipient pairs can also participate in donor exchange to seek a better genetic or age-matched transplant.
Special interrelated programs called the Advanced Donation Program (ADP) and Voucher Program are other innovative ways to maximize transplant opportunities through donor exchange. 
The Advanced Donation Program (ADP) is a kidney paired exchange separated in time. There are two types of ADP cases:
Short-term cases, where the intended recipient is on dialysis or is in imminent need of a kidney transplant
Voucher cases, where the intended recipient is currently not in need of a kidney transplant and may never need a transplant. 
Both types of ADP cases allow donors to donate their kidney before their intended recipient receives a kidney. Some ADP donors have donated just a few months before their intended recipient was transplanted (short-term cases). Other ADP donors have donated 20 years or more before their intended recipient is expected to need a transplant (voucher cases), with the hope that their intended recipient will never need a transplant. 
Watch this beautiful patient story below that highlights the power of the Standard Voucher Program:
Blood Type (ABO) Incompatible Transplant
For patients who have a living donor with a different blood type (called ABO incompatible), we can try to overcome the incompatibility by treating the patient with several medications and procedures prior to transplant. If repeat testing shows that the blood type incompatibility is reduced, the transplant can be scheduled.
Positive Crossmatch Transplant
For patients with a living donor against whom they have immune system reactivity (called antibodies), the patient may undergo a treatment protocol similar to that outlined above for ABO incompatible transplantation. If repeat testing shows that the antibody levels against the donor are reduced, the transplant can be scheduled.
Utilization Of Special Types of Deceased Donor Kidneys to Help You Get Transplanted Faster
By transplanting kidneys from special types of deceased donors into carefully selected patients who are in need of a kidney transplant, we are able to transplant patients faster. This is important due to the long wait time in our region as well as the risk of complications or death while on the waiting list.
Each donated kidney has a KDPI (Kidney Donor Profile Index) score. This is a score from 0-100 that is calculated based on 10 factors about the donor. The score measures how long the kidney is likely to work. A lower KDPI is better.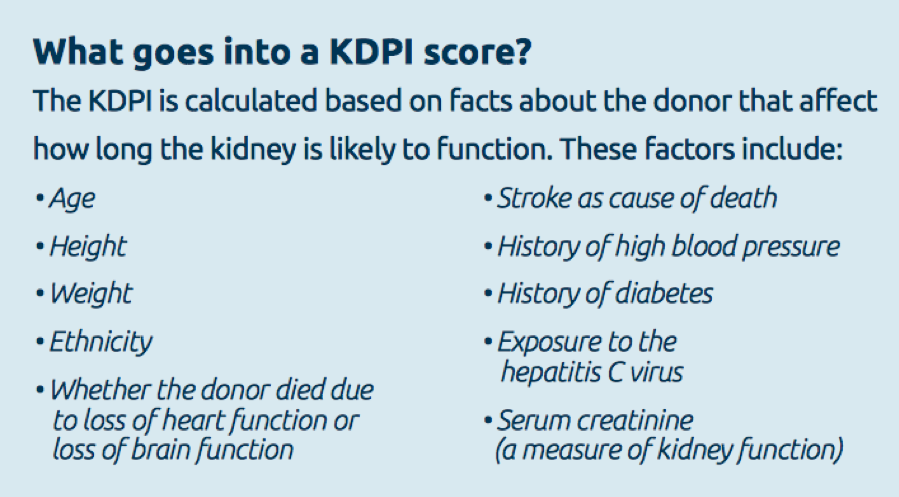 Patients may consider giving permission to be considered for a "High KDPI" kidney.  A high KDPI score (over 85) means the donor was older or sicker when they died. These kidneys typically last 7-10 years after transplant. They are also called extended criteria donor (ECD) kidneys.
PHS Increased Risk Kidneys are another option for patients who want to get transplanted faster.  PHS kidneys come from a donor who had a higher chance of having HIV or other blood diseases, such as Hepatitis C due to certain social behaviors (such as intravenous drug use or risky sexual behavior).  These kidneys typically come from younger, healthier donors, and usually last 10 to 15 years. PHS kidneys have a very slight risk of an infection (less than 0.3 percent).  Learn more about PHS increased risk donors here. 
When patients do not have any potential living donors, we recommend that patients discuss these special options with their transplant coordinator and physicians, as these kidneys are important opportunities for getting transplanted faster due to the ongoing severe shortage of organs available for transplantation.