Pediatric Gastroenterology and Nutrition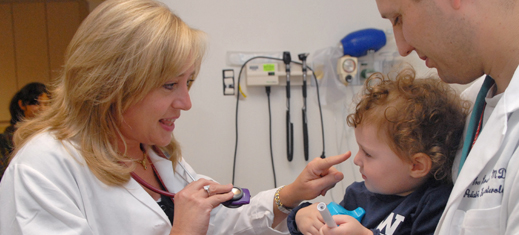 Welcome to the Division of Pediatric Gastroenterology and Nutrition! We are affiliated with the top ranked NewYork-Presbyterian Phyllis and David Komansky Center for Children's Health at Weill Cornell Medical Center and the NewYork-Presbyterian Center for Advanced Digestive Care, one of the nation's leading centers for the diagnosis and treatment of childhood digestive diseases. Our team has expertise in esophageal, gastrointestinal, liver, pancreatic, and nutritional disorders; capsule endoscopy; motility issues; and other digestive disorders affecting children and adolescents of all ages.
Preparing For Your Child's Visit
Thank you for choosing Weill Cornell Pediatrics! To facilitate the check-in process during your child's visit, we have posted important forms and information for you to read, complete and return to the physician's office prior to your arrival. Please download the forms and questionnaires and email to pedsgitele@med.cornell.edu or fax to 646-962-0246 at least 72 hours before your appointment.
Welcome Packet Documents
Welcome Letter
New Patient Questionnaire PDF | Word
Follow Up Patient Questionnaire PDF | Word
E-Prescription Pharmacy Form PDF | Word
Insurance Plans Accepted
Health Info Disclosure Form
Patient Portal Signup
Parking Options
Campus Map
Center for Advanced Digestive Care (CADC) Pediatrics Brochure
Department of Pediatrics Brochure

Broadway Practice Location

We are excited to announce the addition of clinical sessions at the new Weill Cornell practice location at 2315 Broadway at 84th Street. If you are scheduled for an appointment to see one of our physicians at the 2315 Broadway location, proceed to the 3rd Floor. All forms listed above should be sent into the office prior to the appointment. For your convenience, transportation and parking information is attached below.
Broadway Practice Transportation Information (PDF attachment)
http://www.weillcornell.org/wcma/our_locations/broadway.html
Stay Connected!

Keep up with the latest news from the Pediatric Gastroenterology and Nutrition team:
Twitter: @WCMC_PedsGI
Facebook: Pediatric Gastroenterology and Nutrition
Contact
505 East 70th Street
Helmsley Tower, 3rd Floor