Expert Endometrial and other Uterine Cancer Care at Weill Cornell Medicine
Endometrial cancer occurs when cancerous cells develop in the endometrium, or the lining of the uterus (also known as the womb). Endometrial cancer is the most common type of uterine cancer.
Our expert gynecologic oncologists care for patients compassionately, offering the best possible chance for cure with the best possible quality of life. Our team focuses on decreasing toxicity and protecting quality of life with minimally invasive and fertility-sparing surgical techniques. 
Endometrial cancer patients find comfort in our personalized, holistic, and warm approach to care. In addition to access to experts at a leading academic medical center, our patients also benefit from greater access to their attending physician, video visits, e-message, flexible scheduling, and collaborative care with a wide range of specialists.
Endometrial Cancer Prevention and Screening
Endometrial Cancer Risk Factors
Evidence shows that women who are obese, have type-2 diabetes, have not had children, take estrogen therapy, or have a concerning family history of cancer have a higher risk of endometrial cancer. 
Prevention Strategies
There is no sure way to prevent endometrial cancer from developing. Women can help minimize their risk by achieving and maintaining a healthy weight, staying active, taking oral contraceptives, and discussing the risks of hormone therapy with their doctor.
Endometrial Cancer Screening
Currently, there is no effective way to screen for endometrial or other uterine cancers.
Endometrial Cancer Symptoms 
The most common symptoms include abnormal vaginal spotting, bleeding, or pelvic pain. Since there is no effective screen for endometrial cancer, it is important for women to recognize these symptoms and visit their physician quickly. This is the best way to detect endometrial cancer early. 
Menstruating women should consider irregular or heavy bleeding a warning sign. Postmenopausal women (those who have had 12 consecutive months without a period) should consider any bleeding, spotting, or brownish or pinkish discharge to be a warning sign for endometrial cancer. 
While most postmenopausal bleeding is due to atrophy, postmenopausal women should still consult a physician for early detection of endometrial cancer. View Dr. Holcomb discussing postmenopausal bleeding on "The Dr. Oz Show".
If you are experiencing any of these symptoms, consult our general gynecology services.
How Endometrial Cancer is Diagnosed 
Individualized Diagnostic Tests
Women who have endometrial cancer symptoms will undergo physical and pelvic exams. If these exams are abnormal, an endometrial biopsy, ultrasound, or a dilation and curettage (D and C) procedure may be performed.
Staging
If endometrial cancer is diagnosed, it is important to determine the stage and extent of disease. This typically requires surgical removal of the uterus, cervix, fallopian tubes, ovaries, and possibly lymph node sampling.
Following surgery, the cancer is assigned a stage and grade. Low-grade tumors resemble normal, healthy endometrial cells (grade 1). High-grade tumors appear highly altered (grade 3).
Stage I: Cancerous cells are found only in the uterus.
Stage II: The cancer has spread to the cervix (opening of the uterus).
Stage III: The cancer has spread outside the uterus to the nearby lymph nodes, ovaries, fallopian tubes, or vagina. It has not spread to the bladder, rectum, outside the pelvis.
Stage IV: The cancer has spread to the bladder, rectum, or outside the pelvis, such as the lungs or abdomen.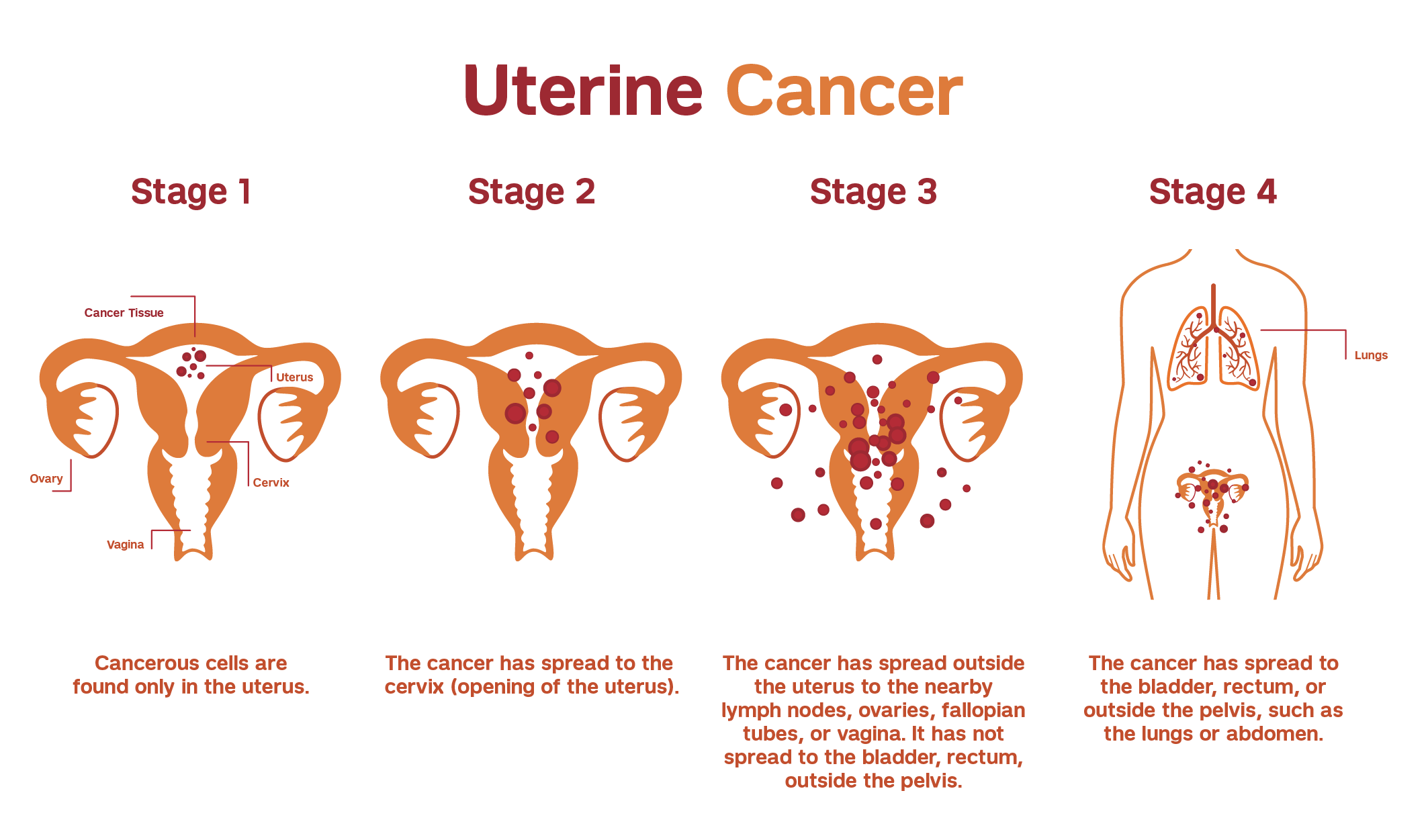 Endometrial Cancer Treatment Options at Weill Cornell Medicine
Our team of gynecologic oncologists personalize treatment depending on many factors, including stage, grade, and reproductive goals. We then offer treatment options that will achieve the best possible results and quality of life.
Treatment plans may include a combination of surgery, radiation therapy, chemotherapy, immunotherapy, fertility-sparing procedures, sentinel lymph node biopsies, and/or other treatment options. Our physicians work closely with patients to minimize side effects and promote comfort throughout treatment.
Surgical Approaches
Hysterectomy is the most common treatment for uterine and endometrial cancer.
Total abdominal hysterectomy is the surgical removal of the uterus and cervix, through an incision in the abdomen. Removal of the fallopian tubes and ovaries (bilateral salpingo-oophorectomy) is also recommended.
Minimally invasive hysterectomy (also called a "laparoscopic-assisted vaginal hysterectomy" or "robotic-assisted laparoscopic hysterectomy") is the surgical removal of the uterus, cervix, fallopian tubes, and ovaries through the vagina, using a laparoscope or robotic device that is placed in the abdomen through a small incision.
Radiation Therapy
Our gynecologic oncologists work closely with expert radiation oncologists at Weill Cornell Medicine to treat appropriate endometrial cancer patients with radiation therapy.
Chemotherapy
Chemotherapy is the use of drugs to kill cancerous cells. The majority of women with endometrial cancer do not require chemotherapy. When this treatment is appropriate and necessary, chemotherapy is given in cycles with several rest periods to limit side effects and damage to healthy cells.
Our patients benefit from Weill Cornell Medicine's state-of-the-art chemotherapy treatment center, which provides unique support and resources.
Hormone Therapy
Some types of uterine and endometrial cancers can be treated with hormone therapy. This treatment blocks receptors and inhibits female hormones to prevent endometrial cancer cells from getting or using the hormones needed to grow and multiply.
Immunotherapy
Immunotherapy is the use of medications to stimulate your immune system to recognize and destroy cancer cells more effectively. Your gynecologic oncologist will determine if immunotherapy is appropriate for you.
Fertility Preservation
Our gynecologic oncologists work closely with expert reproductive medicine specialists at Weill Cornell Medicine to offer uterine and endometrial cancer patients options to preserve fertility, including egg and embryo freezing.