Welcoming Baby Scarlett During COVID-19
December 2, 2020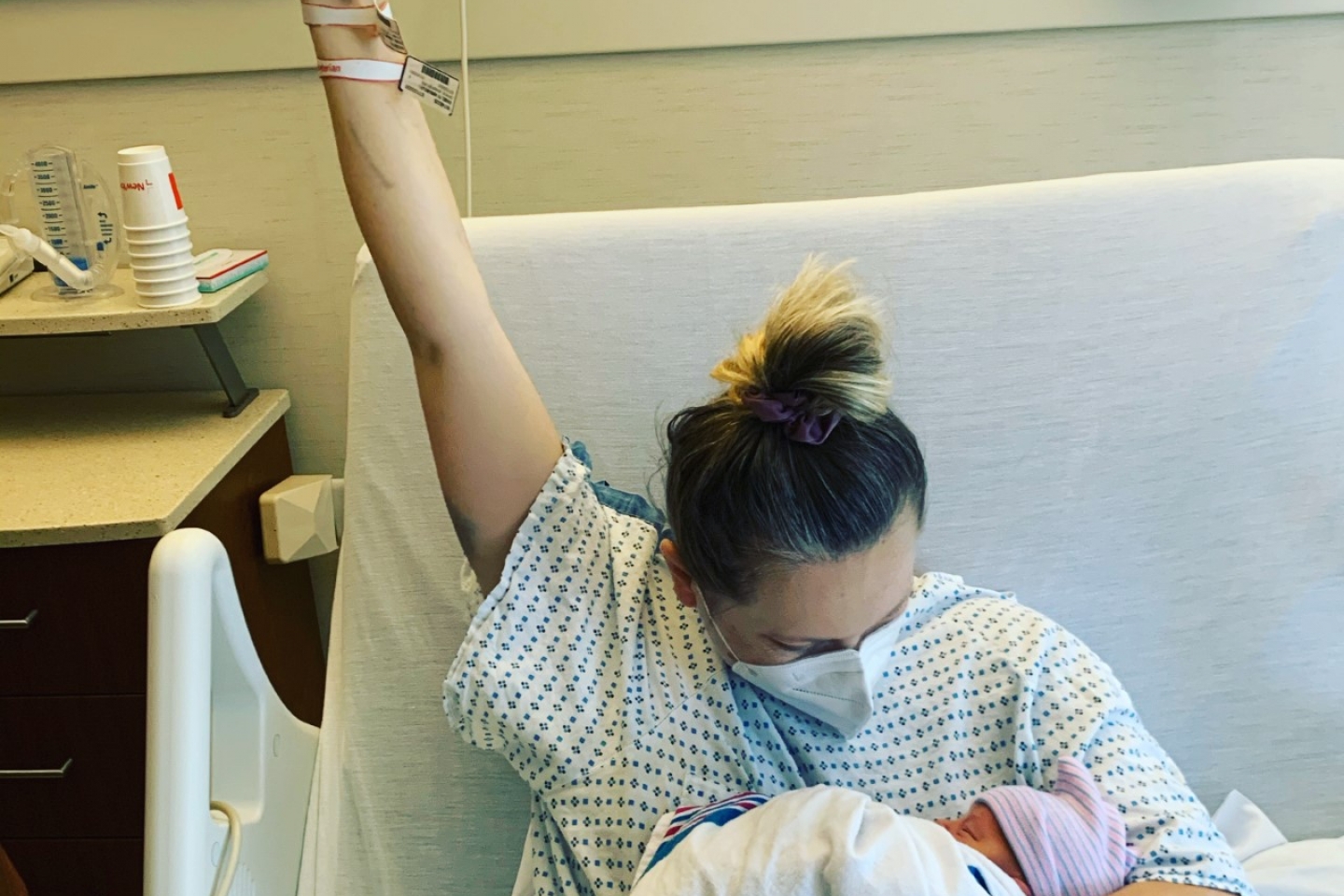 Navigating pregnancy and childbirth for the first time is challenging enough. The backdrop of COVID-19 makes it downright adventurous. Fortunately for Annabelle Evans and Jordan Harman, they're no strangers to adventure, medical or otherwise.
When the United States started seeing its first COVID-19 cases in early 2020, Jordan, a two-time kidney transplant recipient, knew his next move had to be one for his health—and that of his growing family. Jordan and his pregnant wife, Annabelle, decided it was time to leave their New York City home for Long Island. For Annabelle, it was a short move compared to the move she made in 2012, when she came to the United States from Australia to work in advertising.
Thanks to their care, humor, resilience, and love—with an assist from expert, attentive care from Weill Cornell Medicine—Jordan and Annabelle were able to experience their daughter's birth and follow-up care, even in the midst of a global pandemic.
Becoming Patients at Weill Cornell Medicine
Annabelle's pregnancy wasn't the couple's first experience at Weill Cornell Medicine.
"We have a history at Weill Cornell Medicine," Jordan explains. "I needed a kidney transplant. In 2017, I moved my care here. And within six months, I had the transplant. The transplant team was nothing but fantastic. I have only amazing things to say about the entire experience."
Later, they decided to grow their family and pursue in vitro fertilization (IVF). Weill Cornell Medicine became the clear choice to help them conceive.
"Again, our team was wonderful," Annabelle says, and adds that they were excited to be pregnant, have the transplant surgeries behind them, and looked forward to their future with their baby.
Many pregnancies don't run a fully smooth course, and Annabelle's did not.
"We soon had some complications," she says.
Those came in the form of the 12-week ultrasound, which measures the fetus' nuchal fold and indicated a potential chromosomal disorder. Though Malavika Prabhu, MD, was not Annabelle's regular obstetrician, she was on call when Jordan and Annabelle received the test results and delivered the news.
"Dr. Prahbu calmly told us that it could be something very serious," Annabelle recalls. "We immediately imagined the worst-case scenarios, but Dr. Prabhu referred us to the genetic counselor in her office. We were there within a half hour."
After waiting several weeks for amniocentesis and CVS tests to determine whether the nuchal measurement was indicative of a real issue. Further tests proved it was not, as Annabelle and Jordan got good news at about 20 weeks: their baby was healthy and had no complications.
"Even though it was no longer a high-risk pregnancy, I still wanted Dr. Prahbu to be my doctor. I was so glad when she said that she would continue caring for me," Annabelle says.
Significant Changes and Precautions for COVID-19
And then COVID-19.
Understandably, protecting their health became paramount: After all, Annabelle was pregnant and Jordan is immunosuppressed.
"We moved out to the house where I grew up on Long Island," Jordan recalls. "We got everything delivered to the house–food, masks, gloves, diapers, a stroller, hand sanitizer. We were careful about everything in those early days when it was less clear how the virus spread."
Both Jordan and Annabelle scheduled several video visits to continue monitoring their health. Jordan was even able to arrange to have his blood drawn in the backyard of his home on Long Island by a Weill Cornell Medicine phlebotomist, a certified technician who draws blood.
"My numbers were very stable, thankfully, and I was able to touch base often with my doctors," Jordan says. "We know that we were very fortunate to have somewhere to go outside the city. We felt really safe in our little bubble"
They worked together closely to support each other and create a new home and routine. And they were still able to share some of the joys of pregnancy, albeit with a twist.
Annabelle holds dear the memory of her baby shower (on Zoom, of course), which included friends and family from all over the world.
"It was chaos! But the pandemic forced me to be in closer contact with so many of my friends," she admits.
Prenatal Care During COVID-19
Annabelle went to in-person prenatal checkups at Weill Cornell Medicine several times throughout her pregnancy. She went to these appointments alone and remembers sometimes wearing two layers of clothes to be able to shed the outer layer before going back in their car or home.
"The clinic did such a good job of keeping people separated, even in the early days of COVID-19," she recounts. "There was such a strong, visible effort to be sure everyone was washing their hands and sanitizing. The nurses were all protected. Everyone stayed six feet apart. In fact, the most people I saw in a room was three."
"It all felt very respectful and ordered," she continues. "We all respected each other's space. The level of attention we received put my mind at ease."
That type of high-level medical support allowed Annabelle to juggle work with her pre-natal care.
"I had to make every effort to prioritize my health and pregnancy," Annabelle recalls. "I work in advertising—my client provides an essential service. My work got busier during this time, not slower. I rested as much as I could, took naps between meetings, often worked from my bed. I was very uncomfortable. I was in my third trimester, so I relaxed and napped whenever I could."
Baby Scarlett's Arrival
As Annabelle's due date approached, she, Jordan, and Annabelle's medical team decided to schedule an induced labor at 39 weeks. This gave them control during an unpredictable time.
"It meant I didn't have to worry about giving birth on the side of the Long Island Expressway," Annabelle says.
They spoke extensively with Jordan's doctors about whether he should join Annabelle in the hospital during childbirth. Together, they decided that Jordan would be present and take extra precautions to protect himself in the hospital.
Labor and delivery also weren't without adventure, Annabelle remembers.
"After 39 hours of labor and three hours of pushing while wearing a medical mask, the baby's heart rate dropped and our doctors decided it was best to have a C-section," she explains. "Dr. Kalish was on duty during delivery and was a total boss and orchestrated the entire operation— she had total control of the theater. The nurses were all so caring and helped me when I was dazed during my recovery."
Everything about the experience felt momentous, Annabelle says. "I gave birth to a little girl."
"The whole thing felt like girl power," Jordan adds. "It was all done by strong females.
Every nurse, every doctor, every staff member wore a mask. This made us feel so safe."
That secure feeling allowed Annabelle and Jordan to focus on bonding with their newborn, breastfeeding, and learning about C-section recovery—without COVID-19 casting a shadow over the experience.
She's a Dream
As of this writing, Jordan, Annabelle, and baby Scarlett have been home—and, thankfully, well—for five months. Scarlett thrives as they continue to obtain their care from Weill Cornell Medicine: virtual visits for postpartum checkups, a consultation with a lactation expert, and Scarlett's six-week checkup, which was in person.
The access to and continuity of that care allows Annabelle and Jordan to focus on some of the "typical" baby challenges—from Scarlett's sleep routine to diaper rash. It feels blissfully normal amid the pandemic, they agree.
"We know that we received top-notch care at every step," Jordan says. "We also feel so lucky to have had so much time together as a family. Scarlett is an utter delight."