Why People with Obesity Should Get the COVID-19 Vaccine
May 20, 2021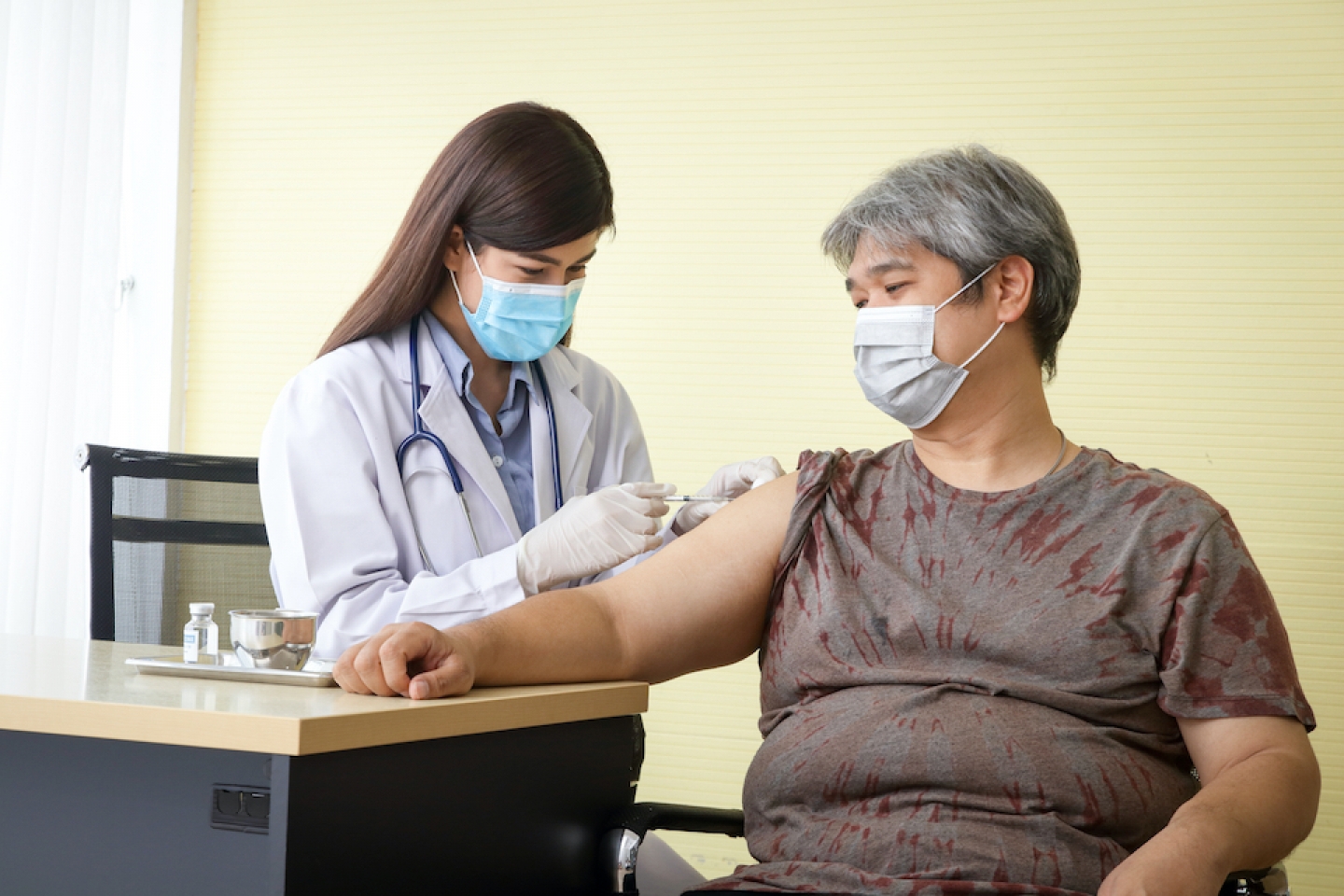 Talking about your excess weight can be difficult. But it is a critical conversation to have with your doctor, especially if it is causing you concern about getting the COVID-19 vaccine.
We don't know if obesity affects vaccine safety or efficacy. What we do know, however, is that it multiplies your risk for severe COVID-19, and its complications, and triples your risk of hospitalization.
According to Louis J. Aronne, MD, the Sanford I. Weill Professor of Metabolic Research, the average age of healthy-weight COVID-19 ICU patients is 74 years, compared with 54 years for patients with obesity. "People with obesity tend to get severe COVID-19 at a younger age than normal weight people and that creates complications," Dr. Aronne says. "The bottom line is that people with obesity should get the vaccine as soon as they can because they are at risk of having much worse disease."
Excess Weight is a Health Hazard
Being overweight or obese means having too much body fat. We all need body fat for energy, heat insulation, and other physical functions, but too much can lead to type 2 diabetes, heart disease, hypertension, respiratory problems, and many other chronic health conditions that can increase your risk for severe COVID-19. If your body mass index (BMI)--is between 25 and 29.9, then you are overweight; if it is 30 or more, then you are obese. As your BMI increases, so does your risk of death from COVID-19. As Dr. Aronne notes, individuals whose overweight borders on obesity may also be at risk.
The COVID-19 Vaccine is Safe
Three manufacturers (Pfizer BioEnTech, Moderna, Johnson & Johnson) have produced the COVID-19 vaccine, and they are all equally safe. Because the vaccine does not contain live virus, it cannot infect you with COVID-19, according to Kristen Marks, MD, Associate Professor of Medicine at Weill Cornell Medicine.
Only in very rare cases have people experienced serious allergic reactions to the vaccine, and these have generally occurred in individuals with a history of serious allergic reactions. As long as you are not allergic to any of the vaccine's ingredients, and any medications that you take--such as those for blood pressure--does not interact negatively with it, then you can safely take it. Since having obesity increases your risk for severe COVID-19, the Centers for Disease Control urges you to get the shot. "We know from very large studies that there were no serious events attributed to the vaccine," Dr. Marks says. "Because the risk of COVID-19 is so high, concern about an extremely rare side effect shouldn't prevent people from getting the vaccine now."
All Vaccines Prevent Severe COVID-19
All three vaccines work equally well. You may have heard that the Johnson & Johnson vaccine is less effective than the other two, but when it comes to preventing severe COVID-19 and resulting complications--which are particularly dangerous if you have obesity--all the vaccines do the job. Each significantly decreases your risk of becoming acutely ill from the virus and being hospitalized or dying from it. "In studies, the vaccine nearly eliminated severe infections that required people to need oxygen or be hospitalized," Dr. Marks says.
Does being overweight or obese make the vaccine less effective?
Obesity can cause metabolic changes, including low-grade inflammation, which may hamper your immune system's response to the vaccine, and ultimately, to the virus, Dr. Aronne says. Obesity also may affect your gut microbes, which may weaken your immune system's response to infections—and vaccines.
In some studies, people with obesity, compared to those without, had reduced responses to influenza, hepatitis B, rabies, and tetanus vaccines. Research has also found that individuals with obesity produced about half as many antibodies as did lean people in response to a second dose of COVID-19 vaccine. These findings are inconclusive, however, and do not mean that you should skip the shot. "There is no evidence that the vaccine doesn't protect people with obesity," Dr. Aronne stresses. "People with obesity absolutely must get vaccinated as soon as possible."
Pfizer COVID-19 vaccine appointments are available to our patients. Sign up for Connect today to schedule your vaccination. Review the latest on COVID-19 vaccines.
Clinical Service
Practice
Physician