What Parents and Teens Need to Know About the COVID-19 Vaccine
May 19, 2021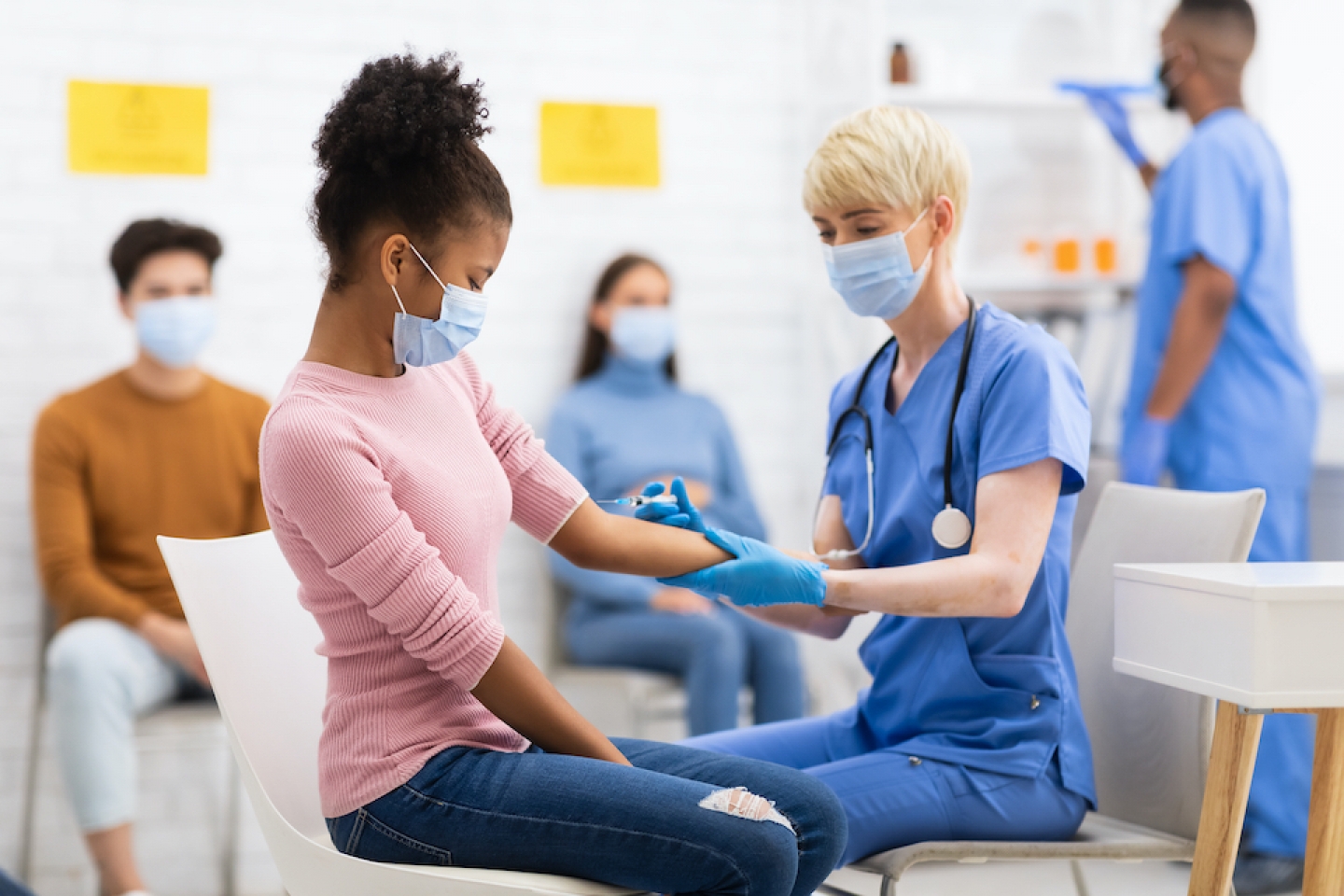 Now that adolescents ages 12 to 15 are eligible for the Pfizer-BioNTech COVID-19 vaccine, we've asked Adam Stracher, M.D., Chief Medical Officer and David Laufgraben, M.D., Assistant Attending Pediatrician and Assistant Professor of Clinical Pediatrics to address parents' and children's questions and concerns about its effectiveness and side effects. 
Why should adolescents get the COVID-19 vaccine?
The more people in the United States who get vaccinated, the closer we will be to achieving 'herd immunity' and stopping the virus from spreading and producing variants. "When you vaccinate your child, you not only protect them, but you help protect all of the people around them as well, including kids and adults with cancer or rare immune disorders who may be more vulnerable," Dr. Laufgraben says.
Is the vaccine safe in children?
Yes. Since it does not contain live virus, it cannot give your child COVID-19. A recent clinical trial of 12- to 15-year-olds produced neither symptomatic infections nor serious side effects. "Our best hope for getting this pandemic under control and protecting ourselves and our loved ones is to get vaccinated," Dr. Stracher says. "The Pfizer vaccine offers outstanding safety and effectiveness in preventing hospitalization and death, equivalent to the best childhood vaccines available. There is no reason to delay getting vaccinated, and every reason to do it as quickly as possible."
Why should you know what ingredients the Pfizer-BioNTech Vaccine contains?
Knowing the ingredients is the best way to find out if you might be allergic to the vaccine. They are: (mRNA lipids ((4-hydroxybutyl)azanediyl)bis(hexane-6,1-diyl)bis(2-hexyldecanoate), 2 [(polyethylene glycol)-2000]-N,N-ditetradecylacetamide, 1,2-istearoyl-sn-glycero-3- phosphocholine, and cholesterol, potassium chloride, monobasic potassium phosphate, sodium chloride, dibasic sodium phosphate dihydrate, and sucrose.
Who should not receive the vaccine?
Children who have had a severe allergic reaction to any ingredient of this vaccine should not get it.
Could the vaccine trigger a severe reaction like MIS-C, or Multisystem Inflammatory Syndrome in Children, which COVID-19 caused in some children?
Multisystem inflammatory syndrome in childrenis a rare complication of COVID-19. The vaccine does not cause it. By preventing COVID-19 infection, it actually prevents MIS-C.
How is the vaccine administered?
It is given as an injection into the muscle in two doses, three weeks apart. You will be completely vaccinated two weeks after receiving a second dose of this same vaccine.
Is the vaccine effective in children?
The vaccine actually may be more effective in young adolescents than in adults. In a Phase 3 U.S. trial involving more than 2000 12- to 15-year-olds, it was 100% effective and triggered a robust antibody response, which exceeded those recorded in earlier trials among 16- to 25-year-olds.
What side effects might your child expect?
Your child might experience redness or soreness at the infection site, which you can ease by placing a cool, damp cloth on the vaccinated area. Your child may also develop a mild fever or feel fatigued. Fainting is not unusual after any vaccine. To prevent this, have your child receive the shot while sitting or lying down, and rest for about 15 minutes afterward.
Should a child with cancer or an immunocompromising condition get the vaccine?
Yes. Currently, there are no known risks for people with compromised immune systems. In fact, people with cancer are at increased risk for serious complications of COVID-19.
What other immunizations do doctors recommend for young adolescents?
Your child should not receive any other vaccine for two weeks before or after a COVID shot. However, your child should be currently vaccinated against:
HPV
Tetanus,  diphtheria, and  whooping cough (pertussis) (Tdap)
Meningococcal disease  (Men ACWY)
Hepatitis A  (Hep A)
Hepatitis B  (Hep B)
Polio  (IPV)
Measles,  mumps,  rubella  (MMR)
Chickenpox  (Varicella)
Should I schedule these vaccinations now?
Yes. It is important to make sure that your child's vaccinations are up to date for school, camp, international travel, and college. Due to recent outbreaks of serogroup B meningococcal disease, for example, many states recommend or require that some college students receive the meningococcal conjugate vaccine. Because your child can receive a COVID shot only two weeks before or after other vaccines, now is a good time to schedule them.
Will children younger than 12 become eligible for the vaccine?
Both Pfizer-BioNTech and Moderna have begun testing vaccines in children as young as six months. Pfizer expects to apply to the FDA in September for emergency authorization to administer its vaccine to children between the ages of 2 and 11. By early August, it expects to have clinical trial data on the safety of its vaccine in pregnant women.
Pfizer COVID-19 vaccine appointments are available to our patients. Sign up for Connect today to schedule your vaccination. Review the latest on COVID-19 vaccines.
Clinical Service
Physician