Robotic Bronchoscopy: A Major Advance in the Diagnosis and Treatment of Early-Stage Lung Cancer
November 20, 2023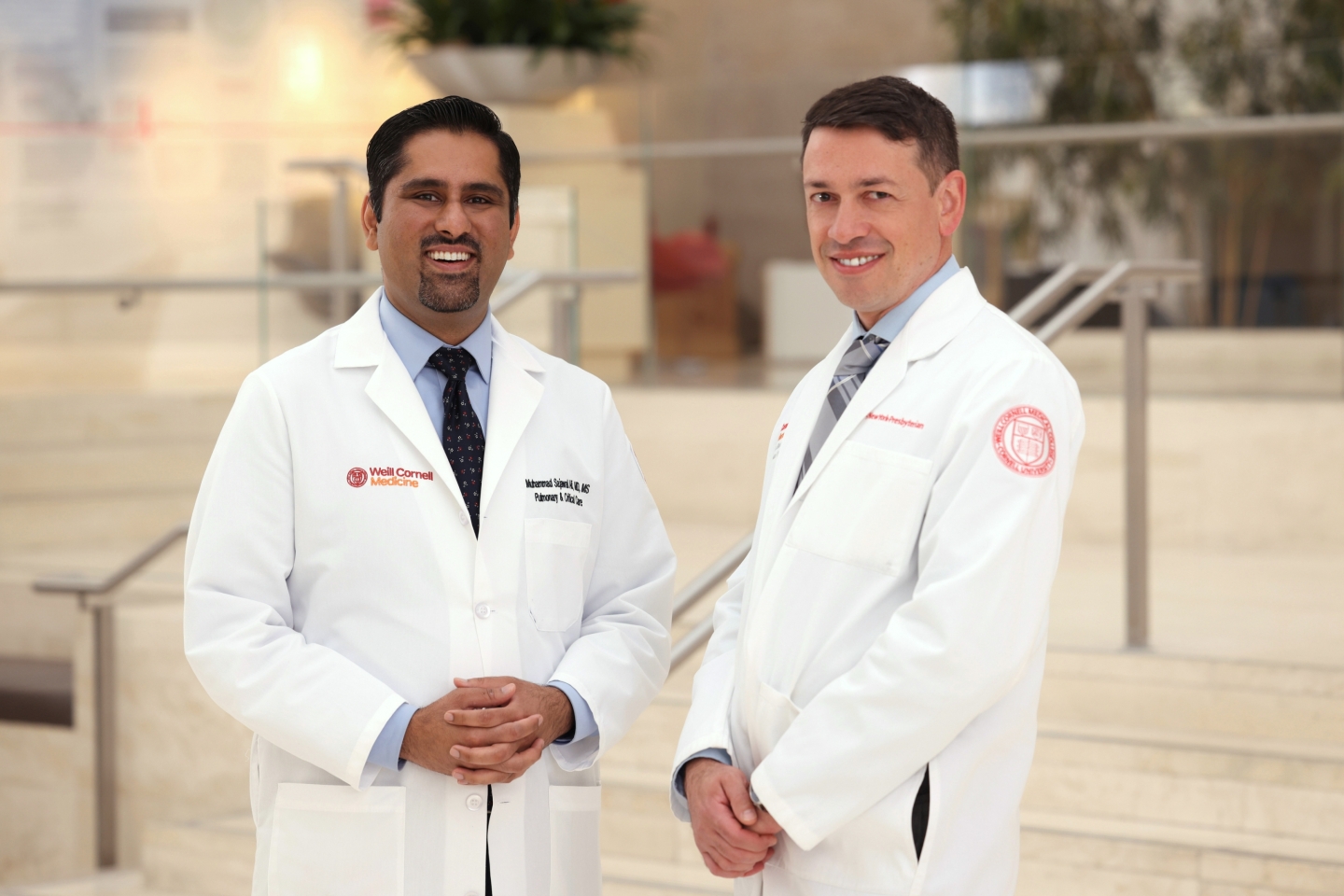 Robotic technology isn't replacing doctors; it's helping them do what they do more safely and with greater control and precision than anyone could have imagined a few short years ago. 
For example, the traditional method for examining bronchial passages, called fiber-optic bronchoscopy, has been used for many years to diagnose lung cancer. But, says Dr. Eugene Shostak, an Assistant Professor of Interventional Pulmonology and Assistant Attending Physician in Cardiothoracic Surgery at Weill Cornell Medicine, that method has a couple of major drawbacks. 
Traditional vs. robotic

bronchoscopy
"The trachea (windpipe) leads into the chest, where it divides into ever-smaller airways en route to the lungs," he says. "In the recent past, when searching for small, potentially cancerous growths in the lungs, it was easy to get lost in the maze.  
"That's why robotic bronchoscopy is such a game-changer," he continues. "It's like a GPS system that gives us a virtual map telling us which way to turn next as we 'drive' through that maze of subdividing airways. And because the robot-assisted method allows us to travel deep into the lung and identify hard-to-reach, potentially cancerous nodules, we can perform biopsies with greater precision and lower complication rates than was previously possible." 
Here's another pre-robotic approach. Interventional radiologists are also commonly called upon to perform lung biopsies. They insert a small needle from outside the body, guided by a CT scan. Although this technique has a high level of diagnostic accuracy, it also comes with a high complication rate: After that type of lung biopsy, patients may develop lung collapse.  
With the advent of robotic bronchoscopy, "we've got the best of both worlds: a high rate of diagnostic success and a low complication rate. The risk of collapsed lung is just 2 percent, down from 20 percent," says Dr. Muhammad Sajawal Ali, an Assistant Attending Physician and Assistant Professor of Medicine in Clinical Cardiothoracic Surgery and and Dr. Shostak's close colleague. 
One procedure vs.

three

(and why this matters)
To recap, with the older method, patients may be required to undergo several procedures to receive a diagnosis of one or more lung nodules. 
Traditional bronchoscopy comes with a low level of diagnostic success.

 

CT-guided needle biopsy through the outside of the body delivers a high level of diagnostic success but a higher risk of lung collapse.

 

The traditional surgical removal (resection) of cancerous nodules is an invasive procedure that may lead to complications.

 
Now, says Dr. Ali, patients can undergo a diagnostic biopsy and an excision of any small cancerous growths during a single procedure. "We can offer this approach thanks to the use of robotic technology, which we use during both biopsy and surgical resection," says Dr Shostak.  
"When it comes to lung cancer, being able to shorten the time from diagnosis to cure is very  important," he explains. Recent studies have found that survival is closely linked to prompt treatment. Even with a relatively short delay—say, 3 months—the cancer may advance to a higher stage, translating into a higher risk of spread (metastasis).  
 "Our ability to perform robotic bronchoscopy, biopsy and surgical removal of cancerous nodules in one procedure shortens the treatment time window from 90 to 25 days," Dr. Ali says. "That's a 3-fold decrease"—one that translates to earlier diagnosis and treatment and to significantly improved survival rates. 
Gathering

crucial

information
"Robotic technology allows us to gather important information regarding the diagnosis and staging of lung cancer," he says. "We can combine robotics with ultrasound-guided biopsies of lymph nodes into a single procedure to better understand the extent of disease in the shortest amount of time possible. 
Dr. Shostak describes the way a recent patient benefited from the advances robotic bronchoscopy offers. 
"The patient came to us with a diagnosis of colon cancer. A scan performed beforehand showed that he had one nodule in his right lung and one in his left. There was also an abnormal growth in one of his lymph nodes. Was this metastatic colon cancer or not?  
"Traditionally, the patient would undergo a biopsy by an interventional radiologist, who wouldn't biopsy both nodules at the same time as the risk of lung collapse can be unacceptably high. The radiologist would therefore biopsy one lung nodule and wait for 2 or more weeks to biopsy the other lung, thus delaying treatment. A pulmonologist would then be asked to perform a third procedure to sample the chest lymph node, further increasing the time to diagnosis and treatment.  
At Weill Cornell Medicine, that scenario is very different. Dr Shostak performed robotic bronchoscopic biopsies of both lung nodules followed by an ultrasound-guided biopsy of the lymph node—all in a single procedure. What he found was surprising:  
The nodule in the patient's right lung and the lymph node were granulomatous inflammation—a non-cancerous lesion that can often mimic cancer but is not threatening.

 

The growth in his left lung was early stage lung cancer.

 
In the past, patients and even providers would have been reluctant to pursue diagnosis and simply rely on imaging to confirm a diagnosis of metastatic colon cancer. That approach would have denied Dr. Shostak's patient the curative resection of an early-stage cancerous lesion in his left lung. The robotic method allowed Dr. Shostak to characterize all three lesions in a single procedure and bring in a thoracic surgeon to quickly remove the cancerous nodule in the patient's right lung, thereby curing his lung cancer. 
Because robotic bronchoscopy is relatively new, and because its benefits aren't widely known among medical providers, interventional pulmonologists like Drs. Shostak and Ali are committed to educating their colleagues—especially those in community settings—about the game-changing nature of the robotic system. 
"Robotic bronchoscopy isn't unique to Weill Cornell Medicine," Dr. Ali says, "but our multi-disciplinary and collaborative approach between interventional pulmonology and thoracic surgery is unique. By reducing the time from diagnosis to treatment of early-stage lung cancer, we're making a real difference in patients' lives and futures."