Supporting a Culture of Caring
August 13, 2021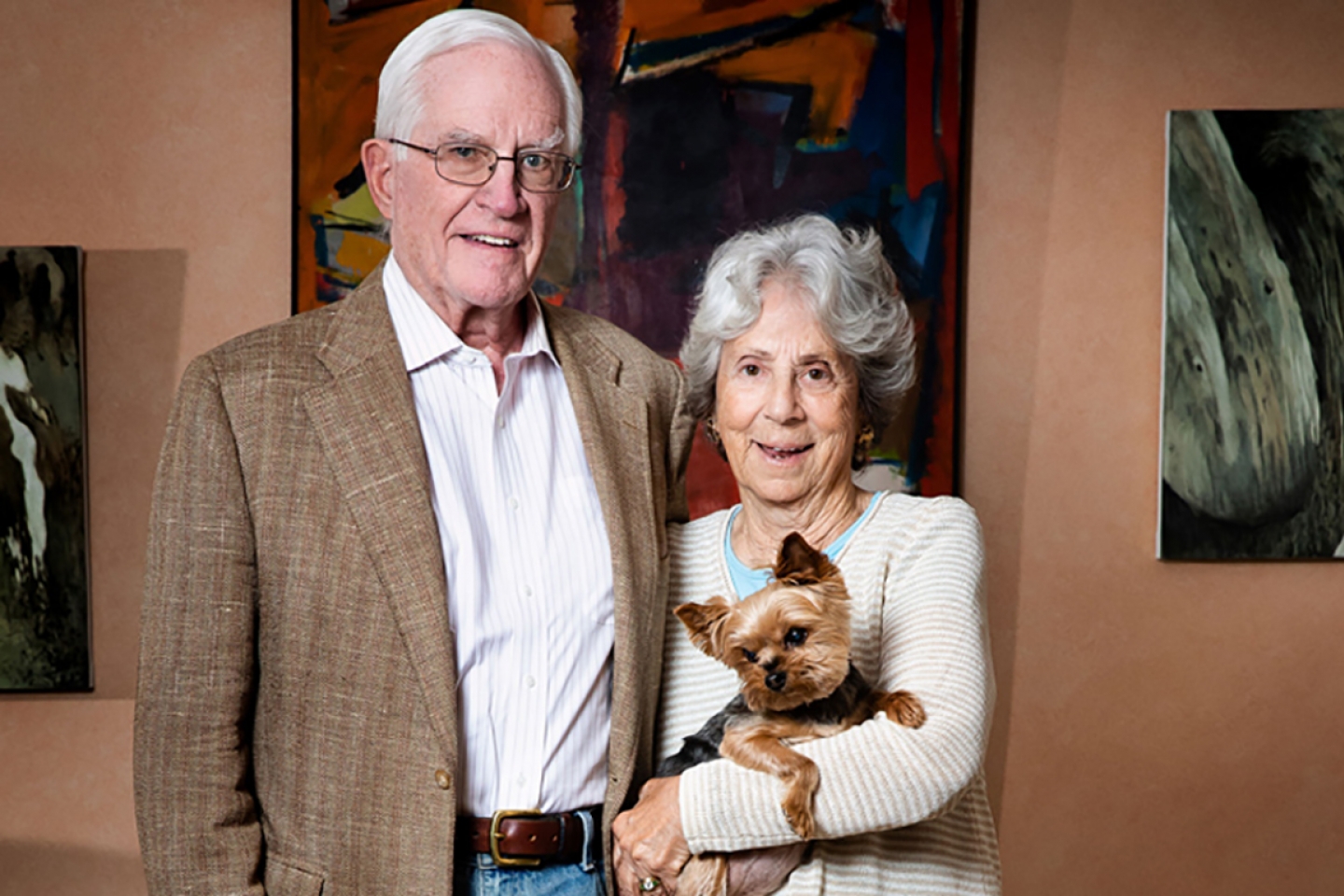 Charles and Irene Hamm's relationship with NewYork-Presbyterian stretches almost as long as their 62-year marriage.

Inspired by the dedication and compassion they experienced via lifelong connections with their NewYork-Presbyterian physicians, Charles and Irene recently made a gift of $1 million in honor of three NewYork-Presbyterian/Weill Cornell Medical Center physicians who saved Charles' life: Drs. Stephanie Mick, David Blumenthal, and Richard Cohen.
The Doctor Next Door
Charles and Irene Hamm's appreciation for personal medical care was shaped by Charles' father, Frank C. Hamm, MD, who was a nationally recognized urologist and urological surgeon, as well as a professor of urology at SUNY Downstate in Brooklyn. According to Charles and Irene, the late Dr. Hamm was known in the neighborhood as a warm-hearted, intelligent physician who was available to his patients anytime, day or night.
Dr. Hamm, whom they lovingly called "Pops," represented to them the best in healthcare, from his values to his approach. In fact, when selecting medical providers, Irene measured all other physicians against him. Don Cameron, MD, a Senior Attending Physician at NewYork-Presbyterian/Weill Cornell Medical Center, was a perfect match. He had taken care of Irene and her family when she lived down the street from him as a young woman, and he remained a trusted healthcare advisor for many years.
Years later, Dr. Cameron also began caring for Charles and their three children. One day, Charles complained about chest discomfort and called Dr. Cameron, who immediately encouraged Charles to cancel his impending flight to California and come in for an appointment. Dr. Cameron discovered the cause: a blocked artery. That same day, Charles underwent a cardiac catheterization procedure—in which implanted stents corrected the issue—and one month later, he flew to California.
When Dr. Cameron retired, he referred the Hamm family to his trusted colleague and former protégé, Richard Cohen, MD, an Attending Physician at NewYork-Presbyterian/Weill Cornell and Clinical Professor of Medicine (Internal Medicine) at Weill Cornell Medicine. The Hamm family quickly discovered that Dr. Cohen had the same commitment to his patients as Dr. Cameron. "He calls us back the very same day," Irene shared, "and he never forgets to call."
A Culture of Caring
Charles and Irene's recent experience with NewYork-Presbyterian physicians motivated them to make a generous gift of $1 million to honor Drs. Mick, Blumenthal, and Cohen for the exceptional, compassionate care they provided Charles during his battle with a rare form of metastasized cancer.
Dr. Cohen has helped guide Charles through his treatment for prostate cancer, melanoma, and ongoing cardiac problems. "It was very scary," Irene shared. "We almost lost him." As he does with all his patients, Dr. Cohen serves as the primary "shepherd" of Charles' healthcare journey, collaborating with Charles' oncologists, cardiologists, and other specialists to provide him with personalized care. Just over a year ago, Charles underwent open-heart surgery at NewYork-Presbyterian/Weill Cornell to treat the melanoma that had metastasized inside his heart.
Charles' cardiac care team included Stephanie Mick, MD, Associate Attending Cardiothoracic Surgeon at NewYork-Presbyterian/Weill Cornell and the Carrie and David Landew Associate Professor of Cardiothoracic Surgery at Weill Cornell Medicine, and David Blumenthal, MD, Attending Physician at NewYork-Presbyterian/Weill Cornell and Professor of Medicine (Cardiology) at Weill Cornell Medicine. The team meticulously planned Charles' complex surgery, and it was a success: Dr. Mick removed the tumor, which had grown to the size of a golf ball, and she removed enough tissue to be certain that the cancer was eradicated from Charles' heart.

The Hamms were very grateful for the high-quality, compassionate care that Charles' cardiac team provided. "Dr. Stephanie Mick is an incredibly talented specialist," they shared. "It's clear that she has world-class training, and we appreciated her humanity and her refreshing approach to patient relationships." Charles also revealed, "She handled my complex case with a calm demeanor, explaining everything to me in an honest, straightforward manner every step of the way."
"Not only did Dr. Mick provide Charlie with outstanding treatment, but she also provided the same level of compassionate care to my daughter and me when we visited the Hospital," Irene said. "Dr. Mick would see us walking in and stop what she was doing to sit down with us and patiently explain how Charlie was doing and what was going to happen next. She is an exceptional woman."
The Hamm family recognized these same wonderful qualities in Drs. Cohen and Blumenthal. "They never introduce fear or panic," Irene noted. "They truly listen, they instantly spot what's wrong, and they get straight to work, all the while being honest about next steps and possible risks," Charles said.
In addition to honoring their 20-year relationship with Dr. Cohen, the Hamms' gift honors the professional relationship that Dr. Cohen and Dr. Blumenthal have—the two met as medical students and have remained close friends for nearly 50 years. They frequently partner closely in their treatment, which benefits their patients. "It's very special that Mr. Hamm is celebrating our teamwork with this gift," Dr. Cohen said.
Given the level of compassion they received from every member of the cardiac team, Irene and Charles concluded that NewYork-Presbyterian has created a culture of patient care that cannot be matched. "I think forming a culture is one of the most important things an institution can do," Charles said. "It's the biggest mistake people make in business—if you don't get the culture right, forget it. The culture we've experienced at NewYork-Presbyterian has kept us coming back for 55 years. They know that it's far more than just intellectual ability; it's the human side of healthcare delivery that your institution stands for."
Charles knows a thing or two about leading a business: After spending 22 years in advertising and marketing, he became Chief Executive Officer and Chairman of Independence Community Bank Corp., a community-based financial institution headquartered in Brooklyn, and he grew the bank from nine branches to 150—and from 200 employees to 2,000.
The culture of caring they experienced inspired Irene and Charles to donate to NewYork-Presbyterian in honor of their physicians. "I hope that, particularly after a difficult year, this gift can remind all NewYork-Presbyterian team members that the institution they work for is superb," Charles said. "They should all be very proud."
Jump-Starting Clinical Research in Cardiac Surgery
The Hamms' gift will be used by Dr. Mick, in consultation with Leonard Girardi, MD, Cardiothoracic Surgeon-in-Chief at NewYork-Presbyterian/Weill Cornell Medical Center and Chair of the Department of Cardiothoracic Surgery and the O. Wayne Isom Professor of Cardiothoracic Surgery at Weill Cornell Medicine, to fuel research on minimally invasive cardiac surgery, with a focus on robotic and mitral valve surgery. Dr. Mick's plans for the research effort include establishing and expanding a database and recruiting a research fellow who will analyze the data for findings that will benefit cardiac patients across the NewYork-Presbyterian enterprise.
Dr. Girardi expressed his appreciation, saying, "Particularly in the last year, a gift like the Hamms' is transformative. It allows us to jump-start cardiac research that will be very important for patients in the next one, three, and five years—research we may not otherwise have been able to do at this time if it weren't for their generosity."
Dr. Mick said, "I feel lucky and honored to lead the research effort the Hamms have rallied behind. Their generosity is very inspiring—it motivates me to live up to the expectations set by this gift and accomplish great things for our patients. This will be a wonderful opportunity to showcase NewYork-Presbyterian's expertise in robotic surgery and mitral valves, and we hope our findings can benefit patients across the country."
Dr. Blumenthal commented, "I feel completely comfortable telling patients like Charles, and my family and friends, that Dr. Mick will provide them the very best treatment in the country for cardiac mitral valve issues. She has some of the best patient communication skills I've seen among physicians, and I know she will do wonderful things with this gift." He also shared his appreciation, saying, "The spontaneous generosity that the Hamms demonstrated with their gift is so heartfelt. It means a lot to us."
Charles and Irene are thrilled to be investing in the future of cardiology and in its leaders, and they hope their philanthropy inspires the next generation of promising cardiologists. "It's clear my doctors love what they do," Charles said. "They are experts on technical aspects of care, but they also understand that, as a patient with a tumor in my heart, it's hard to listen to this stuff, and they were able to put themselves in my shoes. It's really very special."
Clinical Service
Physician