International Influence: Mentoring an Early-Career Oncologist from Bangladesh
December 10, 2018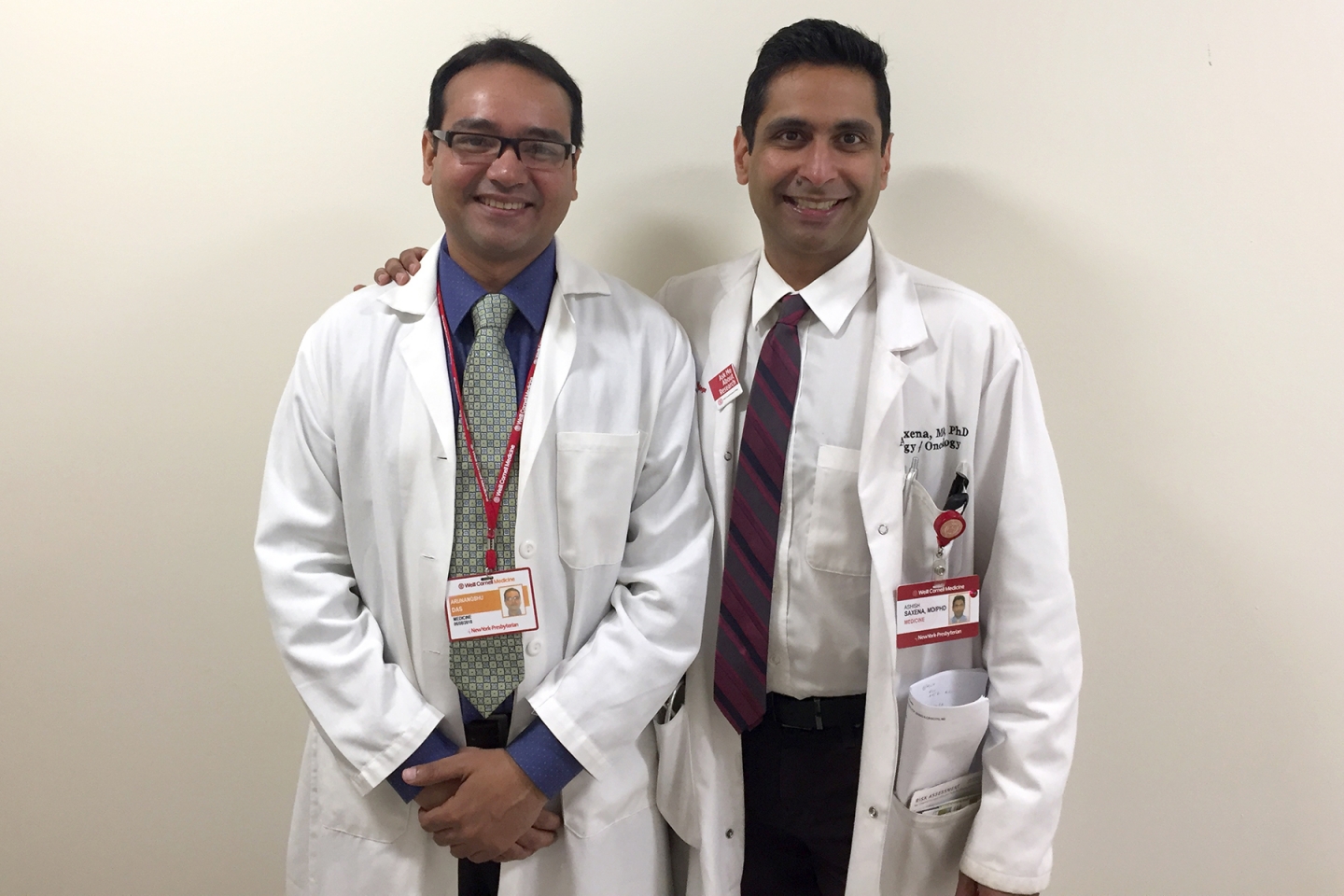 Having witnessed both his mother and grandmother suffer from breast cancer, Dr. Arunangshu Das pursued a career as an oncologist with the hope of improving the lives of others with the disease. Dr. Das now treats breast cancer — along with head and neck, lung and gastrointestinal cancers — at Square Hospitals Limited in Bangladesh.
Caring for cancer, no matter where in the world, is no easy feat, but Dr. Das and his colleagues in Bangladesh face some additional challenges that may be foreign to oncologists in the United States. 
There is a common saying in Bengali, the primary language of Bangladesh: "Cancer, no answer." According to Dr. Das, most patients in Bangladesh perceive the disease as a death sentence — a curse not worthy of oncologist intervention because of a fate already decided by God. Furthermore, an overwhelming majority of the country's people (about 85 percent) do not have access to cancer care, and a lack of screening programs often leaves even those with access to present to an oncologist at an advanced stage.
In search of a better "answer" for his cancer patients, Dr. Das applied to the American Society of Clinical Oncology's (ASCO) International Development and Education Award (IDEA). ASCO IDEA is a highly selective program that grants 20 apprentice oncologists from low- and middle-income countries attendance to the ASCO Annual Meeting — a research meeting of over 30,000 oncology professionals — followed by a visit to a world-class medical institution.  
Weill Cornell Medicine and NewYork-Presbyterian (WCM/NYP) have supported the ASCO IDEA program since 2005, having hosted awardees from countries including Algeria, Pakistan and Haiti to promote the exchange of novel research, treatments and ideas that can ultimately lead to better health outcomes for patients within our institution and beyond. We are very proud to have hosted Dr. Das as the first-ever ASCO IDEA recipient from Bangladesh.
Under mentorship from WCM/NYP breast oncologists Dr. Anne Moore and Dr. Eleni Andreopoulou, lung oncologist Dr. Ashish Saxena and radiation oncologist Dr. John Ng, among others, Dr. Das visited inpatient and outpatient clinics and attended multidisciplinary tumor board and clinical research meetings.
Dr. Das shared that during his time at our institution, he particularly admired the way that patient-physician communication continues beyond appointment hours via phone or email, providing patients great comfort in knowing that they can truly rely on their oncologist whenever questions or concerns arise.
In Bangladesh, physicians like Dr. Das who practice within the private sector are allotted about 20 minutes per patient visit, whereas appointments in the public sector last only 2-3 minutes to accommodate up to 80 patient visits per day. With these time constraints in mind, Dr. Das plans to develop printed educational materials for patients. He hopes that this implementation will enable patients to better understand their diagnosis and treatment, while encouraging them to better utilize their appointment time by asking pre-prepared questions.
"Patients have a right to interact with their doctor and clear up whatever questions they have," he said. "Maybe I can't offer a fancy chemotherapy in my country, but I can communicate more effectively with my patients."
Dr. Das is also interested in developing a multi-disciplinary tumor board within his practice, noting that it was inspiring to see experts across cancer sub-specialty areas collaborate to determine the best approaches to treating individual patients.
According to Dr. Das, ASCO IDEA allowed him to reflect on the differences between cancer care in the United States and Bangladesh and experience oncology in a new way. He is hopeful that he will maintain his relationships with his WCM/NYP mentors throughout his career.
"The experience was fantastic," he said. "Everyone was very welcoming. It's a lifelong connection."
Oncology professionals in Bangladesh are thrilled for Dr. Das, who, upon his return home, was scheduled to give several presentations sharing what he learned at Weill Cornell Medicine and NewYork-Presbyterian Hospital and at the ASCO Annual Meeting.
"I cannot change the whole practice of cancer care in Bangladesh," said Dr. Das. "But if I can disseminate this new knowledge among other oncology professionals, we can create change."
Clinical Service
Physician