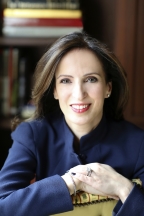 Eleni Andreopoulou, M.D.
Provider of world-class care at NewYork-Presbyterian
Medical Specialties
Medical Oncology
Internal Medicine
Locations and Appointments
Insurances Accepted
Please contact the doctor's office to verify that your insurance is accepted.
Blue Access
Blue Connection
EPO
HMO
Mediblue (Senior)
PPO
Freedom
Liberty
Medicare Advantage
Metro/Core/Charter
About Eleni Andreopoulou, M.D.
Personal Statement
"I am a medical oncologist with an expertise in breast cancer medicine. My focus is the multidisciplinary care and treatment of patients, especially those who have tumors that are high risk. Because I am a passionate advocate of personalized medicine, my goal is to develop new successful treatments that exploit our knowledge of the cancer genome and the immuno cell network for immunotherapy, in order to improve the outcomes of breast cancer patients. To do this, I actively participate in team science and recognize the importance of establishing strong connections with other disciplines involved in the care of patients and who are in the laboratory, as our goals are the same- to cure breast cancer. I view my patients as individuals and welcome open and inclusive communication when discussing treatment strategies as it is paramount they feel comfortable with an established treatment pathway."
Biographical Info
Dr. Eleni Andreopoulou joined Weill Cornell Medical Center as an Associate Professor of Clinical Medicine specializing in the care and treatment of patients with breast cancer in January 2015. Prior to this appointment she held faculty positions at the Albert Einstein College of Medicine/ Montefiore Medical Center and the University of Texas M.D. Anderson Cancer Center.
Dr. Andreopoulou completed her training in major academic institutions in both Europe and the U.S. After she completed her residency in Internal Medicine at St Bartholomew`s Hospital in London she was awarded a European Society of Medical Oncology fellowship and trained in Medical Oncology at the Royal Marsden Hospital/Institute of Cancer Research in London, UK. She received laboratory training in the signal transduction and molecular pharmacology laboratory studying correlations between drug sensitivity and constitutive gene expression gaining a unique learning experience in a model hybrid clinical/laboratory facility. Subsequently, she completed her fellowship in Hematology and Medical Oncology at the New York University School of Medicine. In addition to intensive and comprehensive clinical training this experience was key to her understanding of the complexities in preclinical and clinical evaluation of anticancer drugs and established a strong foundation in her career. In addition to her active clinical practice her strength to the Weill Cornell Medical Center team is her demonstrated passion for biomarker-driven clinical trials, pharmacogenomic predictors of chemoresistance, chemosensitivity, and endocrine sensitivity for early and advanced stage breast cancer. Most importantly, she conceptualized and established a prospective bio-repository in breast cancer providing a crucial foundation for precision medicine research. She assembled this multidisciplinary team effort at Einstein/Montefiore and in collaboration with scientists used the bio specimens to probe one of the most perplexing challenges in modern clinical oncology – the issue of drug resistance and its relationship to chemotherapy-mediated dormancy.
At Weill Cornell Medical Center, Dr. Andreopoulou continues to actively facilitate the interface between basic and applied research, and has a special interest in individualized patient treatment. Her main research interest is biomarker-based patient selection in early phase development to fast track drug development of biologics and targeted therapy to effectively treat breast cancer while sparing patients from unnecessary toxicity. Her focus is next generation -oncology trials and incorporating technology in drug development. Her goal, in collaboration with scientists, is to explore the relationship between cancer treatment, neoplastic cells and the immune system in order to improve understanding of the determinants of response to therapy. This has the potential to contribute critical information for future testing of combinations of immunotherapy and chemotherapy in breast cancer treatment.
She is an active investigator of several clinical trials of novel therapeutic approaches in advanced disease including her leadership role as a principal investigator in development of agents sponsored by the Cancer Therapy Evaluation Program at the National Cancer Institute.
Dr. Andreopoulou has published over 40 peer review articles, reviews, editorials and book chapters and has been an invited speaker at international and national conferences. She is a member of several scientific organizations including the American Society of Clinical Oncology, the American Association of Cancer Research and the Royal Society of Medicine. She has also been active with Breast Cancer awareness programs covering screening and prevention with a particular focus on underserved minorities. She is also an active member of the American Women`s Medical Association.
Honors and Awards
Madeline and Stephen Anbinder Clinical Scholar in Oncology 2015


Leadership100 Endowment Fund Inc., Archbishop Iakovos Award for Excellence in Medicine 2015



Paul Calabresi (K12) Scholar/Einstein/Montefiore 2010




European Society of Medical Oncology (ESMO) Fellowship Award, Institute of Cancer Research/Royal Marsden Hospital (2001-2003)


Degree of Science, Thesis University of Ioannina School of Medicine, Greece (2000)


Fellowship Award, European School of Oncology (ESO) 1998


Scientific Assistant, European School of Oncology (ESO), Office for the Balkans and Middle East 1996-1999
Clinical Expertise
Breast Cancer
Immunotherapy
Education
University of Ioannina (Greece)

University of Ioannina Medical School (Greece)
Appointments
NewYork-Presbyterian Hospital

Professor of Clinical Medicine

Weill Cornell Medical College, Cornell University
External Relationships
Relationships and collaborations with for-profit and not-for profit organizations are of vital importance to our faculty because these exchanges of scientific information foster innovation. As experts in their fields, WCM physicians and scientists are sought after by many organizations to consult and educate. WCM and its faculty make this information available to the public, thus creating a transparent environment.
No External Relationships Reported