Reproductive Endocrinology/Infertility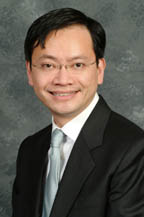 "Patients from every walk of life and corner of the world come to The Ronald O. Perelman and Claudia Cohen Center for Reproductive Medicine. Our long experience with diversity allows us to address much more than a couple's medical needs. We understand the backgrounds and beliefs that couples bring to infertility evaluation and treatment. This cultural knowledge combined with our superb success rates, cutting-edge technology and unmatched expertise makes CRM the ideal reproductive medicine clinic for patients from all over the world seeking to fulfill their dream of having a baby."
Dr. Pak H. Chung is an Associate Professor of Obstetrics and Gynecology and Reproductive Medicine at the Ronald O. Perelman and Claudia Cohen Center for Reproductive Medicine (CRM) at Weill Cornell Medical College. He is board certified in both Obstetrics and Gynecology and Reproductive Endocrinology and Infertility.
Born in Hong Kong, Dr. Chung completed a residency in Obstetrics and Gynecology at the University of Rochester School of Medicine and Dentistry in 1994 and a fellowship in Reproductive Endocrinology and Infertility at University of South Florida in 1996. He joined CRM immediately after fellowship training. Fluent in Chinese, he treats many Asian-American couples and those who travel from Asia for infertility treatment or surgery. His office has very helpful bilingual staff and patient literature.
Dr. Chung offers the full range of treatments in reproductive medicine. He specializes in in vitro fertilization (IVF), surgical treatment of reproductive disorders using laparoscopy and hysteroscopy and treatment of recurrent pregnancy loss.
He has lectured worldwide on various topics in reproductive medicine before medical and patient groups and has authored or co-authored many peer-reviewed articles in leading scientific medical journals. He supports infertility patient groups in the United States and Hong Kong.
Dr. Chung has been very involved in the Chinese American medical communities. He was President of the Chinese American Medical Society from 2005-2007, a national medical organization of over 1000 physicians of Chinese descent. He was a Director of the Federations of the Chinese Medical Societies. Currently he is a Board of Director of the Chinatown Health Clinic Foundation, the only non-profit medical facility delivering health care to the Chinese speaking population in the Greater New York area.
Dr. Chung sees patients at CRM's Manhattan office. Please call (646) 962-3838 for more information or to schedule an appointment.
You may also visit http://www.ivf.org, CRM's patient resource website, for more information.
Insurances
Insurance Plans Accepted
The following represents most of the managed care plans accepted by this physician. If your insurance carrier does not appear here please contact the physician's office as they may have individual contracts not included on this site.

* indicates this physician is no longer accepting new patients with this insurance plan.
Aetna - Weill Cornell

[POS]

Empire Blue Cross/Blue Shield

[PPO]

Empire Blue Cross/Blue Shield

[HMO]

Empire Blue Cross/Blue Shield

[EPO]

Health Plus - Amerigroup

[CHP]

Health Plus - Amerigroup
Medicare
Oxford Health Plans

[Freedom]

Oxford Health Plans

[Liberty]

POMCO
Rockefeller University - CoreSource
UHC Compass
United Empire
United Health Care
Publications
PUBLICATIONS

1. Spandorfer SD, Chung PH, Kligman I, Liu H-C, Davis OK, Rosenwaks Z. An analysis of the effect of age on implantation rates. J Assisted Reprod Genetics 2000;17:303-6.

2. Chung PH. Dysfunctional uterine bleeding. Chapter for Conn's Current Therapy. 2001 Edition.

3. Chung PH, Palermo G, Schlegel PN, Veeck L, Eid F, Rosenwaks Z. The use of intracytoplasm sperm injected in electroejaculates from anejaculatory men. Hum Reprod 1998; 13:1854-8.

4. Chung PH, Sandhoff TW, McLean MP. Hormonal and prostaglandin F2alpha regulation of steroidogenic acute regulatory (StAR) protein mRNA expression in the human ovary. Endocrine 1998;8:153-60.

5. Chung PH, Yeko TR, Mayer JC, Vila H, Welden SW, Maroulis GB. A comparative study in the use of epidural versus general anesthesia in gamete intrafallopian transfer (GIFT). J Reprod Med 1998;44:24-29.

6. Mayer JC, Chung PH, Yeko TR. Transvaginal injection of hyperosmolar glucose for ectopic pregnancy. Journal of Gynecologic Techniques (In press).

7. Chung PH, Verkauf BS, Mola R, Skinner L, Eichberg R, Maroulis GB. Correlation between semen parameters in electroejaculates and pregnancy by intrauterine insemination. Fertil Steril 1997;67:129-32.

8. Chung PH, Parsons AK. A practical guide to the use of saline infusion sonohysterography. Contemp Ob Gyn 1997; 42:21-34.

9. Chung PH, Yeko TR, Mayer JC, Welden SW, Clark B, Maroulis GB. The effect of active and passive smoking on the outcome of gamete intrafallopian transfer (GIFT). J Reprod Med 1997;42:65-70.

10. Chung PH, Verkauf BS, Eichberg R, Casady L, Sanford EJ, Maroulis GB. Electroejaculation and assisted reproductive techniques for anejaculatory infertililty. Obstet Gynecol 1996;87:22-6.

11. Chung PH, Maroulis GB. Osteoporosis-an update on prevention and treatment. The Female Patient (Ob/Gyn Edition) 1996;21:39-50.
12. Chung PH, Yeko TR. Recurrent miscarriage: causes and management. Hospital Practice 1996;31:157-164.

13. Chung PH, Maroulis GB. Treatment of postmenopausal osteoporosis. Physician Assistant 1996;20:83-96.

14. Yeko TR, Chung PH. Human corpus luteum function in normal and abnormal pregnancy states. Curr Opin Obstet Gynecol 1996;8:221-5.
15. Chung PH, Yeko TR, Mayer JC, Sanford EJ, Maroulis GB. Assisted fertility using electroejaculation in men with spinal cord injury-a review of literature. Fertil Steril 1995;64:1-9.

16. Chung PH, Abramowicz JS, Edgar DM, Sherer DM. Acute Maternal Obstructive Renal Failure in a Twin Gestation Despite Normal Physiological Pregnancy-Induced Urinary Tract Dilation. Am J Perinatol 1994;11:242-4.

17. Thomason JL, Scaglione N, James JA, Chung PH, Broekhuizen FF. How safe is terconazole during pregnancy. Clinical Therapeutics 1990;12(Supp):67-71.
Specialties
Reproductive Endocrinology
Clinical Expertise
Cryopreservation
In Vitro Fertilization (IVF)
Tubal Ligation Reversals
Hysteroscopy
Tubal Surgery
Assisted Reproductive Technology
Assisted Reproductive Techniques
Laparoscopy
Male Infertility
Reproductive Medicine
Tubal Reversal
Contact Info
1305 York Avenue
6th Floor
Appointments
Associate Attending Obstetrician and Gynecologist
NewYork-Presbyterian Hospital
Associate Professor of Clinical Obstetrics and Gynecology
Weill Cornell Medical College
Associate Professor of Clinical Reproductive Medicine
Weill Cornell Medical College
Board Certifications
Obstetrics and Gynecology
Reproductive Endocrinology/Infertility
Education
M.B.,B.S., University of Hong Kong, Faculty of Medicine (China), 1986