How to Keep Your Heart Healthy
February 23, 2021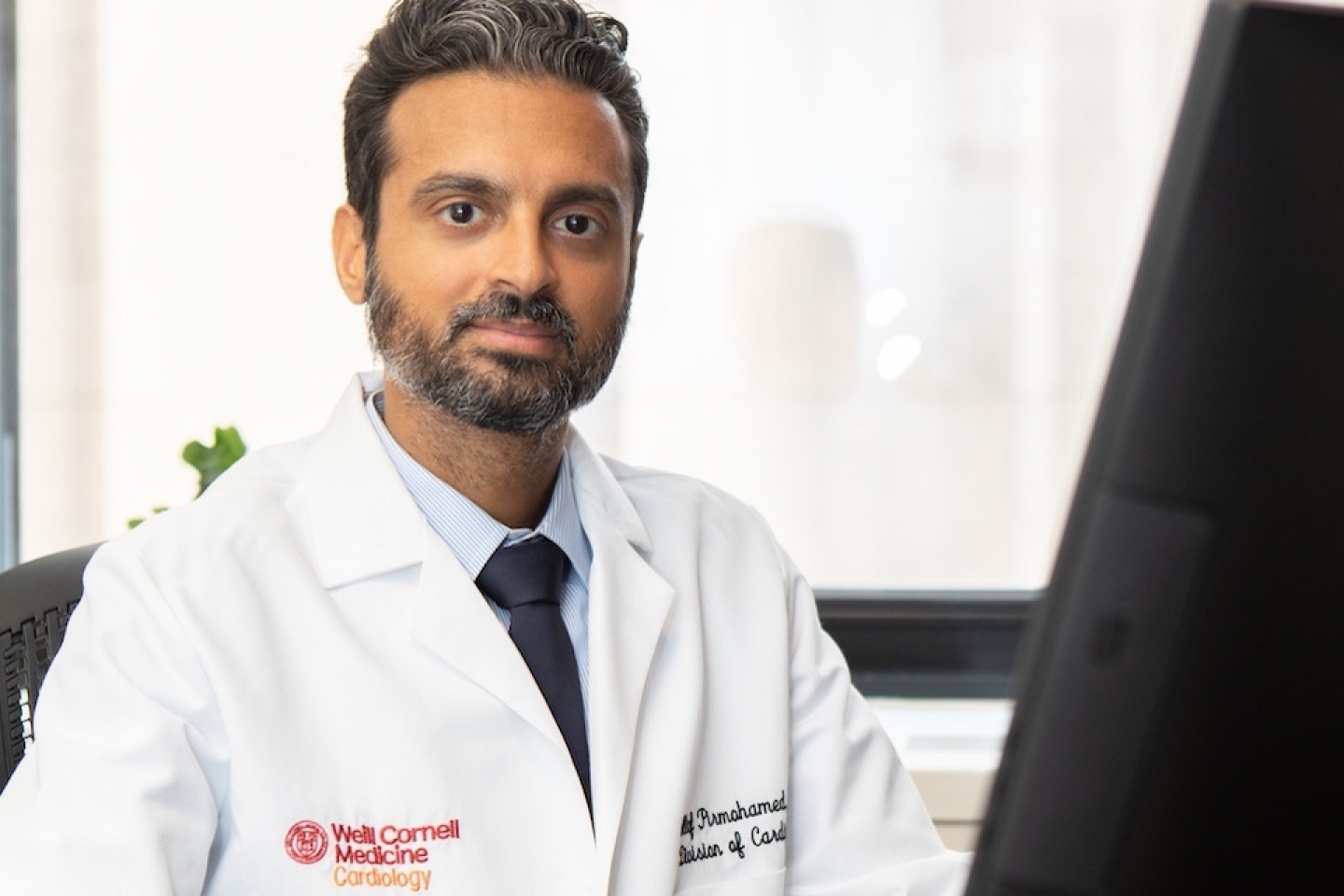 Altaf M. Pirmohamed, MD, does not have a "typical" patient in his cardiology practice.
"Some are young and worried about their heart health and come for preventive care. Others are older and suffer from obesity, hypertension, diabetes, and high cholesterol," Dr. Pirmohamed says.
He and his colleagues offer their wide range of patients "a comprehensive care approach that uses advanced knowledge in cardiovascular disease with an integrative and empathetic care philosophy focused on education, nutrition, mindfulness, and respect for the individual."
Here Dr. Pirmohamed, assistant attending physician at Weill Cornell Medicine (WCM) and NewYork-Presbyterian and assistant professor of clinical medicine at WCM, offers ways for patients to take charge of their cardiovascular health and overall quality of life.
Schedule your annual exam.
"It is critical to see a primary care doctor at least once a year to be screened for cardiac conditions," Dr. Pirmohamed explains.
If a patient displays symptoms or elevated risks, WCM has the supportive resources and specialists to help manage them.
"We have a large team of cardiologists and cardiac surgeons that together cover every condition or challenge we may encounter," he says. "We also have the support of subspecialties within cardiology and coordinate care, including advanced heart failure and heart transplant, interventional cardiology, electrophysiology, congenital heart disease, advanced cardiac imaging, and more."
Understand hypertension and heart attacks.
Blood pressure is the pressure of the blood against our arteries, which carry blood directly from the heart to the rest of the body.
"It's normal for blood pressure to rise and fall throughout the day, but a persistently high blood pressure [hypertension] can damage the heart, brain or kidneys, or put a patient at risk for developing heart disease or stroke" Dr. Pirmohamed explains.
Fortunately, it can be easily and effectively managed with a combination of oral medications, along with maintaining a healthy weight, diet, and exercise routine.
"A heart attack occurs when there is a blockage of blood flow to the muscle of the heart," Dr. Pirmohamed says. "The blockage is often a buildup of fat, cholesterol, and other substances that form a 'plaque' in the arteries of the heart."
Physicians can screen for heart attacks (also called myocardial infarctions), by administering stress tests to exercise the heart and CT scans to view potential blockages in the arteries.
Dr. Pirmohamed adds: "We can prevent a heart attack by using medications, such as aspirin and statins, to thin the blood and lower cholesterol. We can also perform minimally invasive, same-day procedures to open blockages with stents—wire mesh tubes the hold open the blocked artery."
Consider COVID.
"COVID-19 infections are also a risk in developing heart disease," Dr. Pirmohamed says.
His advice?
Follow the familiar guidelines: "Wear a mask, stay home, wash hands frequently, socially distance when in public, and have groceries and medications delivered when possible."
Move, move, move.
A sedentary life, Dr. Pirmohamed explains, is linked to disease.
"Our physical and mental health require movement," he says. "We are all juggling various responsibilities amid the pandemic, but it's important to carve out time for exercise."
Dr. Pirmohamed recommends exercising for at least 30 minutes a day, going for a socially distant walk or run, trying a free online workout, or having a FaceTime exercise session with a friend or loved one.
Eat carefully.
"A heart-healthy diet is one that is plant-based," Dr. Pirmohamed says.
Focus on eating low carbohydrates, healthy fats, and lean sources of protein—fish, white meat, eggs, and beans. Dr. Pirmohamed adds that it's a good idea to limit red meat, and avoid processed foods. The latter, often found in cans, boxes, and frozen meals, can contain salt and other ingredients that that can elevate blood pressure.
Mental health matters.
"Research that demonstrates a link between poor mental health and heart disease," Dr. Pirmohamed notes. "Make sure to check in with yourself with how you are feeling and coping."
He encourages patients who may be undergoing emotional difficulties to reach out to his office for a recommendation for a mental health provider.
Subscribe to our mailing list to stay up to date on all the latest health news and important updates from Weill Cornell Medicine.
Clinical Service
Physician