Endometriosis and Pelvic Pain Program at Weill Cornell Medicine
Clinical Services: Obstetrics and Gynecology
A message from the Director about the Endometriosis and Pelvic Pain Program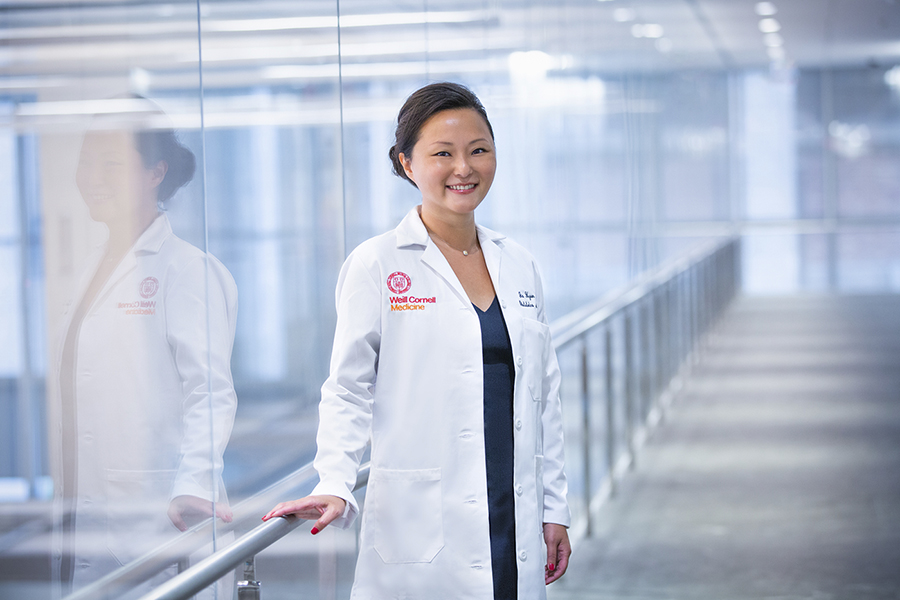 Dr. Ja Hyun Shin
Director of Minimally Invasive Gynecologic Surgery
Welcome to the Endometriosis and Pelvic Pain Program at Weill Cornell Medicine. Our Program is dedicated to the diagnosis and treatment of women experiencing symptoms related to these complex conditions. Our providers are experts in both surgical and nonsurgical management of endometriosis and pelvic pain. At the Endometriosis and Pelvic Pain Program our goal is to provide each patient with individualized and compassionate care.
Given the complex nature of endometriosis and related pain conditions, we have a multidisciplinary team comprised of surgical subspecialists who are leaders in minimally invasive surgical techniques. We also work closely with specialists in pain management, integrative medicine and pelvic floor to treat all aspects of a woman's health and well-being affected by endometriosis and pain.
In addition to endometriosis, other conditions we treat which can cause pelvic pain include interstitial cystitis/painful bladder syndrome, myofascial abdominal wall pain, and pelvic floor tension myalgia. It is important for any patient with endometriosis to know about these conditions as they commonly occur together. Our physicians have expertise in these areas and routinely collaborate to identify all possible sources of pelvic pain to ensure the best outcome for each patient.
Women treated at the Endometriosis and Pelvic Pain Program will be empowered with the most current information regarding their treatment options. Some women may benefit from surgery while others experience significant improvement of their symptoms with medication alone. We understand that many of our patients who come to us have had a long and frustrating journey seeking treatment for endometriosis with sometimes multiple providers, and yet are still living with discomfort. Our goal for each patient is to accurately and efficiently diagnose endometriosis and other pelvic pain conditions and develop a targeted treatment plan that takes into account each patient's goals, symptoms, and reproductive plans.
Patient Education
What is endometriosis?
Endometriosis is a painful disease caused by implants (growths) of endometrial tissue (the lining inside the uterine cavity) outside the uterus. Endometriosis can affect multiple organs and for this reason, symptoms may include painful periods, painful intercourse, painful gastrointestinal and bladder symptoms, and chronic pelvic pain. Endometriosis can be very distressing for a woman in her reproductive years as it is a known cause of infertility.
How is endometriosis diagnosed?
Your doctor may suspect endometriosis based on your symptoms and physical examination. Imaging such as an ultrasound or MRI may be helpful in cases where the ovary is involved or there are bigger implants. Sometimes, medication is started to see if your pain improves. However, to definitively confirm endometriosis, a biopsy from your abdomen or pelvis is taken, typically by laparoscopic surgery and reviewed by a pathologist.
At the Endometriosis and Pelvic Pain Program, you will meet with specialists who will patiently listen to your concerns and learn about your symptoms. We understand the frustrations that come with a delay in diagnosis, sometimes several years before the proper diagnosis is made. Our minimally invasive gynecologic surgeons are experts in diagnosing endometriosis as well as other gynecologic conditions which may present in a similar way but require different treatments.
Treatment Services
Medications

There are several treatments options available that can improve your painful symptoms from endometriosis. Hormonal therapies can be highly effective treatments.
Commonly prescribed medications include the following:
• Birth control pills
• Progesterone pills, injection, or intrauterine device (IUD)
• GnRH agonists (Lupron)
• GnRH antagonist (Elagolix)
Pain Management

Some patients may not want to take hormonal medication or be able to because of a medical condition. Our pain management providers offer other therapeutic options to help relieve pain from endometriosis, chronic pelvic pain, musculoskeletal and bladder pain.

Pain management options include the following:
• Medication optimization with multimodal analgesia
• Opioid free alternatives
• Nerve blocks
• Neuromodulation including spinal cord stimulation
Surgery
If a patient does not get adequate pain relief from medication or wants a definitive diagnosis of endometriosis, surgery may be needed. Surgery may also be recommended for more severe disease with larger endometriotic implants and involvement of surrounding organs. Our expert surgeons at the Endometriosis and Pelvic Pain Program are skilled in both laparoscopic and robotic procedures which result in excellent outcomes and high patient satisfaction. We respect and support every patient's personal choices and goals regarding fertility and lifestyle factors. Together, you and your surgeon will decide on the most effective surgery.
Surgical options include the following:
• Diagnostic laparoscopy with biopsies
• Laparoscopic or robotic excision of endometriotic implants
• Laparoscopic or robotic excision of deep infiltrating disease (including bowel and bladder involvement)
• Excision of abdominal wall endometriosis
• Laparoscopic or robotic hysterectomy
• Laparoscopic or robotic ovarian cystectomy or removal
• Open surgery when a minimally invasive approach is not recommended
Other Treatments
In addition to medical and surgical treatments for endometriosis, at the Endometriosis and Pelvic Pain Program we strive for a holistic approach to pelvic pain management. Our team includes women's health specialists in integrative medicine, pelvic floor rehabilitation and medicine, and gastrointestinal health to provide the following services for our patients with chronic pelvic pain symptoms:
• Pelvic floor physical therapy
• Pelvic floor and abdominal wall trigger point injections
• Pelvic floor injections with botulinum toxin
• Shockwave therapy
• Nutritional support and counseling
• Treatments for irritable bowel syndrome
• Acupuncture
• Stress reducing strategies, mindfulness, and meditation
• Behavioral therapy
Consulting Providers
• Jaclyn Bonder, MD, Women's Physical Medicine & Rehabilitation
• Michelle Cohen, MD, Women's GI Health
• Daniel Pak, MD, Pain Management
For a consult with one of our gyn providers please call us at (212) 746-3171.
Our Doctors
Minimally Invasive Gynecologic Surgery
View Profile
Obstetrics and Gynecology
View Profile
Minimally Invasive Gynecologic Surgery
View Profile
What Our Patients Are Saying
*Individual results may vary