Victoria M. Wilkins, Ph.D.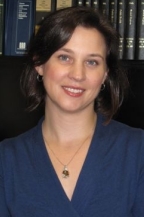 Victoria Wilkins, PhD has clinical expertise in adult and geriatric affective disorders, including depression and bipolar disorders, as well as anxiety. She has particular interest in working with individuals living with chronic illnesses, such as diabetes, chronic obstructive pulmonary disease, stroke, cancer, and chronic pain. Dr. Wilkins works with patients using cognitive-behavioral therapy (CBT). CBT is also the primary mode of treatment in her work with inpatients as the psychologist on both the Affective Disorders Unit and the Women's Unit at the Westchester Division.
Dr. Wilkins additionally has experience working with families of medical patients. Her research interests include family caregivers of medically ill and depressed older adults as well as incorporating family members into chronic disease and depression management.
Dr. Wilkins earned her undergraduate degree from Ursinus College. She has a master's degree in Psychology & Health from the University of Stirling in Scotland and a master's degree in Clinical Psychology from Drexel University. She received her Ph.D. from Drexel University after completion of her predoctoral internship at the San Francisco VA Medical Center. She received postdoctoral training in geropsychology at the University of Rochester Medical Center and in geriatric psychiatry research at the Institute of Geriatric Psychiatry at Weill Cornell Medical College.
To schedule an apointment:
Call - (914) 682-5411 [or]
Email - vmw2001@med.cornell.edu
Insurances
Insurance Plans Accepted
The following represents most of the managed care plans accepted by this physician. If your insurance carrier does not appear here please contact the physician's office as they may have individual contracts not included on this site.

* indicates this physician is no longer accepting new patients with this insurance plan.
Aetna - Weill Cornell

[POS]

Medicare
Rockefeller University - CoreSource
Publications
McGovern, A.R., Kiosses, D.N., Raue, P.J., Wilkins, V.M., & Alexopoulos, G.S. (2014). Assessment and psychosocial treatment for late-life depression in older adults with cognitive impairment. Psychiatric Annals, 44, 147-152.
Wilkins, V.M., & Alexopoulos, G.S. (2014). Depression and other neuropsychiatric complications. In J. Stein et al. (Eds.), Stroke recovery and rehabilitation, 2nd ed. New York: Demos Medical Publishing.
Alexopoulos, G.S., Wilkins, V.M., Marino, P. et al. (2012). Ecosystem Focused Therapy in post stroke depression: A preliminary study. International Journal of Geriatric Psychiatry, 27, 1053-1060.
Wilkins, V.M., Kiosses, D., & Ravdin, L.D. (2010). Late-life depression with comorbid cognitive impairment and disability: Nonpharmacological interventions. Clinical Interventions in Aging, 5, 323-331.
Wilkins, V.M., Quill, T.E., & King, D.A. (2009). Assessing families in palliative care: A pilot study of the Checklist of Family Relational Abilities. Journal of Palliative Medicine, 12, 517-519.
Wilkins, V.M., Bruce, M.L., & Sirey, J. (2009). Caregiving tasks and training interest of family caregivers of medically ill homebound older adults. Journal of Aging and Health, 21, 528-542.
Nezu, A.M., & Wilkins, V.M. (2005). Problem-solving therapy for depression. In A. Freeman, A.M. Nezu, C.M. Nezu, M. Reinecke, L.C. Sobell, L.C., & A. Wells (Eds.), International encyclopedia of cognitive behavior therapy. New York: Kluwer Academic/Plenum Publishers.
Nezu, A.M., Wilkins, V.M., & Nezu, C.M. (2004). Social problem solving, stress, and negative affect. In E.C. Chang, T.J. D'Zurilla, & L.J. Sanna (Eds.), Social problem solving: Theory, research, and training. Washington, DC: American Psychological Association.
Specialties
Psychology
Psychiatry
Geriatric Psychiatry
Clinical Expertise
Problem Solving Therapy
Depression and Anxiety Disorders
Mood Disorder
Cognitive-Behavior Therapy
Bereavement
Contact Info
Weill Cornell Psychiatry Westchester
Appointments
Assistant Attending Psychologist
NewYork-Presbyterian Hospital
Assistant Professor of Psychology in Clinical Psychiatry
Weill Cornell Medical College, Cornell University
Education
B.S., Ursinus College, 1998
M.Sc., University of Stirling (United Kingdom), 2000
Ph.D., Drexel University, 2005