Timothy Vartanian, M.D., Ph.D.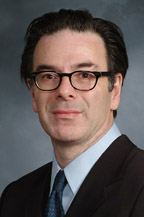 Timothy Vartanian, MD, PhD, a leading authority on neural regeneration has been named as the Director of the Judith Jaffe Multiple Sclerosis Center at NewYork-Presbyterian Hospital/Weill Cornell Medical Center. He is also appointed to the faculty of the Department of Neurology and Neuroscience at Weill Cornell Medical College.
Dr. Vartanian received his medical degree from the Pritzker School of Medicine at the University of Chicago, and his Ph.D. in Biochemistry and Molecular Biology from the University of Chicago. His internship, residency, and two research fellowships were at the prestigious Brigham and Women's Hospital, Massachusetts General Hospital, Beth Israel Hospital, and Harvard Medical School. Previously, he was chief of the Division of Demyelinating Diseases at Beth Israel Deaconess Medical Center and a member of the faculty of Harvard Medical School.
Dr. Vartanian has led research teams that have made groundbreaking discoveries in central nervous system remyelination, novel mechanisms of axonal degeneration and regeneration, and mechanisms of immune mediated injury to myelin and axons in multiple sclerosis. His research interests center on regeneration of the myelin internode in multiple sclerosis, preventing axonal and neuronal injury, and defining the complicated interactions between the immune and nervous systems.
His work has been published in top peer reviewed journals including the Journal of Cell Biology, the Proceedings of the National Academy of Science, the Journal of Neuroscience, Science, Nature, and the New England Journal of Medicine.
His research is funded by the National Institutes of Health (NIH) through the National Institute of Neurological Disorders and Stroke and the National Multiple Sclerosis Society. He has served on grant review committees for the NIH, National Multiple Sclerosis Society, Congressionally Directed Medical Research through the Department of Defense, The Wellcome Trust, and others.
Dr. Vartanian is committed to providing state-of-the-art patient care and advanced treatments in a personalized environment.
Insurances
Insurance Plans Accepted
The following represents most of the managed care plans accepted by this physician. If your insurance carrier does not appear here please contact the physician's office as they may have individual contracts not included on this site.

* indicates this physician is no longer accepting new patients with this insurance plan.
AETNA

[HMO]

AETNA

[PPO]

AETNA

[Medicare]

Aetna - Weill Cornell

[POS]

Blue Priority Network
CIGNA
Emblem Select Care
Empire Blue Cross/Blue Shield

[Pathway X]

Empire Blue Cross/Blue Shield

[Pathway X Enhanced]

Empire Blue Cross/Blue Shield

[EPO]

Empire Blue Cross/Blue Shield

[PPO]

Empire Blue Cross/Blue Shield

[Mediblue (Senior)]

Empire Blue Cross/Blue Shield

[HMO]

Health Insurance Plan of NY (HIP)

[Medicare]

Health Insurance Plan of NY (HIP)

[Medicaid]

Health Insurance Plan of NY (HIP)
Health Plus - Amerigroup

[CHP]

Health Republic
Medicare
Oscar
Oxford Health Plans

[Medicare Advantage]

Oxford Health Plans

[Liberty]

Oxford Health Plans

[Freedom]

POMCO
Rockefeller University - CoreSource
UHC Compass
United Health Care

[Medicare]

United Health Care

[Community Plan]

United Health Care
Publications
1: Chiu IM, Chen A, Zheng Y, Kosaras B, Tsiftsoglou SA, Vartanian TK, Brown RH Jr, Carroll MC. T lymphocytes potentiate endogenous neuroprotective inflammation in a mouse model of ALS.
Proc Natl Acad Sci U S A. 2008 Nov 18;105(46):17913-8.
2: Greco CM, Tassone F, Garcia-Arocena D, Tartaglia N, Coffey SM, Vartanian TK, Brunberg JA, Hagerman PJ, Hagerman RJ. Clinical and neuropathologic findings in a woman with the FMR1 premutation and multiple sclerosis.
Arch Neurol. 2008 Aug;65(8):1114-6.
3: Mullen JT, Vartanian TK, Atkins MB. Melanoma complicating treatment with natalizumab for multiple sclerosis.
N Engl J Med. 2008 Feb 7;358(6):647-8.
4: Giovannoni G, Kinkel P, Vartanian T. Treating multiple sclerosis in the natalizumab era: risks, benefits, clinical decision making, and a comparison between North American and European Union practices.
Rev Neurol Dis. 2007 Fall;4(4):184-93.
5: Fox EJ, Vartanian TK, Zamvil SS. The immunogenicity of disease-modifying therapies for multiple sclerosis: clinical implications for neurologists.
Neurologist. 2007 Nov;13(6):355-62.
6: Cameron JS, Alexopoulou L, Sloane JA, DiBernardo AB, Ma Y, Kosaras B, Flavell R, Strittmatter SM, Volpe J, Sidman R, Vartanian T. Toll-like receptor 3 is a potent negative regulator of axonal growth in mammals.
J Neurosci. 2007 Nov 21;27(47):13033-41.
7: Ma Y, Haynes RL, Sidman RL, Vartanian T. TLR8: an innate immune receptor in brain, neurons and axons.
Cell Cycle. 2007 Dec 1;6(23):2859-68. Epub 2007 Sep 4.
8: Sloane JA, Vartanian TK. Myosin Va controls oligodendrocyte morphogenesis and myelination.
J Neurosci. 2007 Oct 17;27(42):11366-75.
9: Sloane JA, Vartanian TK. WAVE1 and regulation of actin nucleation in myelination.
Neuroscientist. 2007 Oct;13(5):486-91. Review.
10: Ma Y, Li J, Chiu I, Wang Y, Sloane JA, Lü J, Kosaras B, Sidman RL, Volpe JJ, Vartanian T. Toll-like receptor 8 functions as a negative regulator of neurite outgrowth and inducer of neuronal apoptosis.
J Cell Biol. 2006 Oct 23;175(2):209-15.
11: Lehnardt S, Henneke P, Lien E, Kasper DL, Volpe JJ, Bechmann I, Nitsch R, Weber JR, Golenbock DT, Vartanian T. A mechanism for neurodegeneration induced by group B streptococci through activation of the TLR2/MyD88 pathway in microglia.
J Immunol. 2006 Jul 1;177(1):583-92.
12: Kim HJ, DiBernardo AB, Sloane JA, Rasband MN, Solomon D, Kosaras B, Kwak SP, Vartanian TK. WAVE1 is required for oligodendrocyte morphogenesis and normal CNS myelination.
J Neurosci. 2006 May 24;26(21):5849-59.
13: Li J, Ma Y, Teng YD, Zheng K, Vartanian TK, Snyder EY, Sidman RL. Purkinje neuron degeneration in nervous (nr) mutant mice is mediated by a metabolic pathway involving excess tissue plasminogen activator.
Proc Natl Acad Sci U S A. 2006 May 16;103(20):7847-52.
14: Vinogradov E, Degenhardt A, Smith D, Marquis R, Vartanian TK, Kinkel P, Maier SE, Hackney DB, Lenkinski RE. High-resolution anatomic, diffusion tensor, and magnetization transfer magnetic resonance imaging of the optic chiasm at 3T.
J Magn Reson Imaging. 2005 Aug;22(2):302-6.
15: Li J, Baud O, Vartanian T, Volpe JJ, Rosenberg PA. Peroxynitrite generated by inducible nitric oxide synthase and NADPH oxidase mediates microglial toxicity to oligodendrocytes.
Proc Natl Acad Sci U S A. 2005 Jul 12;102(28):9936-41.
16: Sussman CR, Vartanian T, Miller RH. The ErbB4 neuregulin receptor mediates suppression of oligodendrocyte maturation.
J Neurosci. 2005 Jun 15;25(24):5757-62.
17: Vartanian TK, Zamvil SS, Fox E, Sorensen PS. Neutralizing antibodies to disease-modifying agents in the treatment of multiple sclerosis.
Neurology. 2004 Dec 14;63(11 Suppl 5):S42-9.
18: Vartanian T, Sölberg Sørensen P, Rice G. Impact of neutralizing antibodies on the clinical efficacy of interferon beta in multiple sclerosis.
J Neurol. 2004 Jun;251 Suppl 2:II25-30.
19: Chun SJ, Rasband MN, Sidman RL, Habib AA, Vartanian T. Integrin-linked kinase is required for laminin-2-induced oligodendrocyte cell spreading and CNS myelination.
J Cell Biol. 2003 Oct 27;163(2):397-408. Erratum in: J Cell Biol. 2006 Jul 17;174(2):315.
20: Lehnardt S, Massillon L, Follett P, Jensen FE, Ratan R, Rosenberg PA, Volpe JJ, Vartanian T. Activation of innate immunity in the CNS triggers neurodegeneration through a Toll-like receptor 4-dependent pathway.
Proc Natl Acad Sci U S A. 2003 Jul 8;100(14):8514-9.
21: Vartanian T. An examination of the results of the EVIDENCE, INCOMIN, and phase III studies of interferon beta products in the treatment of multiple sclerosis.
Clin Ther. 2003 Jan;25(1):105-18. Review.
22: Habib AA, Chun SJ, Neel BG, Vartanian T. Increased expression of epidermal growth factor receptor induces sequestration of extracellular signal-related kinases and selective attenuation of specific epidermal growth factor-mediated signal transduction pathways.
Mol Cancer Res. 2003 Jan;1(3):219-33.
23: Wang X, Chun SJ, Treloar H, Vartanian T, Greer CA, Strittmatter SM. Localization of Nogo-A and Nogo-66 receptor proteins at sites of axon-myelin and synaptic contact.
J Neurosci. 2002 Jul 1;22(13):5505-15.
24: Lehnardt S, Lachance C, Patrizi S, Lefebvre S, Follett PL, Jensen FE, Rosenberg PA, Volpe JJ, Vartanian T. The toll-like receptor TLR4 is necessary for lipopolysaccharide-induced oligodendrocyte injury in the CNS.
J Neurosci. 2002 Apr 1;22(7):2478-86.
25: Viehover A, Miller RH, Park SK, Fischbach G, Vartanian T. Neuregulin: an oligodendrocyte growth factor absent in active multiple sclerosis lesions.
Dev Neurosci. 2001;23(4-5):377-86.
26: Park SK, Solomon D, Vartanian T. Growth factor control of CNS myelination.
Dev Neurosci. 2001;23(4-5):327-37.
27: Alberta JA, Park SK, Mora J, Yuk D, Pawlitzky I, Iannarelli P, Vartanian T, Stiles CD, Rowitch DH. Sonic hedgehog is required during an early phase of oligodendrocyte development in mammalian brain.
Mol Cell Neurosci. 2001 Oct;18(4):434-41.
28: Park SK, Miller R, Krane I, Vartanian T. The erbB2 gene is required for the development of terminally differentiated spinal cord oligodendrocytes.
J Cell Biol. 2001 Sep 17;154(6):1245-58.
29: Högnason T, Chatterjee S, Vartanian T, Ratan RR, Ernewein KM, Habib AA. Epidermal growth factor receptor induced apoptosis: potentiation by inhibition of
Ras signaling.
FEBS Lett. 2001 Feb 23;491(1-2):9-15.
30: Goodearl A, Viehover A, Vartanian T. Neuregulin-induced association of Sos Ras exchange protein with HER2(erbB2)/HER3(erbB3) receptor complexes in Schwann cells through a specific Grb2-HER2(erbB2) interaction.
Dev Neurosci. 2001;23(1):25-30.
31: Habib AA, Chatterjee S, Park SK, Ratan RR, Lefebvre S, Vartanian T. The epidermal growth factor receptor engages receptor interacting protein and nuclear factor-kappa B (NF-kappa B)-inducing kinase to activate NF-kappa B.
Identification of a novel receptor-tyrosine kinase signalosome.
J Biol Chem. 2001 Mar 23;276(12):8865-74.
32: Vartanian T, Goodearl A, Lefebvre S, Park SK, Fischbach G. Neuregulin induces the rapid association of focal adhesion kinase with the erbB2-erbB3 receptor complex in schwann cells.
Biochem Biophys Res Commun. 2000 May 10;271(2):414-7.
33: GrandPré T, Nakamura F, Vartanian T, Strittmatter SM. Identification of the Nogo inhibitor of axon regeneration as a Reticulon protein.
Nature. 2000 Jan 27;403(6768):439-44.
34: Vartanian T, Fischbach G, Miller R. Failure of spinal cord oligodendrocyte development in mice lacking neuregulin.
Proc Natl Acad Sci U S A. 1999 Jan 19;96(2):731-5.
35: Vartanian T, Goodearl A, Viehöver A, Fischbach G. Axonal neuregulin signals cells of the oligodendrocyte lineage through activation of HER4 and Schwann cells through HER2 and HER3.
J Cell Biol. 1997 Apr 7;137(1):211-20.
36: Vartanian T, Li Y, Zhao M, Stefansson K. Interferon-gamma-induced oligodendrocyte cell death: implications for the pathogenesis of multiple sclerosis.
Mol Med. 1995 Nov;1(7):732-43.
37: Vartanian T, Corfas G, Li Y, Fischbach GD, Stefansson K. A role for the acetylcholine receptor-inducing protein ARIA in oligodendrocyte development.
Proc Natl Acad Sci U S A. 1994 Nov 22;91(24):11626-30.
38: Gulcher JR, Vartanian T, Stefansson K. Is multiple sclerosis an autoimmune disease?
Clin Neurosci. 1994;2(3-4):246-52.
39: Igarashi M, Strittmatter SM, Vartanian T, Fishman MC. Mediation by G proteins of signals that cause collapse of growth cones.
Science. 1993 Jan 1;259(5091):77-9.
40: Strittmatter SM, Vartanian T, Fishman MC. GAP-43 as a plasticity protein in neuronal form and repair.
J Neurobiol. 1992 Jul;23(5):507-20.
41: Vartanian T, Szuchet S, Dawson G. Oligodendrocyte-substratum adhesion activates the synthesis of specific lipid species involved in cell signaling.
J Neurosci Res. 1992 May;32(1):69-78.
42: Strittmatter SM, Valenzuela D, Vartanian T, Sudo Y, Zuber MX, Fishman MC. Growth cone transduction: Go and GAP-43.
J Cell Sci Suppl. 1991;15:27-33.
43: Vartanian T, Dawson G, Soliven B, Nelson DJ, Szuchet S. Phosphorylation of myelin basic protein in intact oligodendrocytes: inhibition by galactosylsphingosine and cyclic AMP.
Glia. 1989;2(5):370-9.
44: Vartanian T, Sprinkle TJ, Dawson G, Szuchet S. Oligodendrocyte substratum adhesion modulates expression of adenylate cyclase-linked receptors.
Proc Natl Acad Sci U S A. 1988 Feb;85(3):939-43.
45: Vartanian T, Dawson G, Szuchet S. Intracellular messengers. Influence of oligodendrocyte substratum adhesion.
Ann N Y Acad Sci. 1988;540:433-6.
46: Dawson G, Hancock LW, Vartanian T. Regulation of GM2 ganglioside metabolism in cultured cells.
Chem Phys Lipids. 1986 Dec 15;42(1-3):105-16.
47: Vartanian T, Szuchet S, Dawson G, Campagnoni AT. Oligodendrocyte adhesion activates protein kinase C-mediated phosphorylation of myelin basic protein.
Science. 1986 Dec 12;234(4782):1395-8.
Honors and Awards
1) William Randolph Hearst Neuroscience - Harvard Medical School - 2001
2) William Randolph Hearst Neuroscience - Harvard Medical School - 1995
3) FIDIA Internationa School of Neuroscience - Padova, Italy - 1992
4) The Stephen Lukes Prize in Neurology - University of Chicago - 1988
5) Telfyan Cell Biology Scholarship - University of Chicago - 1984
6) Magna Cum Laude - Oakland University - 1981
Contact Info
520 East 70th Street
Starr Pavilion, 607
Appointments
NewYork-Presbyterian Hospital
Professor of Neuroscience
Weill Cornell Medical College
Weill Cornell Medical College, Cornell University
Education
B.A., Oakland University, 1981
Ph.D., University of Chicago, 1987
M.D., University of Chicago Pritzker School of Medicine, 1988