Thangamani Muthukumar, M.D.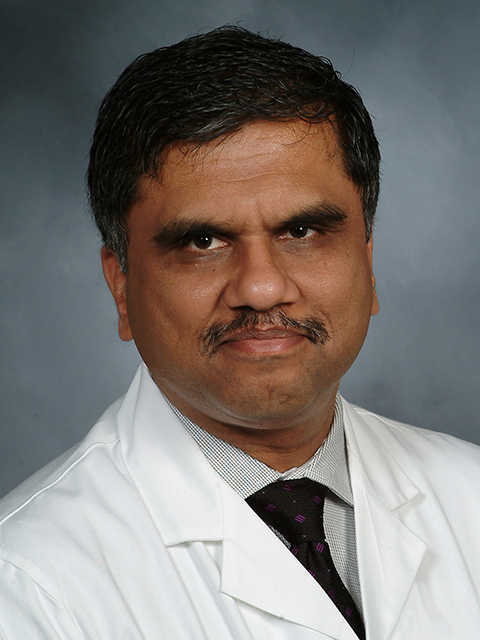 "I am physician trained to treat people with kidney problems. It is a high honor and distinct privilege to serve such patients and my goal is to provide superb care. I actively pursue research to better understand kidney transplant rejection. Knowing and being involved in kidney transplant research helps me advise my patients on their best available treatment options."
Thangamani Muthukumar, M.D., M.S., is an assistant professor of medicine at the Weill Cornell Medical College and an assistant attending physician at the NewYork-Presbyterian Hospital. He is the associate director (research) for the nephrology fellowship program at Cornell. He is board certified in internal medicine and nephrology.
Dr. Muthukumar trained as a physician and a nephrologist in India and again in the U.S.A. He graduated from the Madras Medical College, Chennai (Madras), India and after residency in medicine, completed his nephrology fellowship at the Post Graduate Institute of Medcial Education and Research, Chandigarh, India. He joined as a research fellow at Cornell in 2001, in the transplantation immunology research laboratory of Dr. Manikkam Suthanthiran, M.D., Stanton Griffis Distinguished Professor of Medicine.
Dr. Muthukumar subsequently did his residency in medicine and fellowship in nephrology at the New York Presbyterian Hospital-Cornell, and upon completion, joined the faculty at Cornell in 2009. He also serves as a nephrology consultant at the Memorial Sloan Kettering Cancer Center and at the Hospital for Special Surgery.
Dr. Muthukumar's research is primarily focused on the molecular aspects of kidney transplant rejection. He has published extensively in this area and is supported by grants from the National Institutes of Health and from the American Society of Transplantation. Dr. Muthukumar has also received advanced training in research methodology and graduated recently from the Weill Cornell Graduate School of Medical Sciences with a master's degree in clinical and translational investigation.
Publications
Selected Recent Publications
1. Lee JR, Muthukumar T, Dadhania D, Toussaint NC, Ling L, Pamer E, Suthanthiran M. Gut microbial community structure and complications after kidney transplantation: a pilot study. Transplantation 2014;98:697-705.
2. Matignon M, Ding R, Dadhania DM, Mueller FB, Hartono C, Snopkowski C, Li C, Lee JR, Sjoberg D, Seshan SV, Sharma VK, Yang H, Nour B, Vickers AJ, Suthanthiran M, Muthukumar T. Urinary cell mRNA profiles and differential diagnosis of acute kidney graft dysfunction.
J Am Soc Nephrol 2014;25:1586-97.
3. Muthukumar T, Lee JR, Dadhania DM, Ding R, Sharma VK, Schwartz JE, Suthanthiran M. Allograft rejection and tubulointerstitial fibrosis in human kidney allografts: Interrogation by urinary cell mRNA profiling. Transplant Rev (Orlando) 2014;28:145-154.
4. Lee JR, Bang H, Dadhania D, Hartono C, Aull MJ, Satlin M, August P, Suthanthiran M, Muthukumar T. Independent risk factors for urinary tract infection and for subsequent bacteremia or acute cellular rejection: a single-center report of 1166 kidney allograft recipients. Transplantation 2013;96(8):732-8.
5. Hartono C, Muthukumar T, Suthanthiran M. Immunosuppressive drug therapy.
Cold Spring Harb Perspect Med. 2013 Sep 1;3(9).
6. Suthanthiran M, Schwartz JE, Ding R, Abecassis M, Dadhania D, Samstein B, Knechtle SJ, Friedewald J, Becker YT, Sharma VK, Williams NM, Chang CS, Hoang C, Muthukumar T, August P, Keslar KS, Fairchild RL, Hricik DE, Heeger PS, Han L, Liu J, Riggs M, Ikle DN, Bridges ND, Shaked A;
Clinical Trials in Organ Transplantation 04 (CTOT-04) Study Investigators. Urinary-cell mRNA profile and acute cellular rejection in kidney allografts. N Engl J Med 2013;369(1):20-31.
7. Muthukumar T, Afaneh C, Ding R, Tsapepas D, Lubetzky M, Jacobs S, Lee J, Sharma V, Lee J, Dadhania D, Hartono C, McDermott J, Aull M, Leeser D, Kapur S, Serur D, Suthanthiran M. 
HIV-infected kidney graft recipients managed with an early corticosteroid withdrawal protocol: clinical outcomes and messenger RNA profiles. Transplantation 2013;95:711-20.
8. Ben Dov IZ*, Muthukumar T*, Morozov P, Mueller FB, Tuschl, T, Suthanthiran M. (*Co-first authors). MicroRNA sequence profiles of human kidney allografts with or without tubulointerstitial fibrosis. Transplantation 2012;94:1086-1094.
9. Matignon M*, Muthukumar T*, Seshan SV, Suthanthiran M, Hartono C. (*Co-first authors). Concurrent Acute Cellular Rejection Is an Independent Risk Factor for Renal Allograft Failure in Patients With C4d-Positive Antibody-Mediated Rejection. Transplantation 2012;94:603-611.
10. Anglicheau D*, Muthukumar T*, Hummel A, Ding R, Sharma VK, Dadhania D, Seshan SV, Schwartz JE, Suthanthiran M. (*Co-first authors). Discovery and validation of a molecular signature for the noninvasive diagnosis of human renal allograft fibrosis. Transplantation 2012;93:1136-46.
Contact Info
525 East 68th Street
Floor 8
525 East 68th Street
Floor 8
Appointments
Assistant Attending Physician
NewYork-Presbyterian Hospital
Assistant Professor of Medicine
Weill Cornell Medical College, Cornell University
Board Certifications
Internal Medicine
Nephrology
Education
M.B.,B.S., Madras Medical College, University of Madras (India), 1988
M.D., Stanley Medical College, Dr M.G.R Medical University (India), 1994