Stefan Worgall, Ph.D., M.D.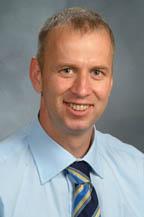 I am a physician scientist. My clinical expertise is in diseases that affect the lungs and airways in infants and children. My research interests are to better understand chronic lung diseases, particularly asthma and cystic fibrosis, and to develop new strategies to prevent and treat these disorders.
Dr. Worgall is the Division Chief of the Pediatric Pulmonology, Allergy and Immunology Division and Distinguished Professor of Pediatric Pulmonology at Weill Cornell Medical College, where is is also a Professor of Pediatrics, and Associate Professor of Genetic Medicine. In addition, he is an Attending Pediatrician at NewYork-Presbyterian Phyllis and David Komansky Center for Children's Health/Weill Cornell Medical Center.

He received his medical education at the Ruprecht-Karls University in Heidelberg, Germany and his residency training in Pediatrics at the Universities of Heidelberg, Essen and Giessen in Germany and at New York-Presbyterian Hospital. Dr. Worgall completed a fellowship in Pediatric Pulmonology at Weill Cornell Medical Center.

Dr. Worgall maintains an active research laboratory where his group studies the lung immune system in asthma and cystic fibrosis as well as new vaccine strategies against lung infections. As author or co-author of more than 70 research articles, Dr. Worgall has published his scientific work in journals such as Journal of Clinical Investigation, Blood, Nature Medicine and Journal of Virology.
Insurances
Insurance Plans Accepted
The following represents most of the managed care plans accepted by this physician. If your insurance carrier does not appear here please contact the physician's office as they may have individual contracts not included on this site.

* indicates this physician is no longer accepting new patients with this insurance plan.
AETNA

[PPO]

AETNA

[Medicare]

AETNA

[HMO]

Aetna - Weill Cornell

[POS]

Affinity Essential
Affinity Health Plan
Blue Priority Network
CIGNA
Emblem Select Care
Empire Blue Cross/Blue Shield

[EPO]

Empire Blue Cross/Blue Shield

[Pathway X]

Empire Blue Cross/Blue Shield

[Pathway X Enhanced]

Empire Blue Cross/Blue Shield

[HMO]

Empire Blue Cross/Blue Shield

[PPO]

Fidelis Care
GHI

[CBP]

Health First
Health Insurance Plan of NY (HIP)

[Medicare]

Health Insurance Plan of NY (HIP)

[Medicaid]

Health Insurance Plan of NY (HIP)
Health Plus - Amerigroup

[CHP]

Health Plus - Amerigroup
Health Republic
Medicaid
Medicare
Oscar
Oxford Health Plans

[Medicare Advantage]

Oxford Health Plans

[Liberty]

Oxford Health Plans

[Freedom]

POMCO
Rockefeller University - CoreSource
UHC Compass
United Empire
United Health Care

[Medicare]

United Health Care

[Community Plan]

United Health Care
VNSNY CHOICE Medicare

[HMO]
Publications
Worgall TS, Veerappan A, Sung B, Kim BI, Weiner E, Bholah R, Silver RB, Jiang XC, Worgall S. Impaired sphingolipid synthesis in the respiratory tract induces airway hyperreactivity. Sci Transl Med 2013; 5:186ra67
Rosenberg J, De B, Hicks M, Janda K, Kaminsky S, Worgall S, Crystal R. Suppression of nicotine-induced pathophysiology by an adenovirus hexon-based anti-nicotine vaccine. Hum Gene Ther 2013. PMID:23611296
Veerappan A, O'Connor NJ, Brazin J, Reid AC, Jung A, McGee D, Summers B, Branch-Elliman D, Stiles B, Worgall S, Kaner RJ, Silver RB. Mast cells: a pivotal role in pulmonary fibrosis. DNA Cell Biol 2013; 32:206-218
Krause A, Whu W, Qiu JP, Wafadari D, Hackett N, Anurag S, Crystal RG, Worgall S. RGD capsid modification enhances mucosal protective immunity of a non-human primate adenovirus vector expressing P. aeruginosa OprF. Clin Exp Immunol 2013; PMID: 23607394
Sharma A, Krause A, Xu Y, Sung B, Wu W, Worgall S. Adenovirus-based vaccine with epitopes incorporated in novel fiber loops to induce protective immunity against Pseudomonas aeruginosa. PloS One 2013; 8: e56996
Vicencio AG, Santiago MT, Tsirilakis K, Stone A, Worgall S, Foley EA, Bush D, Goldman DL. Fungal sensitization in childhood persistent asthma is associated with disease severity. Pediatr Pulmonol 2013; PMID: 23401301
Xu Y, Krause A, Limberis M, Worgall TS Worgall S. Low sphingosine-1-phosphate impairs lung dendritic cells in cystic fibrosis. Am J Respir Cell Mol Biol 2013; 48: 250-257
Worgall S. 40 years on: have we finally got a vaccine for Pseudomonas aeruginosa? Future Microbiol 2012; 12:1333-1335. doi: 10.2217/fmb.12.106
De BP, Pagovich OE, Hicks MJ, Rosenberg JB, Moreno AY, Janda KD, Koob G, Worgall S, Kaminsky SM, Sondhi D, Crystal RG. Disrupted adenovirus-based vaccines against small addictive molecules circumvent anti-adenovirus immunity. Hum Gene Ther 2012. PMID:23140508
Dyke JP, Sondhi D, Voss HU, Shungu DC, Mao X, Yohay K, Worgall S, Hackett NR, Hollmann C, Yeotsas ME, Jeong AL, Van de Graaf B, Cao I, Kaminsky SM, Heier LA, Rudser KD, Souweidane MM, Kaplitt MG, Kosofsky B, Crystal RG, Ballon D. Assessment of disease severity in late infantile neuronal ceroid lipofuscinosis using multiparametric MR imaging. Am J Neuroradiol. 2012 (PMID:23042927)
Halbreiner M, Pagovich O, Finnin E, Bishawi M, Moreno A, Janda K, Koob G, Worgall S, Kaminsky S, Sondhi D, Crystal R. Disrupted adenovirus-based vaccines against small addictive molecules circumvent anti-adenovirus immunity. Hum Gene Ther. 2012 (doi:10.1089/hum.2012.163)
Hicks MJ, Rosenberg JB, De BP, Pagovich O, Young CN, Qiu JP, Kaminsky SM, Hackett NR, Worgall S, Janda KD, Davisson RL, Crystal RG. AAV-directed persistent expression of an anti-nicotine antibody gene for smoking cessation. Sci Transl Med 2012; 4:140ra87
Rosenberg J, Hicks MJ, De B, Pagovich O, Frenk E, Janda K, Wee S, Koob G, Hackett NR, Kaminsky S, Worgall S, Tignor N, Mezey J, Crystal RG. AAVrh.10-mediated Expression of an anti-cocaine antibody mediates persistent passive immunization that suppresses cocaine-induced behavior. Hum Gene Ther 2012; 23:451-459
Ding B, Nolan DJ, Babazadeh AO, Shido K, Cao Z, Rosenwaks Z, Whitsett J, Crystal RG, Worgall S, Sato TN, Rabbany SY, Rafii S. Endothelial-derived inductive signals initiate and sustain regenerative lung alveolarization. Cell 2011; 147:539-553
Xu Y, Worgall S. Immune dysfunction in cystic fibrosis. In: Srimamulu D, ed. Cystic Fibrosis. First Edition. InTech, 2012: 273-288
Baird EM, Lehman TJ, Worgall S. Combination therapy with rituximab and cyclophosphamide in the treatment of anti-neutrophil cytoplasmic antibodies (ANCA) positive pulmonary hemorrhage. Pediatr Rheumatol Online J. 2011; 9:33
Ferreras JA, Gupta A, Amin ND, Basu A, Sinha BN, Worgall S, Jayapraksh V, Quadri LN. Chemical scaffolds with structural similarities to siderophores of nonribosomal peptide-polyketide origin as novel antimicrobials against Mycobacterium tuberculosis and Yersinia pestis. Bioorg Med Chem Lett 2011; 21:6533-6537
Sharma A, Krause A, Worgall S. Recent developments in Pseudomonas vaccines. Hum Vaccines 2011; 7: 1-13
Krause A, Xu Y, Ross S, Wu W, Joh J, Worgall S. Absence of vaccine-enhanced RSV disease and changes in pulmonary dendritic cells with adenovirus-based RSV vaccine. Virol J 2011; 8:375
Krause A, Worgall S. Delivery of antigens by viral vectors for vaccination. Therapeutic Delivery 2011; 2:51-70
Krause A, Whu WZ, Xu Y, Joh J, Crystal RG, Worgall S. Protective anti-Pseudomonas aeruginosa humoral and cellular mucosal immunity by AdC7-mediated expression of the P. aeruginosa protein OprF. Vaccine 2011; 29:2131-2139
Hicks MJ, De BP, Rosenberg JB, Davidson JT, Moreno AY, Janda KD, Wee S, Koob GF, Hackett NR, Kaminsky SM, Worgall S, Toth M, Mezey JG, Crystal RG. Cocaine analog coupled to disrupted adenovirus: A vaccine strategy to evoke high-titer immunity against addictive drugs. Mol Ther 2011; 19:612-619
Shiratsuchi T, Rai U, Krause A, Worgall S, Tsuji M. Replacing adenoviral vector HVR1 with a malaria B cell epitope improves immunogenicity and circumvents preexisting immunity to adenovirus in mice. J Clin Invest 2010; 120:3688-3701
Souweidane MM, Fraser JF, Arkin LM, Sondhi D, Hackett NR, Kaminsky SM, Heier L, Kosofsky BE, Worgall S, Crystal RG, Kaplitt MG. J Neurosurg. Gene therapy for late infantile neuronal ceroid lipofuscinosis: neurosurgical considerations. J Neurosurg Pediatr 2010; 6:115-122
Xu Y, Krause A, Hamai H, Harvey BG, Worgall TS, Worgall S. Proinflammatory phenotype and increased caveolin-1 in alveolar macrophages with silenced CFTR mRNA. PLoS One 2010; 5: e11004
Krause A, Xu Y, Joh J, Hubner R, Gess A, Ilic T, Worgall S. Overexpression of sonic hedgehog in the lung mimics the effect of lung injury and compensatory lung growth on pulmonary Sca-1 and CD34 positive cells. Mol Ther 2010; 18:404-412
Tertilt C, Joh J, Krause A, Chou P, Schneeweiss K, Crystal RG, Worgall S. Expression of B cell activating factor enhances protective immunity of a vaccine against Pseudomonas aeruginosa. Infect Immun 2009; 77:3045-3055
Xu Y, Tertilt C, Krause A, Quadri LN, Crystal RG, Worgall S. Influence of the cystic fibrosis transmembrane conductance regulator on expression of lipid metabolism-related genes in dendritic cells. Respiratory Research 2009; 10:26
Saitoh H, Leopold PL, Harvey BG, O'Connor TP, Worgall S, Hackett NR, Crystal RG. Emphysema mediated by lung overexpression of ADAM10. Clin Transl Sci 2009; 2:50-56
Skaricic D, Traube C, De B, Joh J, Boyer J, Crystal RG, Worgall S. Genetic delivery of an anti-RSV antibody to protect against pulmonary infection with RSV. Virology 2008; 378:79-85
Worgall S, Sondhi D, Hackett NR, Kosofsky B, Kekatpure MV, Neyzi N, Dyke JP, Ballon D, Heier L, Greenwald BM, Christos P, Mazumdar M, Souweidane MM, Kaplitt MG, Crystal RG. Treatment of late infantile neuronal ceroid lipofuscinosis by CNS administration of a serotype 2 adeno-associated virus expressing CLN2 cDNA. Hum Gene Ther 2008; 19:463-474
Worgall S, Krause A, Qiu JP, Joh J, Hackett NR, Crystal RG. Protective immunity to Pseudomonas aeruginosa induced with a capsid-modified adenovirus expressing P. aeruginosa OprF. J Virol 2007; 81:13801-13808
Worgall S, Kekatpure MV, Heier L, Ballon D, Dyke JP, Shungu D, Mao X, Kosofsky B, Kaplitt MG, Souweidane MM, Sondhi D, Hackett NR, Hollmann C, Crystal RG. Neurological deterioration in late infantile neuronal ceroid lipofuscinosis. Neurology 2007; 69:521-535
Dyke JP, Voss HU, Sondhi D, Hackett NR, Worgall S, Heier LA, Kosofsky BE, Ulug AM, Shungu DC, Mao X, Crystal RG, Ballon D. Assessing disease severity in late infantile neuronal ceroid lipofuscinosis using quantitative MR diffusion-weighted imaging. Am J Neuroradiol. 2007, 28:1232-1236
Kobayashi H, Worgall S, Crystal RG. Interaction of P. carinii with dendritic cells and resulting host responses to P. carinii. J Immunother 2007; 30:54-63
Worgall S, Crystal RG. Gene Therapy. In: Lanza R, Langer R, Vacanti J, eds. Principles of Tissue Engineering, Third Edition. Elsevier / Academic Press, New York, 2007: 471-492.
Krause A, Joh J H, Hackett NR, Roelvink PW, Bruder JT, Wickham TJ, Kovesdi I, Crystal RG, Worgall S. Epitopes expressed in different adenovirus capsid proteins induce different levels of epitope-specific immunity. J Virol 2006; 80:5523-5530
Heguy A, O'Connor TP, Luettich K, Worgall S, Cieciuch AA, Harvey B-G, Hackett NR, Crystal RG. Gene expression profiling of human alveolar macrophages of phenotypically normal smokers and non-smokers reveals a previously unrecognized subset of genes modulated by cigarette smoking. J Mol Med 2006; 84:318-328
Arkin LM, Sondhi D, Worgall S, Suh LH, Hackett NR, Kaminsky SM, Hosain SA, Souweidane MM, Kaplitt MG, Dyke JP, Heier LA, Ballon DJ, Shungu DC, Wisniewski KE, Greenwald BM, Hollmann C, Crystal RG. Confronting the issues of therapeutic misconception, enrollment decisions, and personal motives in genetic medicine-based clinical research studies for fatal disorders. Hum Gene Ther 2005; 16:1028-1036
Worgall S, Heguy A, Luettich K, Harvey BG, Quadri LE, Crystal RG. Similarity of patterns in gene expression of human alveolar macrophages evoked by Pseudomonas aeruginosa and Burkholderia cepacia. Infect Immun 2005; 73:5262-5268
Worgall S, Krause A, Rivara M, Hee KK, Vintayen EV, Hackett NR, Roelvink PW, Bruder JT, Wickham TJ, Kovesdi I, Crystal RG. Protection against pulmonary infection with P. aeruginosa following immunization with a replication deficient adenovirus modified to contain a P. aeruginosa OprF epitope in the adenovirus capsid. J Clin Invest 2005; 115:1281-1289
Palma M, Zurita J, Ferreras JA, Worgall S, Shi L, Campagne F, Quadri LE. Pseudomonas aeruginosa SoxR does not conform to the archetypal paradigm for SoxR-1-dependent regulation of the bacterial oxidative stress adaptive response. Infect Immun 2005; 73:2958-2966
Honors and Awards
2012, Voted of New York City's Super Doctors
2010, Distinguished Associate Professor of Pediatric Pulmonology
2009, Fellow, American Society of Pediatric Research
1999, Investigator Award Department of Medicine, Weill Cornell Medical College
1999, Parker B. Francis Fellowship
1983, Scheffel Prize
Specialties
Pediatric Pulmonology
Pulmonology
Clinical Expertise
Congenital Anomaly of Lung
Broncho-Pulmonary Dysplasia
Bronchoscopy
Cystic Fibrosis
Respiratory Disease
Pediatric Asthma
Asthma
Chronic Lung Disease
Contact Info
505 East 70th Street
Helmsley Tower, 3rd Floor
Appointments
Distinguished Professor of Pediatric Pulmonology
Weill Cornell Medical College
Weill Cornell Medical College
Professor of Genetic Medicine
Weill Cornell Medical College, Cornell University
Board Certifications
Pediatrics
Pediatric Pulmonology
Education
M.D., University of Heidelberg, Faculty of Medicine (Germany), 1991
Ph.D., University of Heidelberg (Germany), 1992