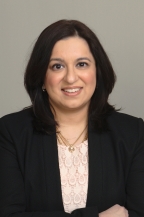 Srishti Nangia, M.D.
Provider of world-class care at NewYork-Presbyterian
Medical Specialties
Child Neurology
Clinical Neurophysiology
Treats Children
Locations and Appointments
Insurances Accepted
Please contact the doctor's office to verify that your insurance is accepted.
Blue Access
Blue Connection
EPO
HMO
Mediblue (Senior)
PPO
Freedom
Liberty
Metro/Core/Charter
About Srishti Nangia, M.D.
Personal Statement
I am a pediatric epileptologist who provides compassionate care with a multidisciplinary approach. My patients and their families have always inspired me to provide the best care possible and create and develop programs that will best serve their needs and improve their quality of life. I am committed to providing an accurate diagnosis of epilepsy syndromes and the best possible treatment available without adverse side effects. I am fortunate to be working with a talented and compassionate multidisciplinary team, who share the same passion and dedication to providing excellent medical care.
Biographical Info
Srishti Nangia, MD is an Assistant Professor of Pediatrics at Weill Cornell Medicine and Assistant Pediatrician at NewYork-Presbyterian/Weill Cornell Medical Center. She directs the Pediatric EMU and Pediatric EEG program. She is board certified in Neurology with Special Qualifications in Child Neurology, Clinical Neurophysiology and Epilepsy.
Dr. Nangia is a native New Yorker, who graduated Phi Beta Kappa and summa cum laude with a BA in Psychology from Barnard College, Columbia University. She then earned her MD from SUNY Downstate Medical Center. This was followed by a pediatric residency at Northwell Health (formerly Schneider Children's Hospital, LIJ). She then completed her child neurology training and a two year combined pediatric and adult clinical neurophysiology fellowship at NewYork-Presbyterian/Weill Cornell Medical Center.
Dr. Nangia subsequently joined the Division of Epilepsy at Ann & Robert H. Lurie Children's Hospital of Chicago. Her clinical and research interests include early onset epilepsy, infantile spasms, Lennox Gastaut Syndrome (LGS), Doose Syndrome/epileptic encephalopathy, tuberous sclerosis complex (TSC), genetic epilepsies, fon's Syndrome, epilepsy surgery, ketogenic diet, cannabidiol and use of EEG to identify epilepsy syndromes. A family affected by TSC, with the youngest child with infantile spasms who was treated with inappropriate medications, inspired her to create an accredited multidisciplinary TSC center. The TSC center has received generous support and funding from BCureful, a nonprofit organization.
After seven years, Dr. Nangia rejoined NYP-Weill Cornell Medical Center as Director of Pediatric EMU and Pediatric EEG, Program Director of Pediatric Clinical Neurophysiology Fellowship and Medical Director of the Ketogenic Diet Program. She directs multiple clinics including the infantile spasms program and LGS clinics and joins Neurosurgery in multidisciplinary clinics for presurgical evaluation of refractory epilepsy patients, post-surgery follow-up, tumoral epilepsy and TSC. Dr. Nangia is a member of Child Neurology Society, American Epilepsy Society, American Clinical Neurophysiology Society and American Academy of Neurology. She is also on the TS Alliance's Professional Advisory Board.
Board Certifications
American Board of Pediatrics
American Board of Psychiatry & Neurology (Child Neurology)
American Board of Psychiatry & Neurology (Clinical Neurophysiology)
American Board of Psychiatry & Neurology (Epilepsy)
Clinical Expertise
Pediatric Epilepsy
Epilepsy
Refractory Epilepsy
Infantile Spasms
Lennox-Gastaut Syndrome
Electroencephalogram (EEG)
Epilepsy Surgery
Ketogenic Diet
Tuberous Sclerosis
Generalized Epilepsy
Neonatal Seizures
Myoclonic Astatic Epilepsy
Refractory Myoclonic Astatic Epilepsy
Dravet Syndrome
Benign Focal Childhood Epilepsy
Benign Childhood Epilepsy With Centrotemporal Spikes (BECTS)
Benign Atypical Partial Epilepsy In Childhood
Aicardi Syndrome
Generalized Epilepsy, Intractable
Catamenial Epilepsy
Childhood Onset Epileptic Encephalopathy
Epilepsy With Continuous Spike Wave During Slow-Wave Sleep
Panayiotopoulos Syndrome
Ohtahara Syndrome
Malformation of Cortical Development of Brain
Early Childhood Epilepsy, Myoclonic
Benign Neonatal Convulsions
Early Myoclonic Encephalopathy
Disorders of Mitochondrial Metabolism
Neurometabolic Disorder
Neuronal Ceroid Lipofuscinosis
Progressive Myoclonic Epilepsy
Mutation In PCDH19 Gene
Cognitive Impairment Associated With Mutation In SCN8A Gene
Nonketotic Hyperglycinemia
Mutation In CDKL5 Gene
Febrile Seizure With Status Epilepticus
Febrile Seizures
Complex Febrile Seizure
Education
State University of New York Health Science Center at Brooklyn

Barnard College - Columbia University
Appointments
Assistant Attending Pediatrician

NewYork-Presbyterian Hospital

Assistant Professor of Clinical Pediatrics

Weill Cornell Medical College, Cornell University
External Relationships
Relationships and collaborations with for-profit and not-for profit organizations are of vital importance to our faculty because these exchanges of scientific information foster innovation. As experts in their fields, WCM physicians and scientists are sought after by many organizations to consult and educate. WCM and its faculty make this information available to the public, thus creating a transparent environment.
No External Relationships Reported