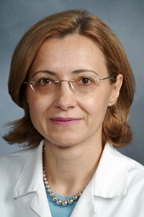 S. Nena Osorio, M.D.
Provider of world-class care at NewYork-Presbyterian
Medical Specialties
General Pediatrics
Pediatric Hospitalist
Not Accepting New Patients
Treats Children
Locations and Appointments
Insurances Accepted
Please contact the doctor's office to verify that your insurance is accepted.
Freedom
Liberty
Medicare Advantage
About S. Nena Osorio, M.D.
Biographical Info
Dr. Nena Osorio is Vice Chair for Quality and Patient Safety and Professor of Clinical Pediatrics in the Department of Pediatrics, Weill Cornell Medicine. She is also Attending Physician at NewYork-Presbyterian Hospital/Weill Cornell Medical Center and the NYP Komansky Children's Hospital.
Dr. Osorio received her medical degree from the University Of Belgrade School Of Medicine in 1985. From 1987 to 1992, Dr. Osorio conducted basic science research as a Visiting Fellow and Postdoctoral Associate in the Department of Physiology and Biophysics at Cornell Medical College. During this period her work resulted in three publications in peer-reviewed journals. Dr. Osorio completed pediatric residency training in 1995, and she served as a chief resident in 1996. She was a practicing pediatrician until 2003 at which point she returned to Weill Cornell Medical College (WCMC) and NewYork-Presbyterian Hospital/Weill Cornell Medical Center as the Medical Director for the General Pediatric Inpatient Unit. She served as Medical Director until June 2017. Dr. Osorio assumed a new role as a Director of Quality, Patient Safety and Family Engagement in July of 2017, leading departmental efforts at improving patient safety and quality. In March 2018, Dr. Osorio was appointed as Vice Chair of Quality and Patient Safety in the Department of Pediatrics.
Dr. Osorio conducted several Quality Improvement (QI) Projects from 2005 to 2006 including examining length of stay and developing proper identification of attending physician of record for inpatients. These projects involved implementing systematic changes in clinical practice to improve the delivery of medical care.
In October 2006, Dr. Osorio initiated a program of Family Centered Care (FCC) at the Phyllis and David Komansky Center for Children's Health (KCCH) at NYPH, with funding from the Department of Pediatrics. This project required systemic changes in clinical practice, revision of clinical teaching practices, formalizing avenues for community involvement, and creation of instruments for evaluating relevant change. In 2007, Dr. Osorio received the first Clinical Scholar Award for Patient Safety and Quality from the Department of Pediatrics. This award recognized her work and commitment toward engaging families in the healthcare process and it has enabled her to conduct the research project to evaluate the impact of Family Centered Rounds on medical communication skills among pediatric residents. In addition, Dr. Osorio initiated the formation of the Komansky Center Family Advisory Council, a group of 30 dedicated parents whose children have been hospitalized at the NYPH. This group is actively involved in working together with the hospital staff to promote FCC, and to improve the safety and the quality of care at the KCCH. The successes of this group are many, the last being the formation of the "Family Faculty." This group of parents participates in the education of undergraduate and graduate students, as well as nursing in pediatrics. Dr. Osorio helped to develop training sessions for the members of the family faculty, and to develop workshops for the trainees using the principles of FCC. For her exemplar leadership skills Dr. Osorio received "Physician of the Year Award" in 2007.
Dr. Osorio has been actively involved in resident and medical student education. She led the Pediatric Journal Club for a number of years, as well as worked on a resident research committee that supervised resident-mentored projects. She is the recipient of several teaching awards for work with the medical students (WCMC Teaching Award-Pediatric Sub-Internship in 2006 and 2013, "Senior List for Excellence in Teaching" by the graduating class of WCMC medical students in 2009), and pediatric residents (Faculty Teaching Award, 2007). She is the member of the Clinical Competency Committee.
In 2011, Dr. Osorio obtained a Master's Degree in Translational and Clinical Research from Weill Cornell Medical College. In the same year Dr. Osorio completed Fellowship in Health Care Quality and Medical Informatics, Center for Healthcare Informatics and Policy, Weill Cornell Medical College.
At the national level, Dr. Osorio served as Co-Chair for The Patient and Family Centered Care Special Interest Group, Pediatric Academic Societies (PAS); Co-Chair for Clinical Conundrum Session, The Pediatric Hospitalist Medicine Annual Meeting (PHM). In 2011 she co-chaired a subgroup of the Strategic Planning Committee for Pediatric Hospital Medicine. She is an abstract reviewer for both the PAS and PHM, moderator for the PAS meeting, and a reviewer for the Pediatric Hospitalist Journal.
Dr. Osorio's main research interests are Quality Improvement and medication safety. She is local primary investigator for the AAP SOHM Multicenter Research QI Collaborative " Improving Pediatric Patient Centered Care Transitions" (IMPACT) which aims to improve pediatric patient transitions from hospital to home and to reduce hospital reutilization. She also co-leads the AAP VIP QI Collaborative " Reducing Excessive Variability in Infant Sepsis Evaluation" Project Revise which aims to improve care for febrile infants age 7 to 60 days old. Under Dr. Osorio's leadership the Komansky Center for Children's Health joined National Learning Collaborative the Solution for Patient Safety" -SPS in 2016. The aim of this collaborative is to improve patient safety and reduce harm to pediatric patients to zero. Dr. Osorio is enrolled in the "Advance Improvement Methods" AIM at the James A. Anderson Center for Health System Excellence, Cincinnati Children's Hospital. She is the author and co-author of numerous peer reviewed publications and book chapters including " Caring for Hospitalized Child", A Handbook of Inpatient Pediatrics, AAP, 2017 second edition.
Honors and Awards
2007, Award for Teaching Excellence
2007, Physician of The Year Award
2007, Department of Pediatrics Scholarship Fund for Patient Safety Award
2002, Physician Recognition Award
1996, Housestaff Award
1995, Award for Excellence in Teaching
1984, First-Prize for the best Student Publication
Board Certifications
American Board of Pediatrics
Education
Weill Graduate School of Medical Sciences of Cornell University

University of Belgrade Faculty of Medicine (Serbia)
Appointments
NewYork-Presbyterian Hospital

Professor of Clinical Pediatrics

Weill Cornell Medical College, Cornell University
External Relationships
Relationships and collaborations with for-profit and not-for profit organizations are of vital importance to our faculty because these exchanges of scientific information foster innovation. As experts in their fields, WCM physicians and scientists are sought after by many organizations to consult and educate. WCM and its faculty make this information available to the public, thus creating a transparent environment.
Proprietary Interest:
American Academy of Pediatrics
Other Interest:
American Academy of Pediatrics
Boston Children's Hospital (Children's Hospital Corporation)