Steven M. Lipkin, MD, PhD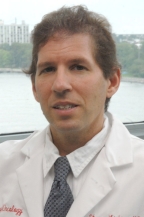 GENETIC TESTING, WHOLE EXOME AND GENOME SEQUENCING FOR THE MANAGEMENT FOR ADULT GENETIC DISEASES INCLUDING LYNCH SYNDROME/HNPCC, FAMILIAL ADENOMATOUS POLYPOSIS, HEMOCHROMATOSIS, LI-FRAUMENI, JUVENILE POLYPOSIS, PEUTZ-JEGHERS SYNDROME AND OTHER DISORDERS

Dr. Lipkin is a board certified Medical Geneticist with a focus on genetic testing for gastrointestinal diseases, including the Lynch Syndrome, Familial Adenomatous Polyposis, Hemochromatosis and Hereditary Pancreatic Cancer among others. He is an authority on cancer genetic syndromes, with a particular emphasis on hereditary Gastrointestinal cancer syndromes. He is the author of MAPP-MMR, a bioinformatic program that is used to interpret whether Lynch syndrome missense variants are deleterious muations or benign polymorphisms. He practices at Weill Medical College of Cornell University and New York-Presbyterian Hospital. He trained in Internal Medicince at Duke University and Medical Genetics at the National Human Genome Research Institute.
Insurances
Insurance Plans Accepted
The following represents most of the managed care plans accepted by this physician. If your insurance carrier does not appear here please contact the physician's office as they may have individual contracts not included on this site.

* indicates this physician is no longer accepting new patients with this insurance plan.
AETNA

[HMO]

AETNA

[PPO]

AETNA

[Medicare]

Aetna - Weill Cornell

[POS]

Blue Priority Network
CIGNA
Empire Blue Cross/Blue Shield

[Pathway X]

Empire Blue Cross/Blue Shield

[Pathway X Enhanced]

Empire Blue Cross/Blue Shield

[PPO]

Empire Blue Cross/Blue Shield

[Mediblue (Senior)]

Empire Blue Cross/Blue Shield

[HMO]

Empire Blue Cross/Blue Shield

[EPO]

Health Plus - Amerigroup

[CHP]

Health Republic
Medicaid
Medicare
Oscar
Oxford Health Plans

[Medicare Advantage]

Oxford Health Plans

[Liberty]

Oxford Health Plans

[Freedom]

POMCO
Rockefeller University - CoreSource
UHC Compass
United Health Care

[Medicare]

United Health Care
Publications
SELECTED PUBLICATIONS


1. Lipkin SM, Wang V, Jacoby R, Banerjee-Basu S, Baxevanis AD, Lynch HT, Elliott RM, Collins FS. MLH3: a DNA mismatch repair gene associated with mammalian microsatellite instability. Nat Genet 2000;24:27-35.


2. Lipkin SM, Wang V, Stoler DL, Anderson GR, Kirsch I, Hadley D, Lynch HT, Collins FS. Germline and somatic mutation analyses in the DNA mismatch repair gene MLH3: Evidence for somatic mutation in colorectal cancers. Hum Mutat 2001;17:389-96.


3. Lipkin SM, Moens PB, Wang V, Lenzi M, Shanmugarajah D, Gilgeous A, Thomas J, Cheng J, Touchman JW, Green ED, Schwartzberg P, Collins FS, Cohen PE. Meiotic arrest and aneuploidy in MLH3-deficient mice. Nat Genet 2002;31:385-90.


4. Lynch HT, Weisenburger DD, Quinn-Laquer B, Snyder CL, Lynch JF, Lipkin SM, Sanger WG. Family with acute myelocytic leukemia, breast, ovarian, and gastrointestinal cancer. Cancer Genet Cyto 2002;137:8-14.


5. Chen PC, Dudley S, Hagen W, Dizon D, Paxton L, Reichow D, Yoon SR, Yang K, Arnheim N, Liskay RM, Lipkin SM. Contributions by MutL homologues Mlh3 and Pms2 to DNA mismatch repair and tumor suppression in the mouse. Cancer Res 2005;65:8662-70.


6. Frank SA, Chen PC, Lipkin SM. Kinetics of cancer: a method to test hypotheses of genetic causation. BMC Cancer 2005;5:163.


7. Chao EC, Lipkin SM. Molecular models for the tissue specificity of DNA mismatch repair-deficient carcinogenesis. Nucleic Acids Res 2006;34:840-52.


8. Chao EC, Velasquez JL, Witherspoon MS, Rozek LS, Peel D, Ng P, Gruber SB, Watson P, Rennert G, Anton-Culver H, Lynch H, Lipkin SM. Accurate classification of MLH1/MSH2 missense variants with multivariate analysis of protein polymorphisms-mismatch repair (MAPP-MMR). Hum Mutat 2008;29:852-60.


9. Chen PC, Kuraguchi M, Velasquez J, Wang Y, Yang K, Edwards R, Gillen D, Edelmann W, Kucherlapati R, Lipkin SM. Novel roles for MLH3 deficiency and TLE6-like amplification in DNA mismatch repair-deficient gastrointestinal tumorigenesis and progression. PLoS Genet 2008;4:e1000092.


10. Edwards RA, Witherspoon M, Wang K, Afrasiabi K, Pham T, Birnbaumer L, Lipkin SM. Epigenetic repression of DNA mismatch repair by inflammation and hypoxia in inflammatory bowel disease-associated colorectal cancer. Cancer Res 2009;69:6423-9.


11. Sikandar SS, Pate KT, Anderson S, Dizon D, Edwards RA, Waterman ML, Lipkin SM. Notch signaling is required for formation and self-renewal of tumor-initiating cells and for repression of secretory cell differentiation in colon cancer. Cancer Res 2010;70:1469-78.


12. Sikandar S, Dizon D, Shen X, Li Z, Besterman J, Lipkin SM. The class I HDAC inhibitor MGCD0103 induces cell cycle arrest and apoptosis in colon cancer initiating cells by upregulating Dickkopf-1 and non-canonical Wnt signaling. Oncotarget. 2010 Nov;1(7):596-605.


13. Shin, Y., Hency, B., Lipkin, SM, and Shen, X. Frequency Domain Analysis Reveals External Periodic Fluctuations Can Generate Sustained p53 Oscillation PLoS One. 2011;6(7):e22852.


14. Crous-Bou M, Rennert G, Salazar R, Rodriguez-Moranta F, Rennert HS, Lejbkowicz F, Kopelovich L, Lipkin SM, Gruber SB, Moreno V. Genetic polymorphisms in fatty acid metabolism genes and colorectal cancer.Mutagenesis. 2012 Mar;27(2):169-76.


15. Wang X, Wei X, Thijssen B, Das J, Lipkin SM, Yu H. Three-dimensional reconstruction of protein networks provides insight into human genetic disease Nat Biotechnol. 2012 Jan 15;30(2):159-64. PMID: 22252508
Clinical Expertise
Adult Genetics
Genetic Counseling
Genetic Testing
Cancer Genetics
Contact Info
1305 York Avenue
4th Floor
Appointments
Associate Professor of Medicine
Weill Cornell Medical College, Cornell University
Associate Attending Physician
NewYork-Presbyterian Hospital
Associate Professor of Genetic Medicine
Weill Cornell Medical College, Cornell University
Education
B.A., Princeton University, 1986
M.D., Ph.D., University of California, San Diego School of Medicine, 1995