Pulmonary Disease Medicine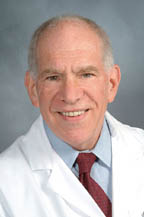 Our translational research program includes many projects in the fields of genetic therapies and personalized medicine.
The field of genetic therapies comprises gene and stem cell therapies and our laboratory has extensive expertise in both areas. Our group was the first to use a recombinant virus as a vehicle for in vivo gene therapy and we have carried out human trials of gene therapy for cystic fibrosis, cardiac ischemia, cancer and central nervous system disorders. Among the current projects are gene transfer strategies for cancer, inherited CNS disorders, á1-antitrypsin deficiency, anti-bioterrorism applications and development of vaccines. We also operate the clinical vector production laboratory of the Belfer Gene Therapy Core Facility, which has produced adenovirus and adeno-associated virus vectors that have been used in numerous human studies. Current projects in the field of stem cell therapy include characterization of the roles of cancer stem cells in lung cancer and the role of airway epithelium stem cells in chronic obstructive pulmonary disease.
Personalized medicine is the use of information and data from an individual's genotype, or level of gene expression to stratify complex diseases, select a medication or dose of a medication, provide a therapy, or initiate a preventative measure that is specifically suited to that patient. In addition to genetic information, other factors, including imaging, laboratory, and clinical information about the disease process or the patient are integrated into the process of developing personalized medicine. Our group utilizes microarray technologies for genome-wide characterization of gene expression, single nucleotide polymorphism and copy number variation profiles on clinical samples as the basis for projects aimed at identifying candidate genes associated with complex disease such as chronic obstructive pulmonary disease.
The overall research program of the group includes close collaborations with other laboratories at Weill Cornell and elsewhere, including Malcolm Moore's group at Memorial Sloan Kettering Cancer Center for stem cell projects. Of particular note are our collaborations on personalized medicine projects with colleagues at Weill Cornell Medical College-Qatar and Hamad Medical Corporation in Doha, Qatar and collaborations on Bioinformatics and Biostatistical Genetics with several laboratories at Cornell-Ithaca, including Andy Clark and Jason Mezey.
Post-doctoral Training:
Internship: Internal Medicine, Massachusetts General Hospital, Boston, MA
Residency: Internal Medicine, Massachusetts General Hospital, Boston, MA
Fellowship: Clinical Fellow in Medicine, Harvard University, Cambridge, MA
Research Associate, Section on Molecular Hematology, NHLI, NIH, Bethesda, MD
Head, Section on Pulmonary Biochemistry, NHLI, NIH, Bethesda, MD
Clinical Fellow, Chest Medicine, University of California, San Francisco, CA
Chief, Pulmonary Branch, NHLBI, NIH, Bethesda, MD
Special Volunteer, Pulmonary Branch, NHLBI, NIH, Bethesda, MD
Military: Surgeon, Commissioned Corps, USPHS; Senior Surgeon, Commissioned Corps, USPHS; Medical Director, Commissioned Corps, USPHS;
Present, Medical Director (Retired), Commissioned Corps, USPHS
Insurances
Insurance Plans Accepted
The following represents most of the managed care plans accepted by this physician. If your insurance carrier does not appear here please contact the physician's office as they may have individual contracts not included on this site.

* indicates this physician is no longer accepting new patients with this insurance plan.
Aetna - Weill Cornell

[POS]

Empire Blue Cross/Blue Shield

[PPO]

Empire Blue Cross/Blue Shield

[Mediblue (Senior)]

Empire Blue Cross/Blue Shield

[NYPH Employees Only]

Empire Blue Cross/Blue Shield

[EPO]

Empire Blue Cross/Blue Shield

[HMO]

Medicaid
Medicare
Rockefeller University - CoreSource
Publications
Recent Publications
Leopold PL, Wendland RL, Vincent T, Crystal RG. Neutralized adenovirus-immune complexes can mediate effective gene transfer via a Fc receptor-dependent infection pathway. J Virol 2006; 80:10237-47
Carolan BJ, Heguy A, Harvey B-G, Leopold PL, Ferris B, Crystal RG. Upregulation of expression of the ubiquitin carboxyl terminal hydrolase L 1 gene in human airway epithelium of cigarette smokers. Ca Res 2006; 66:10729-10740
Worgall S, Crystal RG. Gene Therapy. In: Lanza R, Langer R, Vacanti J, eds. Principles of Tissue Engineering, Third Edition. Elsevier / Academic Press, New York, 2007: 471-492.
Sondhi D, Hackett NR, Peterson DA, Stratton J, Baad M, Travis KM, Wilson JM, Crystal RG. Enhanced performance and survival of the CLN2 knockout mouse model of late infantile neuronal ceroid lipofuscinosis following intracranial delivery of a rhesus macaque-derived adeno-associated virus (AAVrh.10) vector expressing the CLN2 cDNA. Mol Ther 2007; 15:481-491
Strulovici Y, Leopold PL, O#146; Connor TP, Pergolizzi RG, Crystal RG. Human embryonic stem cells and gene therapy. Mol Ther 2007; 15:850-866.
Gelbman BG, Heguy A , O#146;Connor TP, Zabner J, Crystal, RG. Upregulation of pirin expression by chronic cigarette smoking is associated with bronchial epithelial cell apoptosis Respir Res 2007; 8:10
Heguy A, Harvey BG, Leopold PL, Dolgalev I, Raman T, Crystal RG. Responses of the human airway epithelium transcriptome to in vivo injury. Physiol Genomics 2007; 29:139-148.
Dyke JP, Voss HU, Sondhi D, Hackett NR, Worgall S, Heier LA, Kosofsky BE, Uluğ AZ, Shungu DC, Mao X, Crystal RG, Ballon D. Assessing disease severity in late infantile neuronal ceroid lipofuscinosis using quantitative magnetic resonance diffusion-weighted imaging. Am J Neruro Res 2007; 28:1232-1236.
Worgall S, Kekatpure MV, Heier L, Ballon D, Dyke JP, Shungu D, Mao X, Kosofsky B, Kaplitt MG, Souweidane MM, Sondhi D, Hackett NR, Hollmann C, Crystal RG. Neurological deterioration in late infantile neuronal ceroid lipofuscinosis. Neurology 2007; 69: 521-535.
Leopold PL, Crystal RG. Intracellular trafficking of adenovirus: Many means to many ends. Adv Drug Deliv Rev 2007; 59:810-821.
Honors and Awards
Honors (selected):
Elected member:
Alpha Omega Alpha; American Society for Clinical Investigation; Association of American Physicians;
Awards:
Public Health Service Commendation medal (1983)
Outstanding Service medal (1988) Meritorious Service Award (1991) Honorary Fellow, American College of Chest Physicians (2001)
Honorary Fellow, Royal College of Physicians of Ireland (2005)
Honorary Degree: Doctor of Medicine, Johann Wolfgang Goethe University, Frankfurt, Germany (1992)
Specialties
Pulmonary Medicine
Pulmonary Disease Medicine
Clinical Expertise
Alpha-1-Antitrypsin Deficiency
Cystic Fibrosis
Sarcoidosis
Interstitial Lung Disease
Contact Info
1305 York Avenue
10th Floor
Appointments
Chairman of Genetic Medicine
Weill Cornell Medical College
Weill Cornell Medical College
The Bruce Webster Professor of Internal Medicine
Weill Cornell Medical College
Professor of Genetic Medicine
Weill Cornell Medical College
Board Certifications
Pulmonary Disease Medicine
Education
M.S., University of Pennsylvania, 1963
M.D., University of Pennsylvania School of Medicine, 1968