Robert Nicholas Troiano, M.D.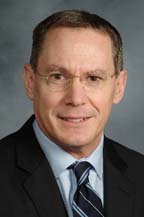 Having completed a residency in both Obstetrics & Gynecology and Radiology, Weill Cornell offers Dr. Troiano the opportunity to practice and contribute his medical expertise in both fields. Combining both disciplines, he maintains an active schedule in all three areas of the Weill Cornell's academic medical center mission: clinical practice, teaching and research.
His clinical practice includes expertise in Obstetric and Gynecologic Ultrasound, and cross-sectional abdominal and pelvic imaging notably MRI of the female pelvis. Dr. Troiano works closely with Weill Cornell's renowned Center for Reproductive Medicine and Infertility.
He has authored and co-authored many research papers published in peer-reviewed medical journals-his current research focus includes investigation of congenital uterine anomalies.
A member of both the American College of Radiology and the American College of Obstetrics and Gynecology, Dr. Troiano is a past winner of the Robin C. Watson Award for Excellence in Radiology Teaching, and a peer reviewer and editorial board member for several prestigious medical journals.
A graduate of the University of Southern California, Los Angeles, Dr. Troiano attended graduate school in Physiology at Georgetown University, Washington, D.C., before receiving his M.D. from New York Medical College, Valhalla, NY.
His post-doctoral training included an internship in Gynecology at Massachusetts General Hospital (MGH), and residency in Obstetrics & Gynecology at the Harvard University School of Medicine MGH/Brigham and Women's Hospital in Boston.
Following two years of clinical practice in Obstetrics& Gynecology in Boston, he completed a second residency in Diagnostic Radiology at Lenox Hill Hospital, New York City.
After completing a Fellowship in Cross-Sectional Imaging at Yale University, New Haven, CT, he remained on the faculty of the Yale University School of Medicine for six years.
He has held academic appointments as a Clinical Fellow at the Harvard University School of Medicine, and as an Instructor and Assistant Professor at the Yale University School of Medicine.
He joined the faculty of Weill Medical College of Cornell University in 1998.
Publications
RECENT PUBLICATIONS:
1. Troiano RN, Ascher S. "MR imaging of Congenital Uterine Anomalies" chapter in 'Clinical Magnetic Resonance Imaging' Edelman RR, Hesselink JR, Zlatkin MB, eds. 3rd edition. WB Saunders and Company, Philadelphia 2005.
2. Troiano RN, McCarthy SM. "State of the Art: Mullerian Duct Anomalies: Imaging and Clinical Issues" Radiology 2004,33(1):19-34.
3. Troiano RN, Reinhold C. "Congenital Anomalies" in AMIRSYS 'Pocket Radiologist – Gynecologic'
H. Hricak, ed. WB Saunders and Company, Philadelphia 2004.
4. Skates S, Troiano RN, Knapp RC. "Longitudinal CA125 Detection of Sporadic Papillary Serous Carcinoma of the Peritoneum" International Journal of Gynecologic Cancer 2003,13,693-696.
5. Troiano RN. "Magnetic Resonance Imaging of Mullerian Duct Anomalies of the Uterus" Topics in Magnetic Resonance Imaging 2003,14(4):269-279.
6. Sharma G, Heier L, Kalish RB, Troiano RN, Chasen ST. "Use of Fetal Magnetic Resonance Imaging in Patients Electing Termination of Pregnancy by Dilatation and Evacuation" American Journal of Obstetrics and Gynecology 2003,189(4),990-993.
7. Javitt MC, Reuter K, Troiano RN. "Current Status of Imaging Carcinoma of the Vulva" Journal of Women's Imaging 2002, 4(3):121-125.
8. Troiano RN, Parkash V, Scoutt L, McCarthy S. "Mature Cystic Teratoma of the Ovary: Atypical Findings on MR Imaging" Journal of Women's Imaging 2000, 2(2):57-62 .
9. Lee CH, Smith RC, Levine JA, Troiano RN, Tocino I. "Clinical Usefulness of MR Imaging of the Breast in the Evaluation of the Problematic Mammogram" American Journal of Roentgenology 1999, 173: 1323-1329.
10. Troiano RN, Taylor KJW. "Sonographically Guided Therapeutic Aspiration of Benign Appearing Ovarian Cysts and Endometriomas" American Journal of Roentgenology 1998, 171(6):1601-1605.
11. Troiano RN, Flynn SD, McCarthy S. "Cystic Adenomyosis of the Uterus: MR Imaging" Journal of Magnetic Resonance Imaging 1998, 8:1198-1202.
12. Zreik TG, Troiano RN, Ghoussoub RAD, Arici A, Olive DL, McCarthy S. "Myometrial Tissue in Uterine Septa" J Am Assoc Gynecol Laparosc 1998, 5(2): 155 - 160
13. Rutherford TJ, Zreik TG, Troiano RN, Palter SF, Olive DL. "Endometrial Cryoablation: A Minimally Invasive Procedure for Abnormal Uterine Bleeding" J Am Assoc Gynecol Laparosc 1998, 5: 23 - 28
14. Zreik TG, Rutherford TJ, Palter SF, Troiano RN, Brown JM, Williams E, Olive, DL. "Cryomyolysis: A
New Approach to the Conservative Treatment of Uterine Fibroids" J Am Assoc Gynecol Laparosc. 1998,5:33-38.
15. Troiano RN, Lazzarini KM, Scoutt L, Lange RC, Flynn SD, McCarthy S. "Fibroma and Fibrothecoma of the Ovary: MR Imaging" Radiology 1997, 204(3):795-798.
16. Troiano RN, Quedans-Case C, Taylor KJW. "Correlation of Findings on Endovaginal Ultrasound with Serum CA-125 Levels" American Journal of Roentgenology. 1997, 168(6):1587 - 1590.
17. Lazzarini KM, Troiano RN, Smith RC. "Can Running Cause the Appearance of Marrow Edema on MRI of the Foot and Ankle?" Radiology 1997, 202(2): 540 - 542.
18. Troiano RN, Lange RC, McCarthy S. "Conspicuity of Normal and Pathologic Female Pelvic Anatomy: Comparison of Gadolinium-Enhanced T1-Weighted Images and Fast Spin Echo T2-Weighted Images" Journal of Computer Assisted Tomography. 1996, 20(6): 871-877.
19. Troiano RN, McCarthy S. "Magnetic Resonance Evaluation of Adnexal Masses" Seminars in Ultrasound, CT, and MRI 1995, 15: 38-48.
20. Pellerito J, Troiano R, Quedans-Case C, Taylor K. "Common Pitfalls of Endovaginal Color Flow Imaging" Radiographics 1995, 15: 37-47.
21. Troiano RN, Smith RC. "Malignant Gynecological Disease: MRI Applications" Topics in MRI 1994,7: 44-53.
22. Kier R, Wain S, Troiano R. "Fast Spin-Echo MR Imaging of the Pelvis Obtained with a Phased Array Coil: Value in Localizing and Staging Prostatic Carcinoma" American Journal of Roentgenology 1993, 161: 601-606.
Clinical Expertise
Maternal-Fetal Ultrasound
Gynecologic Ultrasound
Ultrasound
Computerized Axial Tomography (CT)
Magnetic Resonance Imaging (MRI)
Contact Info
525 East 68th Street
Suite J-130
Appointments
Associate Professor of Clinical Obstetrics and Gynecology
Weill Cornell Medical College
Associate Attending Radiologist
NewYork-Presbyterian Hospital
Associate Professor of Clinical Radiology
Weill Cornell Medical College
Education
M.D., New York Medical College, 1982