Riley Joseph Williams, M.D.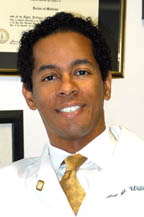 Dr. Riley J. Williams III is a specialist in the field of shoulder, knee and elbow surgery at Hospital for Special Surgery. Dr. Williams holds a dual appointment in both the Department of Orthopedic Surgery, as a full-time member of the Sports Medicine & Shoulder Service, and as a Clinician-Scientist in the Research Division. He is also an Associate Professor at Weill Medical College of Cornell University. Dr. Williams attended college at Yale University and the Stanford University School of Medicine. His clinical and research interests include: cartilage repair and transplantation, arthroscopic shoulder repair (rotator cuff tears, labrum tears), arthroscopic shoulder stabilization, anterior cruciate and posterior cruciate ligament reconstruction, and elbow ligament reconstruction. Dr. Williams is the Director of the Institute for Cartilage Repair at Hospital for Special Surgery. Dr. Williams currently serves as the Head Team Physician for the Nets professional basketball team, the New York Red Bulls professional soccer team, and the Iona College Department of Athletics. He has also served as Associate Team Physician for both the New York Mets professional baseball and New York Giants professional football teams. Dr. Williams is an active member of the New York Road Runner's Club.
http://www.hss.edu/htdoc/physicians/physician_biographies/williams.asp
Insurances
Insurance Plans Accepted
The following represents most of the managed care plans accepted by this physician. If your insurance carrier does not appear here please contact the physician's office as they may have individual contracts not included on this site.

* indicates this physician is no longer accepting new patients with this insurance plan.
Aetna - Weill Cornell

[POS]

Rockefeller University - CoreSource
United Health Care
Publications
Williams RJ 3rd, Hyman J, Petrigliano F, Rozental T, Wickiewicz TL. Anterior cruciate ligament reconstruction with a four-strand hamstring tendon autograft. Journal of Bone and Joint Surgery (Am). 2004, 86(2):225-32.
Williams RJ 3rd, Strickland S, Cohen M, Altchek D, Warren R: Arthroscopic repair for traumatic posterior shoulder instability. American Journal of Sports Medicine, Mar-Apr;31(2):203-9, 2003.
Kelly B, Williams RJ 3rd, Cordasco F, Otis J, Backus S, Warren R, Craig E, Wickiewicz T, Altchek D. differential patterns of muscle activation in patients with symptomatic and asymptomatic rotator cuff tears. Journal of Shoulder Elbow Surgery 2004.
Williams RJ 3rd, Urquhart ER, Altchek DW. Medical collateral ligament tears in the throwing athlete. Instructional Course Lectures. 2004;53:579-86.
Mithoefer K, Williams RJ 3rd, Warren R, Potter HG, Spock C, Jones E, Wickiewicz T, Marx R. Prospective Evaluation of the Microfracture Technique for the Treatment of Symptomatic Articular Cartilage Lesions of the Knee. Journal of Bone and Joint Surgery 2005.
Honors and Awards
Aircast Award for Clinical Medicine, American Orthopedic Society for Sports Medicine, 2005
Charles C. Neer Award for Excellence in Research, American Shoulder and Elbow Society, 2003
O'Donoghue Award for Sports Injury Research, American Orthopedic Society for Sports Medicine, 1998
Philip D. Wilson Jr. Award for Excellence in Research, Hospital for Special Surgery, 1998
Ranawat Award for Excellence in Research, Eastern Orthopedic Association, 1998
Specialties
Orthopedic Surgery
Orthopedics
Sports Medicine
Clinical Expertise
Arthroplasty
Arthroscopy
Elbow Surgery
Knee Surgery
Ligament Reconstruction
Shoulder Surgery
Contact Info
520 East 70th Street
Starr Pavilion, 2nd Floor
Appointments
Associate Professor of Orthopaedic Surgery
Weill Cornell Medical College
Associate Attending Orthopaedic Surgeon
Hospital for Special Surgery
Associate Attending Orthopaedic Surgeon
NewYork-Presbyterian Hospital
Education
M.D., Stanford University School of Medicine, 1992