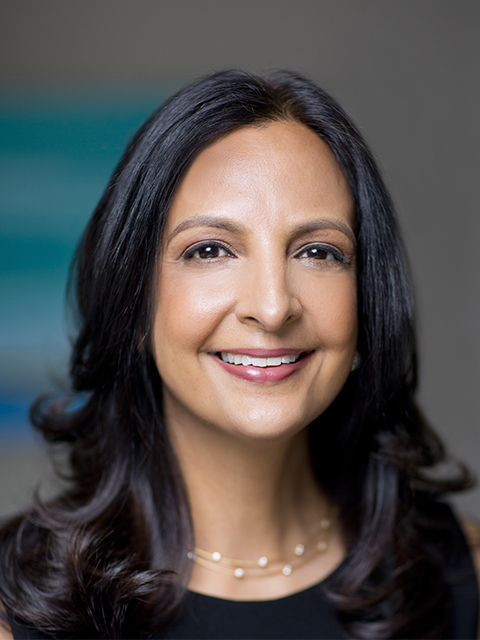 Rainu Kaushal, M.D.
Provider of world-class care at NewYork-Presbyterian
Treats Children
About Rainu Kaushal, M.D.
Biographical Info
Rainu Kaushal, MD, MPH, is the Senior Associate Dean of Clinical Research, Chair of the Department of Population Health Sciences, and the Nanette Laitman Distinguished Professor of Population Health Sciences at Weill Cornell Medicine. She is also the Physician-in-Chief of Population Health Sciences at New York-Presbyterian Hospital/Weill Cornell Medical Center.
A distinguished information scientist and health services researcher, Dr. Kaushal has made significant contributions to pediatric patient safety, health information technology (IT), and value-based healthcare delivery in the U.S. healthcare system. She has developed and applied novel quantitative metrics to measure the quality and economic value of health IT and health information exchange, and qualitative frameworks to evaluate the effects of clinical IT application. She also led several key studies on interoperable health information technology, an important method of improving patient safety, informing the national Meaningful Use Program at Health and Human Services.
As the principal investigator of INSIGHT Clinical Research Network (CRN), Dr. Kaushal has built the country's largest urban clinical database of 22 million patients with trillions of medical, biological, and social data points integrated for national research use. In response to the COVID-19 pandemic, INSIGHT CRN created a New York City-wide surveillance database containing information for suspected and diagnosed COVID-19 patients to be used in analytical inquiries and research.
Dr. Kaushal is also the principal investigator of a portfolio of work that that aims to evaluate the
patterns of telehealth utilization and effectiveness of specific telemedicine programs at NewYork-Presbyterian. She works in conjunction with junior faculty in areas of evaluation include telemedicine's impact on "patient loyalty", effectiveness of Mobile Stroke Units, and the impact of Community Tele-paramedicine program.
In her role as the Senior Associate Dean for Clinical Research, Dr. Kaushal manages the growth and expansion of clinical research across Weill Cornell Medicine. She oversees the institution's top investigators working to advance patient care and public health, including ongoing scientific studies surrounding COVID-19. Dr. Kaushal is also leading the research partnership between Weill Cornell Medicine and Cornell Tech, focusing on the intersection between healthcare and technology. As the chair of the newly named Department of Population Health Sciences, Dr. Kaushal aims to improve the health of individuals and populations by leveraging the department's expertise in data science, health services research, health economics, and epidemiology.
An author of over 200 papers in various scientific publications, Dr. Kaushal is a frequently invited speaker at national and international meetings. She also serves on multiple boards and advisory committees for organizations, including New York Quality Care, the Patient-Centered Outcomes Research Institute, the National Institutes of Health, the National Academy of Medicine, and the National Quality Forum. Her many awards and recognitions include election to the National Academy of Medicine, selection in the Executive Leadership in Academic Medicine program and being named one of the Crain's Notable Women in Healthcare in New York City in 2018.
Dr. Kaushal is also a committed educator. She has established four master's programs, including a joint Executive MBA/MS in Healthcare Leadership with the Cornell SC Johnson College of Business, a doctoral program, and a research fellowship with 200 students matriculating annually. In the past, she has mentored a number of faculty members and fellows in clinical informatics and quality research at Weill Cornell Medical Center, Columbia University, and Harvard Medical School. Her fellows have secured formal career development awards for which she served as the primary mentor.
Prior to her current positions, Dr. Kaushal was the Chief for the Division of Quality and Medical Informatics at Weill Cornell Medicine, a dynamic division established by the Departments of Pediatrics and Public Health to address the importance of health IT as a cornerstone of health care reform. During her six-year tenure, Dr. Kaushal secured approximately $25 million in extramural funding. Dr. Kaushal also served for eight years as the Director of Pediatric Quality and Safety at the Komansky Center for Children's Health, translating research learning into operational improvements as well as measuring the impact of these interventions.
In 2005, Dr. Kaushal founded and became the Executive Director of HITEC, a unique consortium of four universities in New York State. Its mission is to conduct rigorous evaluations of initiatives being undertaken as part of a novel and ambitious $450 million New York State program called "HEAL NY." HITEC has been recognized as the New York State-designated entity for HEAL NY evaluation. Under HITEC, Dr. Kaushal conducted more than 60 different studies. In 2011, Weill Cornell Medicine created the Center for Healthcare Informatics and Policy (CHiP) with Dr. Kaushal at the helm. The Center was committed to multi-disciplinary and collaborative efforts across many departments to support research, educational and operational medical informatics and associated policy issues.
Dr. Kaushal is double-board certified in internal medicine and pediatrics, having completed her clinical residency as an inaugural resident at a combined program at Brigham and Women's Hospital and Boston Children's Hospital. She earned her medical degree from Harvard Medical School and her master's degree in public health from the Harvard School of Public Health.
Board Certifications
American Board of Internal Medicine
American Board of Pediatrics
Education
Harvard School of Public Health
Appointments
Weill Cornell Medical College, Cornell University

Weill Cornell Medical College, Cornell University

NewYork-Presbyterian Hospital

Chair of Population Health Sciences

Weill Cornell Medical College, Cornell University

Professor of Population Health Sciences

Weill Cornell Medical College, Cornell University

Nanette Laitman Distinguished Professor of Healthcare Policy and Research

Weill Cornell Medical College, Cornell University
External Relationships
Relationships and collaborations with for-profit and not-for profit organizations are of vital importance to our faculty because these exchanges of scientific information foster innovation. As experts in their fields, WCM physicians and scientists are sought after by many organizations to consult and educate. WCM and its faculty make this information available to the public, thus creating a transparent environment.
Advisory/Scientific Board Member: