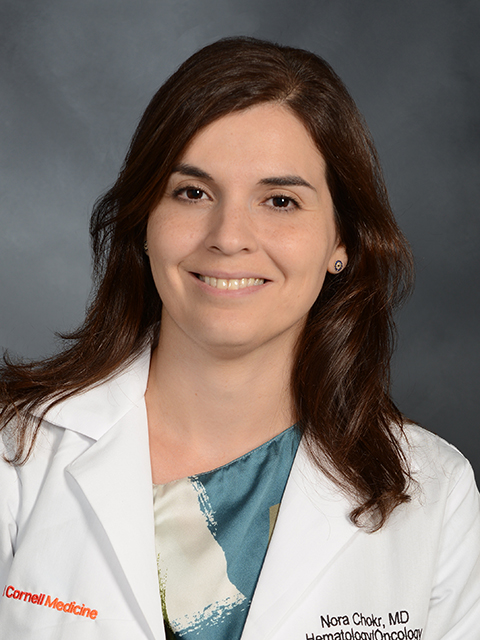 Nora Chokr, M.D.
Provider of world-class care at NewYork-Presbyterian
Locations and Appointments
Insurances Accepted
Please contact the doctor's office to verify that your insurance is accepted.
Freedom
Liberty
Medicare Advantage
Metro/Core/Charter
About Nora Chokr, M.D.
Personal Statement
I am a hematologist and medical oncologist who specializes in the care of patients who need a bone marrow or stem cell transplantation or cellular-based therapies, like CAR T-cell therapy, to treat their underlying blood disorder. I treat patients with blood cancers like myelodysplastic syndromes, myeloproliferative neoplasms, and leukemia, as well as other non-malignantblood disorders, like aplastic anemia, that necessitate a bone marrow/stem cell transplant for cure. My primary goal is to provide my patients with the best possible care by offering them state-of-the-art therapies and access to innovative clinical trials. I realize how scary it may feel when embarking on a transplant journey. I take my time to meet with my patients to understand what matters the most to them. I try to simplify the process for my patients and educate them about transplantation or cell therapy and their available treatment options. I try to involve my patients in their care as much as possible. At Weill Cornell Medicine, I am fortunate to work with a multidisciplinary group of experts from various fields to provide comprehensive medical care to patients. My research interests focus on methods to make transplant accessible and safe for older patients, and methods to decrease relapse and minimize complications after transplantation and cellular therapies. I am involved in many research studies and am also a member of several societies and committees that strive to advance the field through innovative work.
Biographical Info
Nora Chokr, M.D., is an Assistant Professor of Medicine in the Division of Hematology and Medical Oncology at Weill Cornell Medicine/ NewYork-Presbyterian Hospital. She specializes in the care of patients with blood disorders who are in need of bone marrow or stem cell transplantation or cellular-based therapies, like chimeric antigen receptor (CAR) T-cell therapy. Dr. Chokr received her medical degree from the American University of Beirut Medical Center in Lebanon in 2015. She completed her Internal Medicine residency at Yale New Haven Hospital and her Hematology/Oncology fellowship at SUNY Downstate Medical Center, where she served as a Chief Fellow. Subsequently, she completed an advanced fellowship in Bone Marrow Transplantation and Immune Effector Cell Therapy at Weill Cornell Medicine (WCM)/NewYork-Presbyterian (NYP) Hospital. Upon completion of this advanced fellowship training, Dr. Chokr was recruited to join the faculty of the WCM/NYP Bone Marrow Transplantation Program. Dr. Chokr's main research interests focus on increasing transplant access and optimizing outcomes in older patients. Her interests also include the prevention of disease relapse and graft vs host disease after transplant. Dr. Chokr is an investigator for several clinical trials that aim to advance the field. She has publications in leading international peer-reviewed journals, and is a member of the American Society of Hematology (ASH), American Society for Transplantation and Cellular Therapy (ASTCT), ASTCT Aging Special Interest Group, Cancer and Aging Research Group (CARG). Dr. Chokr is also involved in teaching medical students, residents and fellows.
Board Certifications
American Board of Internal Medicine
American Board of Internal Medicine (Medical Oncology)
Clinical Expertise
Bone Marrow Transplant
Stem Cell Transplant
Education
American University of Beirut Faculty of Medicine (Lebanon)

American University of Beirut (Lebanon)
Appointments
Assistant Attending Physician

NewYork-Presbyterian Hospital

Assistant Professor of Medicine

Weill Cornell Medical College, Cornell University
External Relationships
Relationships and collaborations with for-profit and not-for profit organizations are of vital importance to our faculty because these exchanges of scientific information foster innovation. As experts in their fields, WCM physicians and scientists are sought after by many organizations to consult and educate. WCM and its faculty make this information available to the public, thus creating a transparent environment.
No External Relationships Reported