Weill Cornell Medicine, Bend + Bloom Yoga, and Prospect Park Alliance Host 12th Annual Free Yoga Series
June 11, 2020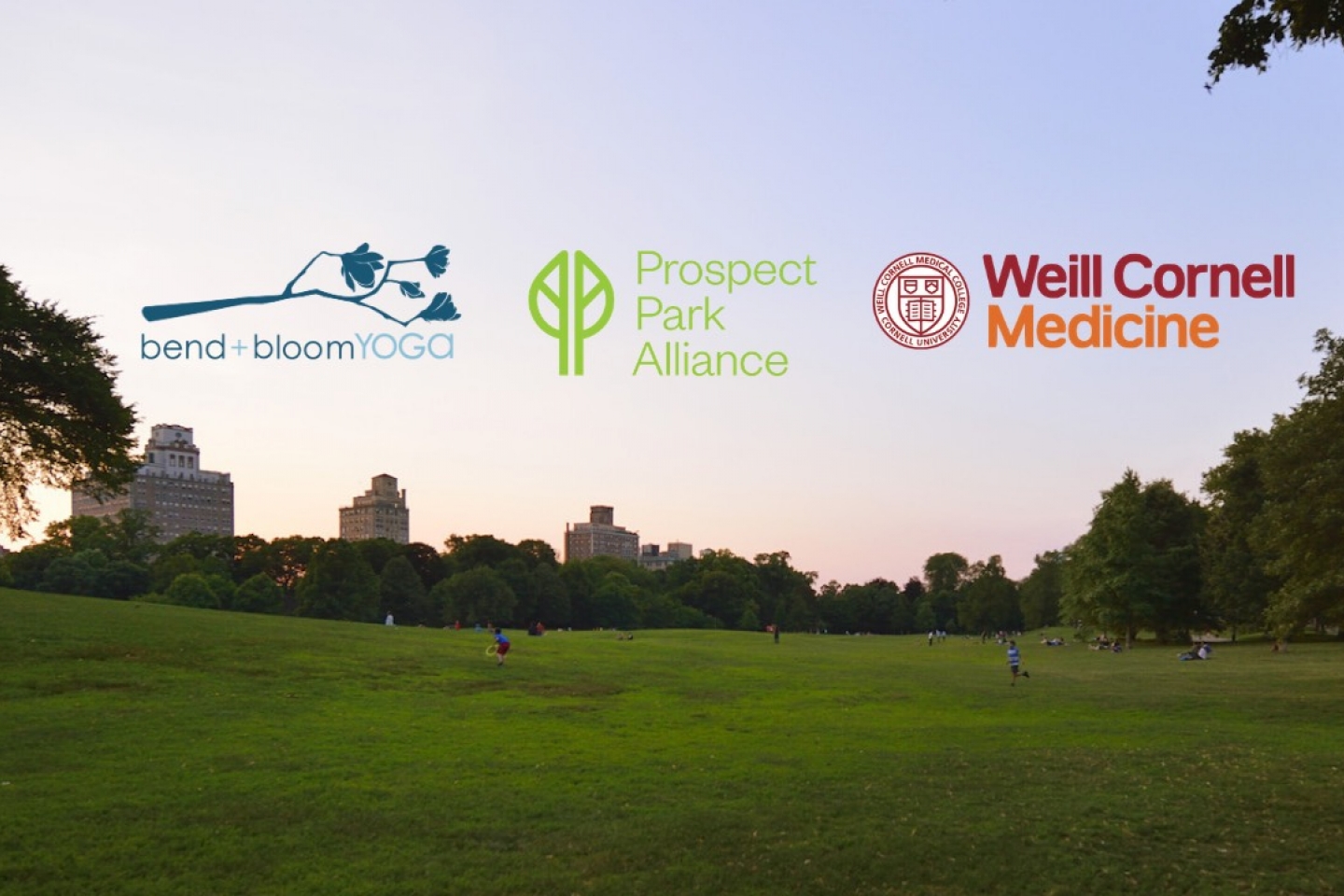 Brooklyn, NY (May 26, 2020) - Weill Cornell Medicine, Bend + Bloom Yoga, and Prospect Park Alliance announce the 12th annual Prospect Park Yoga series, beginning Thursday, June 11, 2020 through September 3. This free, weekly outdoor yoga series takes place on Thursdays, launching its season with classes presented online via Zoom from 7 pm to 8 pm. Classes will be broadcast live from a scenic location in the park, and participants may tune in from any device. 
Prospect Park Yoga allows attendees to try yoga in a low-pressure environment with Brooklyn's finest instructors. Prospect Park Yoga was founded on the belief that yoga and fitness should be accessible, and infused with a welcoming spirit for participants of all levels and backgrounds.
A sponsor of Prospect Park Yoga, Weill Cornell Medicine is dedicated to collaborating with organizations that share its commitment to enhancing New Yorkers' health and wellness. Weill Cornell Medicine has more than 40 locations throughout New York City, and its recent expansions into Brooklyn, as well as convenient and modern digital health offerings, have increased patients' access to the institution's world-class physicians.
Instructors will teach from a remote location. If you plan to enjoy your yoga practice in a park or other public location, please practice wear a face covering and maintain a social distance of six feet between you and others. Gatherings are not permitted.
Prior to your first class, please RSVP and sign the waiver at prospectpark.org/yoga.
June 11: Lindsay Ashmun, Bend + Bloom Yoga | Park Slope
June 18: Alicia Ferguson, BK Yoga Club | Dumbo
June 25: Beau Dobrikov, Namastuy Healing Collective | Bedford Stuyvesant
July 2: Jason Orrell, Bend + Bloom Yoga | Park Slope
July 9: Andrija Dandridge, MINKA | Prospect Lefferts Garden
July 16: Aditi Dhruv, Bend + Bloom Yoga | Park Slope
July 23: Jyll Hubbard-Salk, Urban Asanas | Crown Heights
July 30: Eric Lawrence,Bend + Bloom Yoga | Park Slope
Aug. 6: Stephanie Battle, Bend + Bloom Yoga & Sacred Yoga | Fort Greene 
Aug. 13: Julie Dohrman, Bend + Bloom Yoga | Park Slope
Aug. 20: Justin Ifill, Shambhala Yoga & Dance | Prospect Heights
Aug. 27: Kate Reil, Bend + Bloom Yoga | Park Slope
Sept. 3: Amy Quinn Suplina, Bend + Bloom Yoga | Park Slope
Prospect Park Yoga was launched in 2008 by Bend + Bloom Yoga's founder, Amy Quinn Suplina. Located in the heart of Park Slope, Bend + Bloom offers more than 70 yoga classes every week, including high-quality adult classes for all levels, yoga for kids, and a robust pre- and post-natal program led by some of the area's most skilled teachers.
Prospect Park Alliance is the non-profit organization that sustains, restores, and advances Prospect Park, Brooklyn's Backyard, for the benefit of the diverse communities that call Brooklyn home. The Alliance provides critical staff and resources that keep the Park green and vibrant. We welcome you to get involved and support Prospect Park Alliance.
For more information, contact:
Amy Quinn Suplina
Bend + Bloom Yoga
amy@bendandbloom.com
347-987-3162
Deborah Kirschner
Prospect Park Alliance
dkirschner@prospectpark.org
929-281-4664