Tierra's First Major Medical Event: Scarless Thyroid Surgery
June 10, 2021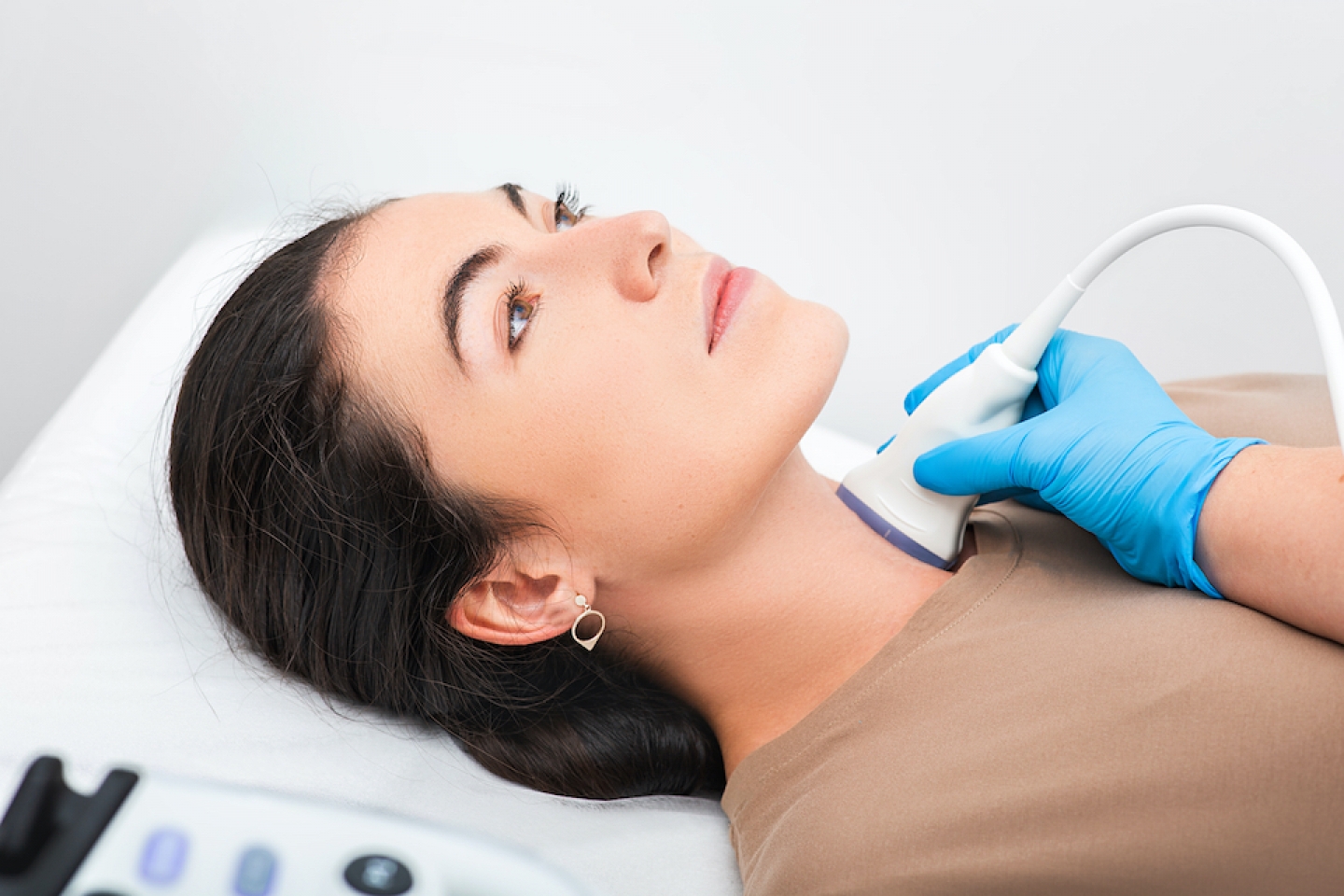 While adjusting to life in New York City during the first months of the COVID-19 pandemic, Tierra was alarmed to discover a protrusion in the left side of her neck.  
"This was around the time that the coronavirus was prevalent," said Tierra, "so I was freaking out all around. I left work immediately, went to urgent care, then the emergency room."  
Tierra was — understandably — frightened to learn that she needed several tests to determine what the lump was. She underwent a CAT scan, ultrasound and MRI before meeting with an otolaryngologist (an ear, nose and throat specialist).  
"I was introduced to Dr. Victoria Banuchi," she recalled earnestly. "The tests showed that there was a cyst over the top of the left side of my thyroid. It was considerably larger than what was deemed ok, so I was told that they needed to remove it, as well as the left side of my thyroid because it was damaged completely. I was told that this is a very rare occurrence."  
Dr. Banuchi recommended a scarless surgery technique to remove the cyst. "She suggested this procedure because it would not leave a visible scar on my throat," explained Tierra. "She said that it would be more discreet, since no one would be able to see the scar. I'm younger and prone to keloid scarring, so I felt that this was the better option for me."  
"This was the first big medical event I've gone through," she recounted, "It was frightening." Thankfully, Tierra was comforted by Dr. Banuchi's calm and compassionate demeanor. "She was cool as a cucumber," detailed Tierra, "She clearly understood that this is a difficult time for patients and made the process as seamless as possible."  
The procedure was scheduled for April, 2020, but was postponed because of COVID-19 restrictions. Tierra underwent the surgery in July. "I was one of the first patients able to go in for selective surgery," she recalled, "and everything went well." 
Tierra appreciated the COVID-19 safety precautions before and during her stay for the surgery, and felt safe the entire time. She relied on her mom, a nurse, during the first weeks of her recovery. "It was painful at first, but subsided after a few days. The swelling took several weeks to go down," she recalled, "One benefit of having to wear a mask during this time was that it concealed the swelling on my chin."  
"I'm prioritizing my health more than ever before," asserted Tierra. "I think we should all take the healthiest options as much as possible. Be as proactive as possible. Take precautions, go to the doctor and take measures to make sure that your body is what it should be"  
What is Scarless Thyroid Surgery?
Scarless thyroid surgery (sometimes called "scarless thyroidectomy") is an advanced technique. During this procedure, the thyroid is accessed through the mouth, called a "transoral" approach. The surgeon makes several small incisions on the inner surface of the lower lip. The surgeon then accesses and treats the specific condition through these openings. The inner lip incisions heal completely, without any external neck incisions.
The scarless thyroid surgery has similar success rates to traditional thyroid and parathyroid surgeries through neck incisions. As with any surgery, there are some risks with this procedure. However, for most patients, both approaches are highly safe and effective with a low rate of complications.
In this series, Weill Cornell Medicine patients share their experiences before, during and after the scarless thyroid surgery. All three are grateful for the compassionate guidance and expert surgical care they received from Dr. Victoria Banuchi and care team.
Clinical Service
Physician