Please Join Us In Welcoming Samuel Sultan, MD!
June 1, 2018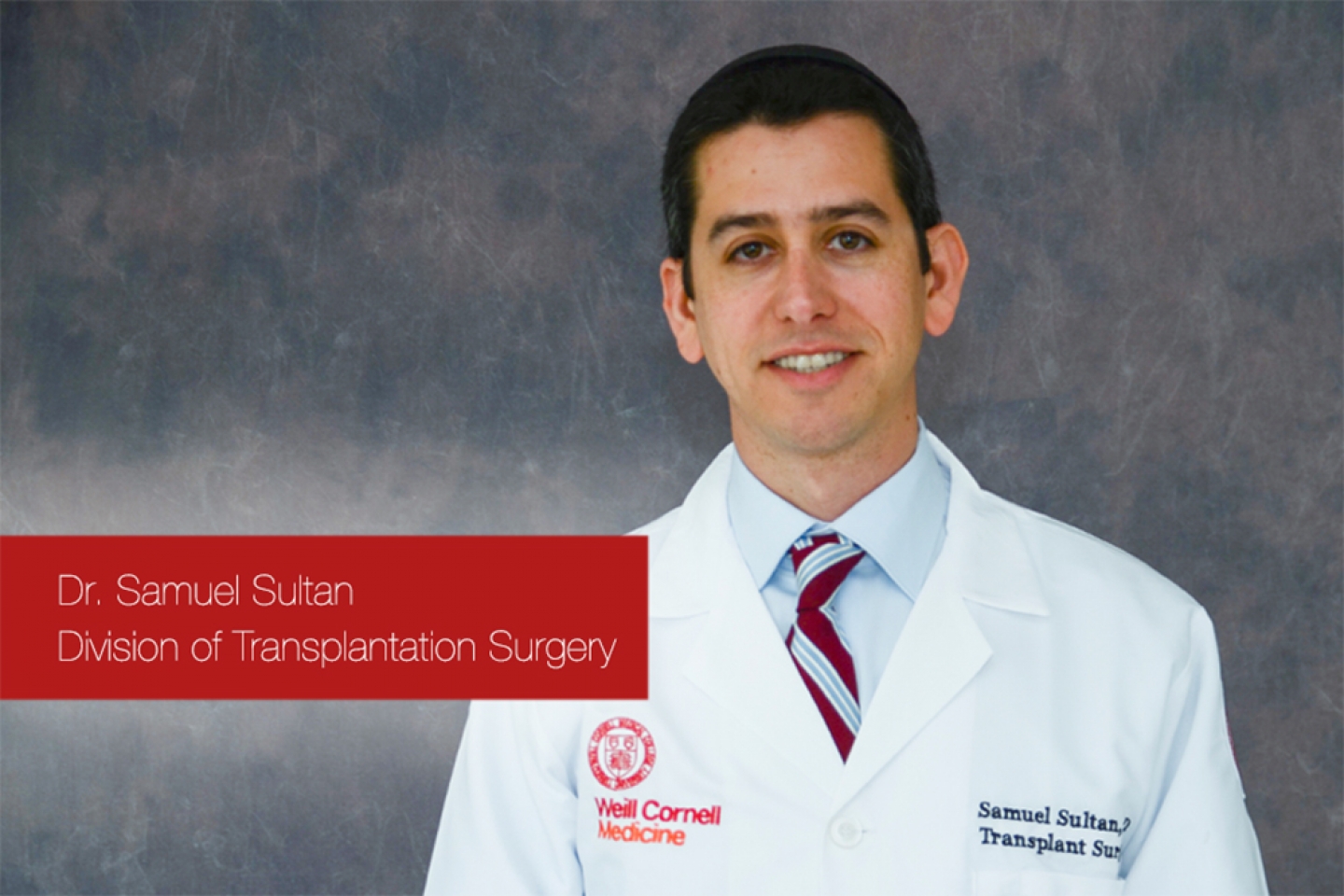 Please welcome our newest faculty member, Dr. Samuel Sultan, who has joined the Division of Transplantation Surgery as an Assistant Professor of Surgery at Weill Cornell Medicine and Assistant Attending Physician at NewYork-Presbyterian.
Dr. Sultan is board-certified in general surgery and specializes in abdominal transplant surgery, with a specific clinical focus in kidney and pancreas transplantation. He also has interest and experience in other less common aspects relating to abdominal transplant surgery, including auto-transplants. Dr. Sultan completed his residency at NewYork-Presbyterian/Weill Cornell Medical Center, where he trained in general surgery and developed his initial interest in transplant surgery. Following his residency, he attended a fellowship in Abdominal Transplant Surgery at the University of Maryland, which he completed in 2017, and then remained on staff as an assistant professor.
Dr. Sultan is now excited to have the opportunity to return to Weill Cornell Medicine and join the transplant program. The transplant program has played a leading role in the field for numerous years, particularly the living-donor program. Dr. Sultan hopes to build up additional facets of the kidney transplant program, including the optimal use of deceased donor kidneys, as well as research interests that include the predictive value of the biochemical profile at the time of organ reperfusion, the use of organs from donors with hepatitis C, and the utilization of donors with acute kidney injury.
Dr. Sultan joins us with specialized training in pancreas transplantation, a skill-set that he plans to further develop at Weill Cornell Medicine. He was recruited to expand the pancreas transplant program, with the goal of increasing opportunities for pancreas transplantation for patients with type 1 diabetes mellitus, as well as carefully selected patients with type 2 diabetes. This may include multiple strategies for beta-cell replacement therapy, through both pancreas and islet cell transplantation.
According to Dr. Sultan, "Many people don't know that a pancreas can be used for transplant, but for the right patients, it's an amazing opportunity to cure their diabetes. One recent recipient of a simultaneous kidney-pancreas transplant said, 'the kidney has allowed me to drink water again normally, which is wonderful, but the pancreas has allowed me to eat normally, and without having to worry about insulin — something I haven't been able to do for nearly my whole life, having been on insulin since age 4.' And even as insulin pumps continue to improve, there's still a role for pancreas transplants, not only to prevent the damaging effects of hyperglycemia, but also to avoid the often debilitating possibility of hypoglycemia".