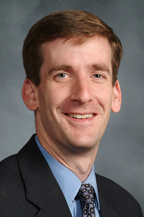 It is my goal to give patients with neurological visual disorders the finest and most compassionate care possible. Whether they suffer from loss of vision, double vision, unstable eye movements or problems with the lids and pupils, I recognize that my patients' whole lives may be affected. They deserve a careful diagnosis, state of the art treatment and caring, clear communication from me. I believe that even the most complicated of concepts can be explained in a straightforward fashion to my patients, alleviating the anxiety that can be associated with neurological problems.
The field of neuro-ophthalmology poses great therapeutic challenges, but through clinical research, these challenges can be overcome one step at a time. The care of patients is similarly enhanced through the teaching and mentorship of the next generation of physicians, and I am passionate about making neuro-ophthalmology accessible to neurologists, ophthalmologists and students alike. Together, we can do our best to make our patients' vision and lives as good as possible.
Dr. Dinkin is an Assistant Professor of Ophthalmology at Weill Cornell Medical College and a member of the Weill Cornell Eye Associates who specializes in Neuro-ophthalmology.
After graduating from Harvard University and Weill Cornell Medical College, he completed his neurology residency at New York Presbyterian Hospital where he was also chief resident. Following that, he completed a clinical fellowship in Neuro-ophthalmology at the Massachusetts Eye and Ear Infirmary in Boston, MA. Before returning to New York, Dr. Dinkin spent two years as a neuro-ophthalmologist at Harvard Medical School and the Brigham and Women's Hospital, where he helped develop a neuro-ophthalmology fellowship at the hospital and was Associate Director of the Neurology Clerkship.
Dr. Dinkin specializes in treating patients with vision problems originating from the nervous system, such as optic neuritis, ischemic optic neuropathy, optic disc edema, brain tumors, stroke, idiopathic intracranial hypertension (pseudotumor cerebri) and double vision as may occur with cranial nerve palsies, thyroid eye disease, ocular myasthenia gravis. He also sees patients with disorders of the lids including ptosis (droopy lid) and blepharospasm, disorders of the pupils, visual hallucinations and unexplained visual loss.
Dr. Dinkin has published numerous papers and chapters on topics in his fields including neuromyelitis optica, nystagmus, ischemic optic neuropathy and diagnostic imaging. He has presented abstracts at local, regional and national conferences in neuro-ophthalmology and neurology. He also serves as an ad hoc reviewer for several major journals in the field. Dr. Dinkin is also an invited lecturer at the Lancaster Course in Ophthalmology, the Greater New York Ophthalmology Clinical Lecture Series, the New England Ophthalmological Society and has been awarded numerous awards for teaching and clinical care as well as the Rabkin Fellowship in Medical Education at Harvard Medical School.
Dr. Dinkin is currently accepting new patients. Appointments can be made by calling 646-962-2020, or by visiting http://www.weillcornelleye.org/.
Insurances
Insurance Plans Accepted
The following represents most of the managed care plans accepted by this physician. If your insurance carrier does not appear here please contact the physician's office as they may have individual contracts not included on this site.

* indicates this physician is no longer accepting new patients with this insurance plan.
AETNA

[PPO]

AETNA

[Medicare]

AETNA

[HMO]

Aetna - Weill Cornell

[POS]

Affinity Essential
Affinity Health Plan
Blue Priority Network
CIGNA
Emblem Select Care
Empire Blue Cross/Blue Shield

[Pathway X]

Empire Blue Cross/Blue Shield

[Pathway X Enhanced]

Empire Blue Cross/Blue Shield

[EPO]

Empire Blue Cross/Blue Shield

[PPO]

Empire Blue Cross/Blue Shield

[Mediblue (Senior)]

Empire Blue Cross/Blue Shield

[HMO]

Fidelis Care
GHI

[CBP]

Health First
Health Insurance Plan of NY (HIP)
Health Insurance Plan of NY (HIP)

[Medicare]

Health Insurance Plan of NY (HIP)

[Medicaid]

Health Plus - Amerigroup

[CHP]

Health Plus - Amerigroup
Health Republic
Medicaid
Medicare
Oscar
Oxford Health Plans

[Freedom]

Oxford Health Plans

[Liberty]

Rockefeller University - CoreSource
UHC Compass
United Empire
United Health Care

[Medicare]

United Health Care
United Health Care

[Community Plan]
Publications
PEER-REVIEWED ARTICLES
Kelly PJ, Dinkin MJ, Drappatz J, O'Regan KN, Weiss SE. Unexpected late radiation neurotoxicity following bevacizumab use: a case series. Journal of Neurooncology. 2010 Aug 1.
Brass S, Dinkin MJ, Williams Z, Krishnamoorth K, Copen W, Freeman A. A 16-year-old boy with paroxysmal headaches and visual changes. New England Journal of Medicine 2009; Dec;361: 2367-2378
Klein JP, Cohen AB, Kimberly WT, Shah AS, Leiderman YI, Cestari DM, Dinkin MJ. Diffusion-weighted magnetic resonance imaging of bilateral simultaneous optic nerve infarctions. Arch Neurol. 2009 Jan;66(1):132-3
Dinkin MJ, Cestari D, Stein M, Brass S, Lessell S. NMO-Seropositive Recurrent Optic Neuritis without Clear Evidence of Transverse Myelitis, Archives of Ophthalmology, 126(4):566-70, 2008
Dinkin MJ, Rizzo JF III. Abnormal Eye Movements in Children, Int Ophthalmol Clin. 48(2):95-134, 2008
Liu Y, Dinkin MJ, Loewenstein JI, Rizzo JF 3rd, Cestari DM. Multifocal electroretinographic abnormalities in ethambutol induced visual loss. J Neuroophthalmol. 2008; Dec;28(4): 278-82.
Lee TC, Lee SW, Dinkin MJ, Ober MD, Beaverson KL, Abramson DH. Chorioretinal scar growth after 810-nanometer laser treatment for retinoblastoma. Ophthalmology. 2004 May;111(5):992-6.
CHAPTERS and ESSAYS
Dinkin MJ, Psychiatry Review for the Boards. Author of chapters on Ataxia, Neuropathology, Neuroanatomy, Cranial Neuropathies and Peripheral Neuropathies. Illustrated on-line anatomy tool. ETAS Publishing; 2006, 2007 and 2008
Dinkin MJ, Rizzo JF III. Imaging of the Nerve Fiber Layer and Optic Disc, Springer Series' Pediatric Ophthalmology, Neuroophthalmology, Ophthalmic Genetics (Ed: Birgit Lorenz and Francois-Xavier Borruat). (2007).
Dinkin, MJ, Cestari DM. Clinical Assessment of Anisocoria. Contemporary Ophthalmology, March 2007
Dinkin MJ, Bienfang D, Neuro-Ophthalmology in Manual of Neurologic Therapeutics, 8th Edition (Editors: Martin Samuels and Allan Ropper) Lippincott Williams and Wilkins, 2010
ABSTRACTS
Dinkin MJ, Winterkorn JMS. Venous Sinus Thrombosis Due to Jugular Ligation Masquerading as Idiopathic Intracranial Hypertension, Abstract presented at North American Neuro-Ophthalmology Society. (2006)
Dinkin MJ, Cestari DM, DeAngelis L, Winterkorn JMS. Neurologic Manifestations and Clinical Course of Brainstem Gliomas in Adults, Abstract presented at American Academy of Neurology. (2005)
Cestari DM, Dinkin MJ, DeAngelis L, Winterkorn JMS. Neuro-Ophthalmologic Manifestations of Brainstem Gliomas in Adults. Abstract presented at North American Neuro-Ophthalmology Society. (2005)
Dinkin MJ and Rizzo JF III. Bilateral Transient Monocular Blindness from Ophthalmic Artery Aneurysms in a Patient with Marfan's Syndrome. Abstract presented at North American Neuro-Ophthalmology Society. (02/2008)
Dinkin MJ, Mehta B, Ropper A, Minus Syndrome: Unilateral Collier's Sign without Contralateral Ptosis in a Woman with Thalamic Hemorrhage. Abstract presented at North American Neuro-Ophthalmology Society. (03/2009)
Dinkin MJ, Cestari D, Lessell S. Neuromyelitis Optica Presenting as a Glioma of the Anterior Visual Pathway. Abstract presented at North American Neuro-Ophthalmology Society. (03/2009)
Khurana V, Dinkin MJ, Ropper A. Rapid Neurological Deterioration following Lumbar Puncture in a Woman with Aqueductal Stenosis. Abstract presented at American Academy of Neurology. (04/2009)
BRIEF REVIEWS
Dinkin MJ, Predicting Vision Loss after Optic Neuritis. Journal Watch Neurology. November 2007
Dinkin MJ, Seeing is Believing. Journal Watch Neurology. March 2008
Dinkin MJ, MRI Predictors of Disability After Isolated Optic Neuritis. Journal Watch Neurology. April 2009
Dinkin MJ, Optical Coherence Tomography Findings in Neuromyelitis Spectrum Disorders vs. Multiple Sclerosis. Journal Watch Neurology. December 2009
Dinkin MJ, Ocular Myasthenia in Seniors: A Case for Treatment. Abstract and Commentary. Neuro Alert. January 2010
Dinkin MJ, New Developments in Attentional Rehabilitation: Orbital Imaging Detects Neglect; Prismatic Therapy Improves Auditory Neglect. Abstract and Commentary. Neuro Alert. May 2010
Kim DY and Dinkin MJ. Optic neuropathy in patients with glioblastoma receiving bevacizumab. Faculty 1000. March 2010
Honors and Awards
Ophthalmology Outstanding Teaching Award (2012) For devoted teaching, excellent patient care and love of scholarship


Neurology Teaching Award (2011) For outstanding Instruction of medical students, interns and resident



Rabkin Medical Education Fellowship

. (2008-09)



House Staff Teaching Award.

Awarded by graduating medical students to one resident "f

or clinical excellence and dedication to teaching." (2006)



Class of 1952 Resident Physician Prize.

For dedication to the instruction of medical students. (2006)



Distinguished House Staff Award.

New York

Presbyterian Hospital.

(2005)



Alpha Omega Alpha and

Junior Alpha Omega Alpha. Weill Cornell Medical College. (2000-01)



J

ohn Metcalf Polk Prize

. Awarded to the four medical students who place at the top of their class for scholastic performance during all four years.

(

2002)



Richard N. Kohl Prize for Excellence in Psychiatry.

Awarded to

"

a member of the graduating class who has demonstrated the most proficiency in psychiatry.

"

(

2002)




David P. Barr Summer Research Fellowship

(

1

999)




Harvard University Scholarship (

1994)




Summa Cum Laude

Senior Thesis

(1994)
Specialties
Neuro-Ophthalmology
Ophthalmology
Clinical Expertise
Optic Neuropathy
Strabismus
Temporal Arteritis
Optic Neuritis
Pseudotumor Cerebri
Nystagmus
Neuromyelitis Optica
Anisocoria
Ptosis
Visual Hallucinations
Contact Info
1305 York Avenue
11th Floor
1305 York Avenue
11th and 12th Floor
Appointments
Assistant Professor of Ophthalmology in Neurology
Weill Cornell Medical College
Assistant Attending Ophthalmologist
NewYork-Presbyterian Hospital
Assistant Professor of Ophthalmology in Neurological Surgery
Weill Cornell Medical College
Assistant Professor of Ophthalmology
Weill Cornell Medical College, Cornell University
Education
B.A., Harvard College, 1994
M.D., Weill Cornell Medical College, Cornell University, 2002