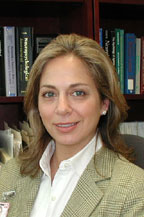 Lisa D. Ravdin, PhD, ABPP-CN is a Board Certified Neuropsychologist and Director of the Weill Cornell Neuropsychology Service in the Department of Neurology & Neuroscience at NewYork-Presbyterian Hospital/Weill Cornell Medical Center. After graduating from the Chicago Medical School doctoral program, she completed an internship at the West Haven VA Medical Center and Yale Epilepsy Program where she received the Jacob Levin Intern Award for Outstanding Clinical Scholarship. Subsequently, she underwent advanced training in a Neuropsycholgy Post Doctoral Fellowship at New York University School of Medicine-Hospital for Joint Diseases, as well as Neuropsychology Fellowship at the New York Hospital-Cornell Medical Center. Presently, her primary clinical and research activities focus on cognitive changes associated with neurologic disorders, and in particular, age-related diseases. Dr. Ravdin is a member of the Weill Cornell Memory Disorders Program. In addition, she is a co-investigator on a number of research initiatives relating to cognitive decline associated with neurologic disease (Normal Pressure Hydrocephalus, Alzheimer's disease, Parkinson's disease) and depression.
Insurances
Insurance Plans Accepted
The following represents most of the managed care plans accepted by this physician. If your insurance carrier does not appear here please contact the physician's office as they may have individual contracts not included on this site.

* indicates this physician is no longer accepting new patients with this insurance plan.
AETNA

[HMO]

AETNA

[PPO]

AETNA

[Medicare]

Aetna - Weill Cornell

[POS]

Health Insurance Plan of NY (HIP)

[Medicaid]

Health Insurance Plan of NY (HIP)

[Medicare]

Health Insurance Plan of NY (HIP)
Health Republic
Medicaid
Medicare
Oscar
Oxford Health Plans

[Freedom]

POMCO
Rockefeller University - CoreSource
Publications
Tsakanikas D, Katzen H, Ravdin LD, Relkin NR.Upper extremity motor measures of Tap Test response in Normal Pressure Hydrocephalus. Clinical Neurology and Neurosurgery, In press.
Ravdin LD. Cognitive Disorders Associated with Aging. In Kris Heggenhougen (Ed.)Encyclopedia of Public Health. Oxford: Elsevier Ltd, In press.
Randolph C, Hilsabeck R, KatoA, Kharbanda P, Li Y, Mapelli D, Ravdin LD, Romero-Gomez M, Stracciari A, and Weissenborn K (2009). Neuropsychological assessment of hepatic encephalopathy: ISHEN practice guidelines. Liver International, In press.
Heilbronner RL, Bush SS, Ravdin LD, Barth JT, Iverson GL, Ruff RM, Lovell MR, Barr WB, Echemendia RRJ, and Broshek DK (2009). Neuropsychological Consequences of Boxing and Recommendations to Improve Safety: A National Academy of Neuropsychology Education Paper. Archives of Clinical Neuropsychology, 24 (1): 11-19.
Ravdin LD, Katzen HL, Jackson AE, Tsakanikas D, Assuras S, & Relkin NR (2008). Features of gait most responsive to tap test in normal pressure hydrocephalus. Clinical Neurology & Neurosurgery, 110 (5):455-61.
Zhang L, Harrison M, Heier LA, Zimmerman RD, Ravdin L, Lockshin M, and Ulug AM (2007). Diffusion changes in patients with systemic lupus erythematosus. Magnetic Resonance Imaging, (3): 399-405.
Harrison M & Ravdin LD (2006). Cognitive dysfunction in the patient with antiphospholipid antibodies: Considerations for cause and treatment. Current Rheumatology Reports, 8(2):89-94.
Eckert SL, Katzen H, Roberts, JS, Barber, M, Ravdin LD, Relkin NR, Whitehouse PJ, Green, RC. Recall of disclosed apolipoprotein E genotype and lifetime risk estimate for Alzheimer's disease: the REVEAL Study. Genet Med. 2006 Dec;8(12):746-51.
Harrison MJ, Ravdin LD, Lockshin MD (2006). Relationship between serum NR2a antibodies and cognitive dysfunction in systemic lupus erythematasosis. Arhthritis & Rheumatism, 54 (8): 2515-2522.
Harrison MJ, Morris KA, Horton R, Toglia J, Barsky J, Chait S, Ravdin L, and Robbins L (2005). Results of intervention for lupus patients with self-perceived cognitive difficulties. Neurology, 65: 1325-1327.
Ravdin LD, Mattis P and Lachs MS (2004). Assessment of cognition in primary care: Neuropsychological evaluation of the geriatric patient. Geriatrics, 59(2):37-44.
Roberts JS, Barber M, Brown T, Cupples A, Farrer L, LaRusse S, Post S, Quaid K, Ravdin L, Relkin N, Sadovnick D, Whitehouse P, Woodard J and Green RC (2004). Who Seeks Genetic Susceptibility Testing for Alzheimer's Disease? Findings from a Multi-Site, Randomized Clinical Trial. Genetics in Medicine, Jul-Aug;6(4):197-203.
Heilbronner RL and Ravdin LD (2004). Brain injury from boxing: Neuropsychological aspects. In M. Lovell, R. Echemendia, J. Barth, & M. Collins (Eds.) Traumatic Brain Injury in Sports: An International Perspective. Amsterdam: Swets & Zeitlinger.
Ravdin LD, Katzen, HL, Agrawal, P. and Relkin, NR (2003). Verbal fluency in mildly depressed older adults: Comparisons between letter and semantic word list generation and age-stratified normative data, The Clinical Neuropsychologist, 17 (2):195-202.
Ravdin LD, Barr WB, Jordan BD, Lathan W, and Relkin NR (2003). Repeated neuropsychological testing in professional athletes: Pitfalls of "Return to Baseline" as an indicator of recovery. Clinical Journal of Sport Medicine, 13(1): 21-7.
Zhang, L, Ravdin LD, Relkin NR, Zimmerman RD, Jordan B, Lathan WE, Ulug AM (2003). Increased diffusion in the brain of professional boxers: a preclinical sign of traumatic brain injury? American Journal of Neuroradiology, 24 (1): 52-7.
Harrison M and Ravdin LD (2002). Cognitive dysfunction in neuropsychiatric systemic lupus erythematosus. Current Opinions in Rheumatology, 14, 510-514.
Harden CL, Pulver MC, Ravdin L, and Jacobs AR (2001). Catamenial epilepsy and menopause. Epilepsia, 42 (4), 572.
Harden CL, Pulver MC, Ravdin LD, Nikolov B, Halper JP and Labar DR (2000). A Pilot study of mood in epilepsy patients treated with vagus nerve stimulation. Epilepsy & Behavior, 1(2); 93-99.
Harden CL. Lazar LM. Pick LH. Nikolov B. Goldstein MA. Carson D. Ravdin LD. Kocsis JH. Labar DR. (1999) A beneficial effect on mood in partial epilepsy patients treated with gabapentin. Epilepsia. 40(8):1129-34.
Harden CL, Pulver MC, Ravdin LD, and Jacobs AR (1999). The effect of menopause and perimenopause on the course of epilepsy. Epilepsia, 40(10):1402-7.
Barr, WB., Rastogi, R. and Ravdin, L and Hilton E. (1999). Relations among indexes of memory disturbance and depression in patients with Lyme Borreliosis. Applied Neuropsychology. Vol 6(1),12-18.
Jordan BD, Relkin NR, Ravdin LD, Jacobs AR, Bennett A, Gandy S (1997). Apolipoprotein E-e4 associated chronic traumatic brain injury in boxing. JAMA, 278 (2), 136-140.
Ravdin LD, Perrine K, Haywood C, Gershengorn J, Nelson PK, & Devinsky O (1997). Serial recovery of language during the Intracarotid Amobarbital Procedure. Brain & Cognition, 33, 151-160.
Pacia SV, Devinsky O, Perrine K, Ravdin L & Doyle WK (1997). Clinical features of neocortical temporal lobe epilepsy. Annals of Neurology, 40 (5), page 724-730.
Delaney RC & Ravdin LD. Neuropsychology of Stroke (1997). In P.D. Nussbaum (Ed.) Neuropsychology and Aging, Plenum Publishing Corporation: New York.
Ravdin LD, Hilton E, Primeau P, Clements C, & Barr WB (1996). Memory functioning in lyme borreliosis. Journal of Clinical Psychiatry, 57(7), 282-286.
Greenberg L, Ney G, Ravdin L, Sharf SM, & Hilton E (1995). Sleep quality in Lyme disease. Sleep, 18 (10), 912-916.
Hilton E, Stoica D, Ravdin L, Acampora M, Lam S, & Barr W (1994). Is history useful in the diagnosis of Lyme disease? Infectious diseased in Clinical Practice, 3, 277-281.
Spring B. and Ravdin L. (1992). Cognitive remediation in schizophrenia: Should we attempt it? Schizophrenia Bulletin, 18 (1), 15-20.
Honors and Awards
In 1998, Dr. Ravdin was the recipient of a National Institute of Health/National Institute on Neurologic Diseases and Stroke mentored clinical scientist investigator award for her research on the neuropsychological and genetic correlates of head trauma.
Clinical Expertise
Alzheimer's Disease
Dementia
Memory Impairment
Head Trauma
Attention Deficit Disorder of Adult
Autoimmune Disease
Neuropsychological Assessment
Neurobehavioral Disorders
Contact Info
428 East 72nd Street
Suite 500
428 East 72nd Street
Suite 500
Appointments
Associate Professor of Neuropsychology in Clinical Neurology
Weill Cornell Medical College
NewYork-Presbyterian Hospital
Education
M.S., Chicago Medical School, Rosalind Franklin University of Medicine and Science, 1992
Ph.D., Chicago Medical School, Rosalind Franklin University of Medicine and Science, 1994