You are here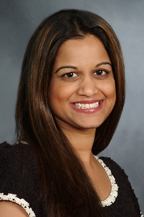 View Research
Personal Statement
Dr. Reddy is a faculty member of the Weill Cornell Medicine and serves as an attending physician in the psychiatric ER. She is board certified in Adult and Child and Adolecent Psychiatry. Dr. Reddy is currently working with Con Edison of New York as a Consulting Psychiatrist in the Occupational Health Department. Dr. Reddy is warm, knowledgeable and has excellent psychotherapy as well as pharmacology skills.
View Biography
Specialties/Expertise
Board Certifications
Specialties
Psychotherapy
Adult Psychiatry
Pharmacology
Child and Adolescent Psychiatry
Education/Training
B.S., Cornell University, 2003
M.D., State University of New York Upstate Medical University, 2007
Biography
Titles
Assistant Attending Psychiatrist
NewYork-Presbyterian Hospital
Assistant Professor of Clinical Psychiatry
Weill Cornell Medical College, Cornell University
Biography
Lakshmi Reddy, MD, was born in Hoboken, New Jersey and was raised in Rochester, NY. She attended Cornell University College of Human Ecology, where she graduated with a Bachelor of Science in Human Development with a focus in Adolescent Cognitive, Social, and Developmental Psychology. She went on to receive her medical degree from the State University of New York Upstate Medical University in Syracuse, NY. She trained in adult psychiatry at North Shore-Long Island Jewish Psychiatry Training Program. During her residency, she co-authored a case study titled "Rapidly Developing Hyperglycemia During Treatment with Olanzapine." She then went on to do her child and adolescent psychiatry fellowship at Cornell-Columbia, graduating in June 2012. During her fellowship, she collaborated on a presentation that was showcased at the American Academy of Child and Adolescent Psychiatry, focused on children with disruptive behavior disorders presenting to the ER.