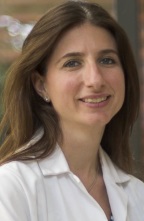 Dr. Lisa Roth is an Assistant Professor in the Department of Pediatrics at Weill Cornell Medical College. She is also an Assistant Attending Pediatrician at New York-Presbyterian Phyllis and David Komansky Center for Children's Health. Dr. Roth has been named the Charles, Lillian, and Betty Neuwirth Clinical Scholar in Pediatric Oncology.

Dr. Roth completed her undergraduate work at Duke University. She received her medical degree from New York University School of Medicine. Dr. Roth conducted her residency at NewYork-Presbyterian/Weill Cornell and her fellowship in pediatric hematology/oncology at Memorial Sloan-Kettering Cancer Center and NewYork-Presbyterian where she served as chief fellow.

Dr. Roth specializes in treating children, adolescents and young adults with lymphoma and leukemia. She is a member of the Children's Oncology Group and an active participant in Hodgkin lymphoma and non-Hodgkin lymphoma clinical trials. She is also a member of the Weill Cornell Center for Lymphoma, a group which is internationally recognized for it's leadership in the treatment of patients with lymphoma.

Dr. Roth's research focuses on identifying new treatments for children with lymphoma. She is particularly interested identifying novel targeted therapies. Targeted therapies may be less toxic than conventional chemotherapy and may be able to rescue those patients with chemotherapy-resistant disease. Dr. Roth has been recognized for her work with awards from the National Institutes of Health (NIH), the Lymphoma Research Foundation, Hyundai Hope on Wheels Foundation, and the St. Baldrick's Foundation.
For More Videos, please see below:
Insurances
Insurance Plans Accepted
The following represents most of the managed care plans accepted by this physician. If your insurance carrier does not appear here please contact the physician's office as they may have individual contracts not included on this site.

* indicates this physician is no longer accepting new patients with this insurance plan.
AETNA

[PPO]

AETNA

[Medicare]

AETNA

[HMO]

Aetna - Weill Cornell

[POS]

Affinity Essential
Affinity Health Plan
Blue Priority Network
CIGNA
Emblem Select Care
Empire Blue Cross/Blue Shield

[Pathway X]

Empire Blue Cross/Blue Shield

[Pathway X Enhanced]

Empire Blue Cross/Blue Shield

[PPO]

Empire Blue Cross/Blue Shield

[Mediblue (Senior)]

Empire Blue Cross/Blue Shield

[HMO]

Empire Blue Cross/Blue Shield

[EPO]

Fidelis Care
Health First
Health Insurance Plan of NY (HIP)
Health Insurance Plan of NY (HIP)

[Medicare]

Health Insurance Plan of NY (HIP)

[Medicaid]

Health Plus - Amerigroup

[CHP]

Health Plus - Amerigroup
Health Republic
Medicaid
Medicare
Oscar
Oxford Health Plans

[Freedom]

POMCO
Rockefeller University - CoreSource
United Empire
United Health Care

[Medicare]

United Health Care
United Health Care

[Community Plan]
Publications
Peer-reviewed publications

1. Giulino L, Gammon P, Sullivan K, Franklin M, Foa E, Maid R, March JS. Is parental report of upper respiratory infection at the onset of obsessive-compulsive disorder suggestive of pediatric autoimmune neuropsychiatric disorder associated with streptococcal infection? Journal of Child & Adolescent Psychopharmacology. 2002; 12(2):157-64.

2. Giulino L, Bussel J, Neufeld E, and the Pediatric and Platelet Immunology Committees of the TMH clinical trial network. Treatment with Rituximab in Benign and Malignant Hematologic Disorders in Children. Journal of Pediatrics, April 2007; 150(4):338-44.

3. Bussel J, Giulino L, Lee S, Sandborg C, Patel VL and Stiehm ER. Update on Therapeutic Monoclonal Antibodies. Current Problems in Pediatric and Adolescent Health Care. 2007 April; 37 (4) 118-35.

4. Giulino L, Mathew S, Ballon G, Chadburn A, Barouk S, Antonicelli G, Leoncini L, Liu YF, Gogineni S, Tam W, Cesarman E. A20 (TNFAIP3) genetic alterations in EBV-associated AIDS-related lymphoma. Blood. 2011 May 5;117(18):4852-4.

5. Giulino L, Guinan EC, Gillio AP, Drachtman J, Teruya-Feldstein J, Boulad F. Sweet Syndrome in Patients with Fanconi Anemia: Association with Extracutaneous Manifestations and Progression of Hematologic Disease. British Journal of Haematology. 2011 Jul;154(2):278-81.

6. Giulino-Roth L, Wang K, MacDonald TY, Mathew S, Tam Y, Cronin M, Palmer G, Lucena-Silva N, Pedrosa F, Pedrosa M, Teruya-Feldstein J, Chagat G, Alobeid B, Leoncini L, Bellan C, Rogena E, Pinkey KA, Rubin M, Ribeiro RC, Yelensky R, Tam W, Stephens PJ, Cesarman E. Targeted genomic sequencing of pediatric Burkitt lymphoma identifies recurrent alterations in anti-apoptotic and chromatin-remodeling genes. Blood. 2012 Dec 20; 120(26):5181-4.

7. Barth MJ, Goldman S, Smith L, Perkins S, Shiramizu B, Gross TG, Harrison L, Sanger W, Geyer MB, Giulino-Roth L, Cairo MC. Rituximab pharmacokinetics in children and adolescents with de novo intermediate and advanced mature B-cell lymphoma/leukaemia: A Children's Oncology Group (COG) report. British Journal of Haematology, 2013 Sep; 162(5):678-83.

8. Giulino-Roth L, Ricafort R, Kernan NA, Small TN, Trippett TM, Steinherz PG, Prockop SE, Scaradavou A, Chiu M, O'Reilly RJ, Boulad F. Ten-year follow up of pediatric patients with non-Hodgkin lymphoma treated with allogeneic or autologous stem cell transplantation. Pediatric Blood and Cancer, 2013 Dec;60(12):2018-24.

9. Reichel J, Chadburn A, Rubinstein PG, Giulino-Roth L, Tam W, Liu Y, Gaiolla R, Eng K, Brody J, Inghirami G, Carlo-Stella C, Santoro A, Rahal D, Totonchy JH, Elemento O, Cesarman E, Roshal M. Flow-sorting and Exome Sequencing Reveals the Oncogenome of Primary Hodgkin and Reed-Sternberg Cells. Blood. 2015 Feb 12; 125 (7):1061-72. PMID25488972

10. Giulino-Roth L, Keller FG, Hodgson DC, Kelly KM. Current Approaches in the Management of Low Risk Hodgkin Lymphoma in Children and Adolescents. British Journal of Haematology, 2015 Jun; 169(5):647-660. PMID: 25824371


Books, book chapters and reviews
1. Giulino-Roth L, Cesarman E. Molecular Biology of Burkitt Lymphoma. In Robertson ES, Ed. Burkitt's Lymphoma. Springer, New York (2012).

2. Miles, R., Galardy, P., Giulino-Roth, L., Goldman, S., and Cairo, M.S.
Childhood and adolescent B-cell lymphoma: Bench to bedside and back to bench. Lost in Translation: Barriers to Incentives for Translational
Research in Biomedical Sciences. Srivastava, R., Maksymowicz, W., and Lopaczynski, W. eds. World Scientific Publishing Co., Singapore, 2014, 247-286. ISBN 9789814489065

3. Giulino-Roth, L. EZH2: A potential new target in T-cell lymphoma? Leukemia and Lymphoma. 2015 Feb 14:1-2 [Epub ahead of print]

4. Zarnegar S, Giulino-Roth L. Reducing radiation exposure in children with febrile neutropenia: Can pulmonary MRI replace CT? Leukemia and Lymphoma. 2015 Jun 11:1-7 [Epub ahead of print]

5. Hochberg J, Giulino-Roth L, Cairo MC. Lymphoma. In Kliegman RM, Stanton BF, St. Geme J, Schor N, Eds. Nelson Textbook of Pediatrics. 20th Edition, Elsevier, Inc, in press.


Honors and Awards
2015 Hyundai Hope on Wheels Young Investigator Award
2015 St. Baldrick's Foundation Scholar Career Development Award
2014 Empire Clinical Research Investigator Program, Translational Fellowship Award
2014 AIDS Malignancy Consortium Fellowship Award
2013 Charles, Lillian and Betty Neuwirth Clinical Scholar Award in Pediatric Oncology
2012 Lymphoma Research Foundation, Postdoctoral Fellowship Award
2012 Sass Foundation for Medical Research, Transition Award
2012 NIH Loan Repayment Award, National Cancer Institute
2010 Chief Fellow, Pediatric Hematology/Oncology, Memorial Sloan-Kettering Cancer Center and New York Presbyterian – Weill Cornell
2011 Rally Foundation for Childhood Cancer Research Award
2005 American Medical Women's Association Glasgow-Rubin Achievement Award
2005 Alpha Omega Alpha, New York University School of Medicine
2004 Milton B Rosenbluth Research Travel Grant
2001 Cum Laude, Duke University
Specialties
Pediatric Hematology and Oncology
Medical Oncology
Clinical Expertise
Pediatric Lymphomas
Pediatric Leukemia
Hodgkin Lymphoma
Non-Hodgkin Lymphoma
ALL (Acute Lymphoblastic Leukemia)
AML (Acute Myelogenous Leukemia)
Contact Info
Pediatric Hematology/Oncology
525 East 68th Street, Payson-695
Appointments
Assistant Professor of Pathology and Laboratory Medicine
Weill Cornell Medical College
Assistant Professor of Pediatrics
Weill Cornell Medical College
Charles, Lillian and Betty Neuwirth Clinical Scholar in Pediatric Hematology/Oncology
Weill Cornell Medical College
Assistant Attending Pediatrician
NewYork-Presbyterian Hospital
Assistant Professor of Pediatrics in Medicine
Weill Cornell Medical College, Cornell University
Board Certifications
Pediatric Hematology-Oncology
Pediatrics
Education
B.S., Duke University, 2001
M.D., New York University School of Medicine, 2005