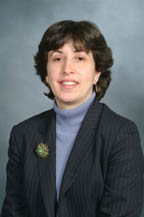 Laura Josephs, Ph.D
Provider of world-class care at NewYork-Presbyterian
Medical Specialties
Psychology
Clinical Psychology
Psychotherapy
Psychiatry
Locations and Appointments
About Laura Josephs, Ph.D
Personal Statement
"Infertility means being deprived of the thing you want most in the world, a child. Psychological counseling can help a person to cope with the painful impact of infertility and to persevere through and beyond the phases of infertility treatment."
Office Hours are Monday through Friday.
Biographical Info
Dr. Laura Josephs is a consulting psychologist at the Center for Reproductive Medicine and Infertility. She is Clinical Assistant Professor of Psychology in Psychiatry at the New York Presbyterian Hospital - Weill Medical College of Cornell University. She is also the founder of the OB/GYN-PSYCH clinic, a weekly psychological consultation program for obstetrical/gynecological patients at the New York Presbyterian Hospital.
Dr. Josephs is experienced as a psychological consultant, medical researcher and educator. She specializes in consultation and psychotherapy work with patients participating in both in vitro fertilization and donor egg programs. In addition to her clinical responsibilities, she leads a women's drop in group and is actively involved with the process of screening egg donors at CRMI.
She completed her undergraduate studies with highest honors from S.U.N.Y. Binghamton and received her Ph.D. in Clinical Psychology from the Institute of Advanced Psychological Studies at Adelphi University. She also received her Postdoctoral Certificate in Psychoanalysis and Psychotherapy from the Postgraduate Center for Mental Health in New York City. She is a member of the National Register of Health Service Providers in Psychology, the American Society for Reproductive Medicine's Psychological Special Interest Group, and the American Society of Psychosomatic Obstetrics and Gynecology, among many other professional affiliations. Dr. Josephs has authored numerous articles for leading medical publications and lectured before audiences nationwide on a range of topics. She also brings to patients the special understanding offered through her own personal experiences with infertility.
Office Hours are Monday through Friday.
Clinical Expertise
Infertility Counseling
Marital Therapy
Mental Health
Psychological Aspects of Infertility
Reproductive Medicine Counseling
Appointments
Clinical Assistant Professor of Psychology in Psychiatry

Weill Cornell Medical College, Cornell University

NewYork-Presbyterian Hospital
External Relationships
Relationships and collaborations with for-profit and not-for profit organizations are of vital importance to our faculty because these exchanges of scientific information foster innovation. As experts in their fields, WCM physicians and scientists are sought after by many organizations to consult and educate. WCM and its faculty make this information available to the public, thus creating a transparent environment.
No External Relationships Reported