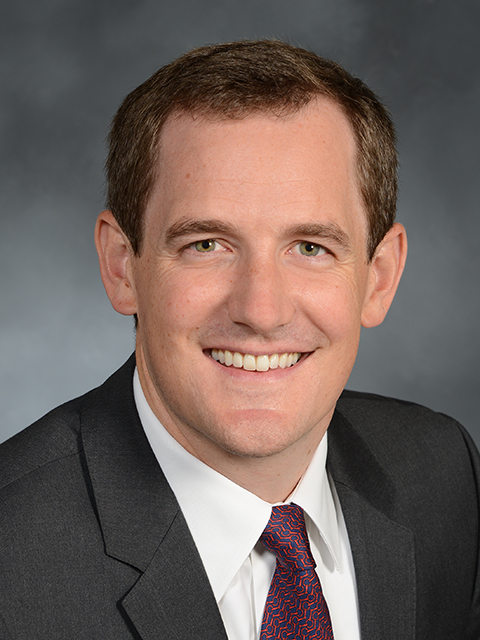 Kyle Godfrey, MD, FACS
Provider of world-class care at NewYork-Presbyterian
Medical Specialties
Oculoplastic Surgery
Ophthalmic Plastic & Reconstructive Surgery
Ophthalmic Oncology
Optometry
Locations and Appointments
Insurances Accepted
Please contact the doctor's office to verify that your insurance is accepted.
Blue Access
EPO
HMO
Mediblue (Senior)
PPO
Freedom
Liberty
Medicare Advantage
Metro/Core/Charter
About Kyle Godfrey, MD, FACS
Personal Statement
It is a privilege to care for New Yorkers, and patients from around the world, at Weill Cornell. I became a doctor to help people, and an ophthalmologist to help protect and restore vision. As a fellowship-trained sub-specialist in oculofacial plastic, reconstructive, and orbital surgery, I treat both cosmetic and functional conditions of the eyelids, eyebrows,mid-face, orbit (eye socket), and lacrimal (tear drainage) system. To complement my clinical practice, I conduct research and lead educational collaborations, both in the United States and internationally.
As your doctor, I promise to listen, communicate, and provide exceptional, personalized care. I will work with you to create a customized treatment plan combining the most up-to-date, safe, and effective treatment options tailored to meet your individual priorities and goals. Whenever possible, I recommend non-surgical treatment approaches. If surgery is necessary, I use minimally invasive or endoscopic approaches to reduce, or eliminate, scarring andrecovery time.
I look forward to working with you as a patient or collaborating in thecare of your patients.
Biographical Info
Kyle J. Godfrey, M.D. is an Assistant Professor of Ophthalmology at Weill Cornell Medicine. He is board-certified and fellowship-trained in oculofacial plastic surgery, a sub-specialty focused on cosmetic, reconstructive, and tumor surgery of the eyelids, orbit (eye socket), lacrimal (tear drainage) system, eyebrows, and face.
Dr. Godfrey's clinical interests span the breadth of oculofacial plastic surgery. He is an expert in eyelid surgery, blepharoplasty, ptosis repair (drooping eyelids), correction of eyelid malposition (entropion, ectropion, retraction), Asian blepharoplasty (double eyelid surgery), congenital ptosis and pediatric eyelid malposition, congenital birth defects, tumors and cancers of the eyelids, eyelid chalazion, reconstruction of the eyelids after trauma or Mohs surgery for cancer, orbital tumors, thyroid eye disease (Graves Disease), bulging eyes, orbital decompression, orbital fractures, surgical management of intracranial hypertension (optic nerve sheath fenestration), probing and surgery for tearing or lacrimal outflow obstruction (endoscopic dacryocystorhinostomy), botulinum toxin injection (e.g., Botox, Dysport), and aesthetic surgery of the eyelids, eyebrows, and face.
Dr. Godfrey has a special clinical interest in minimally invasive orbit and skull base tumor surgery. This interest has led him to collaborate with colleagues in neurosurgery and otorhinolaryngology to develop and advance techniques for minimally invasive access to orbit tumors, sinus tumors, brain tumors, and other intracranial pathology. For this work, he holds a joint appointment in the Department of Neurological Surgery. He is also a member of Weill Cornell's multidisciplinary craniofacial team, where he collaborates closely with otorhinolaryngologists, neurosurgeons, plastic surgeons, and other allied specialists in the care of complex congenital and acquired craniofacial conditions.
In addition to his clinical practice, Dr. Godfrey is a dedicated medical educator and researcher. He is the Program Director of the Ophthalmology Residency at Weill Cornell Medicine/New York Presbyterian Hospital and Faculty in the New York Combined ASOPRS Fellowship Program. He is a three-time recipient of a teaching award at the University of California San Diego School of Medicine. He has delivered over 100 lectures and research presentations regionally, nationally, and internationally and helps direct multiple educational conferences and courses. He is the author of over 50 peer-reviewed scientific articles and book chapters and serves as a frequent ad hoc scientific reviewer for the top specialty journals in his field. Recently, Dr. Godfrey was nominated to participate in the yearlong Leadership in Academic Medicine Program at Weill Cornell Medicine.
Dr. Godfrey completed a two-year fellowship sponsored by the prestigious American Society of Ophthalmic Plastic and Reconstructive Surgery (ASOPRS). During this training, Dr. Godfrey gained broad clinical and surgical experience by treating patients at Weill Cornell Medical Center, Columbia University Medical Center, New York University Langone Medical Center, Bellevue Hospital, Manhattan Eye Ear and Throat Hospital, New York Eye and Ear Infirmary, and Park Avenue plastic surgery practices. To gain further experience in orbital, lacrimal, and eyelid surgery he traveled to the world-renowned Moorfields Eye Hospital in London, England.
Dr. Godfrey is a graduate of Georgetown University School of Medicine where he received the Ophthalmology Achievement Award for clinical, academic, and research excellence. His residency training was at the Shiley Eye Institute at the University of California San Diego, where he was selected to serve as Chief Resident. He is a Magna cum laude graduate of Westmont College, where he earned a B.S. in Chemistry with Major Honors distinction for his laboratory research on a novel pharmaceutical synthesis technique. As an undergraduate, he was a scholarship athlete, served as captain of the Men's Tennis Team, and was twice honored as the College's Golden Eagle Scholar Athlete Award recipient for high moral character, academic, athletic, and leadership achievement.
Honors and Awards
Honors and Awards
2017 - Resident Teaching Award, UC San Diego School of Medicine, Shiley Eye
Institute

2016 - Outstanding Medical Student Teacher Award, UC San Diego School of
Medicine

2015 - Outstanding Medical Student Teacher Award, UC San Diego School of
Medicine

2013 - Ophthalmology Achievement Award, Georgetown University School of
Medicine
2022 - 85th Anniversary Distinguished Alumni Award, Westmont College
Board Certifications
American Board of Ophthalmology
National Board of Medical Examiners
Clinical Expertise
Ophthalmic Plastics
Eyelid Lesion
Tear Duct Probing
Eyelid Surgery
Botox Treatment
Cosmetic Eye Surgery
Orbital Tumor
Ptosis of Eyelid
Blepharoplasty
Clinical Research
Insertion of Prosthetic Eye
Replacement, Prosthetic Eye
Basal Cell Carcinoma
Facial Palsy
Blepharospasm
Blind Painful Eye
Blocked Tear Duct
Tearing Eyes
Botox Injection
Brow Lift
Chalazion
Droopy Eyelid
Ptosis Repair
Ectropion
Entropion
Eyelid Retraction
Enophthalmos
Enucleation of Eye
Evisceration of Eyeball
Repair of Eyelid Laceration
Thyroid Eye Disease
Bulging Eyes
Eyelid Cancer
Oculoplastic Reconstruction After Mohs Micrographic Surgery
Orbital Fracture
Squamous Cell Carcinoma
Graves' Disease
Comprehensive Ophthalmology
Thyroid Disease
Education
Georgetown University School of Medicine
Appointments
Assistant Professor of Ophthalmology

Weill Cornell Medical College, Cornell University

Assistant Professor of Ophthalmology in Neurological Surgery

Weill Cornell Medical College, Cornell University
External Relationships
Relationships and collaborations with for-profit and not-for profit organizations are of vital importance to our faculty because these exchanges of scientific information foster innovation. As experts in their fields, WCM physicians and scientists are sought after by many organizations to consult and educate. WCM and its faculty make this information available to the public, thus creating a transparent environment.
No External Relationships Reported