Katherine Amberson Hajjar, M.D.
Pediatric Hematology-Oncology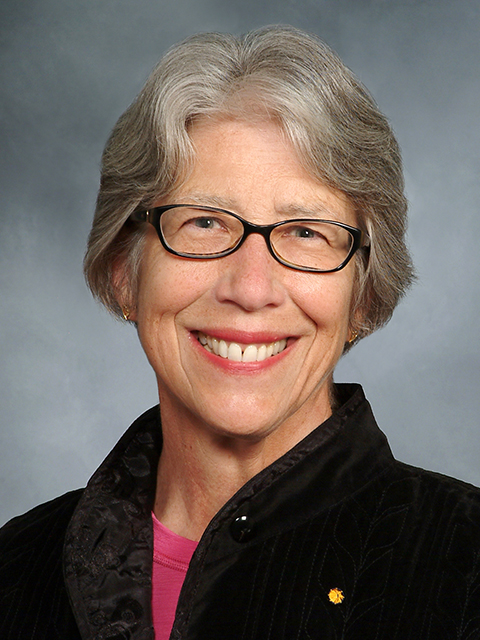 Katherine Amberson Hajjar, M.D.
Pediatric Hematology-Oncology
Medical Specialties
Pediatric Hematology-Oncology
About Katherine Amberson Hajjar, M.D.
Personal Statement
Dr. Hajjar is Vice Chair for Research in the Department of Pediatrics and the Brine Family Professor of Cell and Developmental Biology. She also serves as Chair of the Graduate Program in Physician Assistant Studies and Co-Chair fo the Graduate Program in Cell and Developmental Biology. Dr. Hajjar's Lab focuses on the intersection of hemostasis and angiogenesis. Hemostasis is the process by which bleeding is curtailed following blood vessel injury. It is initiated by an enzymatic cascade, which culminates in the activation of thrombin, the enzyme that converts soluble plasma fibrinogen into insoluble fibrin. The fibrinolytic system regulates hemostasis by activating the serine protease plasmin, which cleaves cross-linked fibrin to generate biologically active polypeptides. Scientists in Dr. Hajjar's lab identified the annexin A2 system as a key component of the fibrinolytic system. Expressed on endothelial cells, annexin A2 (A2) is a calcium-regulated, phospholipid-binding protein that forms a heterotetrameric complex with protein p11 (S100A10). The Hajjar Lab discovered that the A2 complex binds two major components of the fibrinolytic system, plasminogen and tissue plasminogen activator, and accelerates the generation of plasmin at cell surfaces.
Understanding the in vivo function of the A2 system is a major goal of the Hajjar Lab. Their development of the A2-deficient mouse uncovered two important findings – first, the knockouts displayed the predicted accumulation of fibrin within blood vessels, and, second, the mice exhibited defects in new blood vessel formation (angiogenesis) – leading to the hypothesis that fibrinolysis and angiogenesis are functionally linked. This postulate has been strengthened by the observation that metabolic blockade of A2 function by the amino acid homocysteine also leads to fibrin accumulation and defective angiogenesis. Evidence that A2 regulates hemostasis in humans derives from studies in patients with acute promyelocytic leukemia in which overexpression of A2 correlates with severe, sometimes life-threatening hemorrhage. Individuals with antiphospholipid syndrome, moreover, often have thrombosis in association with high-titer anti-A2 antibodies that inhibit A2 function or activate endothelial cells. High titer anti-A2 antibodies have also been reported in a cohort of patients with cerebral vein thrombosis.
The Hajjar Lab discovered that synthesis of A2, like many key angiogenesis factors, is regulated by ischemia, through the action of the hypoxia-inducible factor-1 transcription factor, which binds directly to a hypoxia responsive element within the A2 gene promoter. This mechanism for stimulating A2 expression underlies ischemic retinal vascular disease in a mouse model that mimics two human diseases, retinopathy of prematurity and diabetic retinopathy. In the mouse model retinal vascular proliferation requires A2-mediated remodeling of fibrin. Further work has revealed that A2 and p11 co-regulate each other; while endothelial cell A2 stabilizes protein p11 and prevents its ubiquitination and proteasomal degradation, p11 supports the src kinase-stimulated, nonclassical secretion of A2 from the cytoplasm to the cell surface. In addition, the lab has uncovered a novel feedback mechanism whereby plasmin, generated by the A2 system, interacts with toll-like receptor-4 to activate intracellular protein kinase C (PKC). PKC subsequently phosphorylates A2 on N-terminal domain serine residues, thereby disrupting the complex with p11 and restricting further translocation to the cell surface. The lab's most recent studies highlight the contributions of A2-mediated membrane repair mechanisms in regulating the innate immune system through preservation of lysosomal integrity. The lab cntones to build upon hese emerging pathways to develop strategies that target the A2 system in specific disease settings.
Biographical Info
Dr. Hajjar graduated from Smith College in 1974, and from The Johns Hopkins School of Medicine in 1978. She completed a residency in Pediatrics at Children's Hospital of Pittsburgh (1978-1981) where she also served as Chief Pediatric Resident (1981-1982). She undertook a Fellowship in Pediatric Hematology-Oncology at The Johns Hopkins School of Medicine (1982-1984), including a year of cell biology research training with Professor Vann Bennett. In 1984, she joined the faculty of the Departments of Pediatrics and Medicine, and obtained further research training under Professor Ralph Nachman, then Chief of the Division of Hematology-Oncology in the Department of Medicine. She was named the Stavros Niarchos Professor of Pediatrics (1997-2002), served as Chair of the Department of Cell and Developmental Biology (2002-2014), and has held the Brine Family Professorship of Cell and Developmental Biology since 2005. Dr. Hajjar is credited with the discovery of the cell surface receptor for tissue plasminogen activator (annexin A2), and with demonstrating its importance in vascular homeostasis and angiogenesis. She is an elected member of the Society for Pediatric Research, the American Pediatric Society, the American Society of Clinical Investigation, the Association of American Physicians, the American Clinical and Climatological Association, and the American Association for the Advancement of Science.
Honors and Awards
Established Investigator of the American Heart Association 1989
Syntex Scholar Award 1989
Irvine Page Award, American Heart Association 1991
Children's Blood Foundation Key to Life Award 1993
Elected member, American Society of Clinical Investigation 1994
Gwendolyn J. Stewart Memorial Award for Women in Biomedical Sciences 1997
Elected Member, Association of American Physicians 2000
The Interurban Clinical Club, President 2002
New York Society for the Study of Blood, President 2003
Chair, XIIth International Workshop on the Molecular and Cellular Biology of Plasminogen Activation, 2009
The Harvey Society, Councillor, 2006-2008; Vice President, 2008-2009; President, 2009-2010
Excellence in Teaching and Mentoring Award, Weill Cornell Graduate School 2012
Elected Member, American Clinical and Climatolgical Association 2013
Elected Honorary Member Pi Alpha, Physisacn Assistants Honor Society 2014
Elected Honorary Fellow, Weill Cornell Medical College Alumni Association 2014
Elected Fellow, American Association for the Advancement of Science 2014
The Dr. George N. Papanicolaou Award, Helenic Medical Society of New York 2015
Chair, 9th International Annexins Congress, New York NY 2017
Board Certifications
American Board of Pediatrics
American Board of Pediatrics (Pediatric Hematology-Oncology)
Clinical Expertise
Hemoglobin Disorder
Thrombotic Disorder
Vascular Disease
Education
The Johns Hopkins University School of Medicine
Appointments
Professor of Pediatrics in Medicine

Weill Cornell Medical College, Cornell University

NewYork-Presbyterian Hospital

Weill Cornell Medical College, Cornell University

Brine Family Professor of Cell and Developmental Biology

Weill Cornell Medical College, Cornell University
External Relationships
Relationships and collaborations with for-profit and not-for profit organizations are of vital importance to our faculty because these exchanges of scientific information foster innovation. As experts in their fields, WCM physicians and scientists are sought after by many organizations to consult and educate. WCM and its faculty make this information available to the public, thus creating a transparent environment.
No External Relationships Reported