Jeffrey P. Greenfield, M.D., Ph.D.
Pediatric Neurological Surgery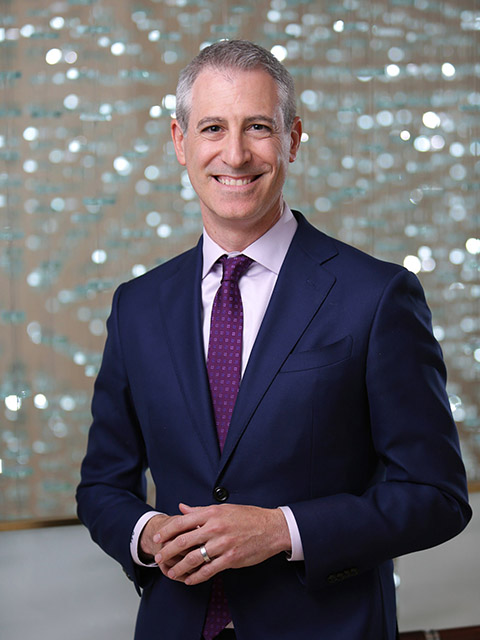 Pediatric Neurological Surgery
Jeffrey P. Greenfield, M.D., Ph.D.
Provider of world-class care at NewYork-Presbyterian
Medical Specialties
Neurological Surgery
Pediatric Neurological Surgery
Pediatric Neurosurgery
Treats Children
Locations and Appointments
Insurances Accepted
Please contact the doctor's office to verify that your insurance is accepted.
Blue Access
Blue Connection
EPO
HMO
Mediblue (Senior)
PPO
Freedom
Liberty
Medicare Advantage
Metro/Core/Charter
About Jeffrey P. Greenfield, M.D., Ph.D.
Biographical Info
Jeffrey Greenfield, MD, PhD is a board-certified neurosurgeon who specializes in pediatric neurosurgery. In addition he sees certain adult patients with congenital neurosurgical conditions. Compassionate clinical care, research, and education are all central to his philosophy as a neurosurgeon and physician.
As creator and director of the Chiari CARE program, Dr. Greenfield has developed an international reputation caring for children and adults with Chiari malformation, tethered cord, syringomyelia, and other associated conditions such as craniocervical instability, CSF leaks, and hydrocephalus as part of a large multidisciplinary team.
Dr. Greenfield is a strong proponent of the unique concept of transitional neurosurgery – caring for patients with specific conditions from childhood through adulthood.
Dr. Greenfield also directs the pediatric skull base surgery program, evaluating and removing tumors of the pituitary gland region and skull base such as craniopharyngiomas with minimally invasive endoscopic tools. Dr. Greenfield is also an expert in utilizing minimally invasive ventricular endoscopy of the brain to treat tumors, hydrocephalus, and cysts within the ventricles, and intraoperative brain and spine mapping and imaging to care for children with benign and malignant tumors of the brain and spine.
~~~
Looking for a second opinion? Dr. Greenfield can review your scans: Click here to upload your images. (If you do not have an account simply enter your email address and you will be prompted to create an account. Instructions here.)
~~~
Dr. Greenfield sees patients at:
1305 York Avenue (at 70th Street), 9th Floor New York, NY 10065
~~~
For more information about Dr. Greenfield, visit https://neurosurgery.weillcornell.org
To make an appointment, please call 212-746-2363.
Weill Cornell Pediatric Neurosurgery https://neurosurgery.weillcornell.org/pediatric
Children's Brain Tumor Project https://childrensbraintumorproject.org
Honors and Awards
Castle Connolly Top Doctor, 2011
New York Super Doctor, 2017-2019
Attending Teaching Award, Given by Housestaff, Weill Cornell Neurological Surgery Residency, 2010
Shulman Award, Pediatric Section, AANS, 12/2007
Distinguished HouseStaff Award, New York Weill Cornell Medical Center Alumni Council, 11/2007
Hydrocephalus Assoc. Award, Pediatric Section, AANS, 12/2005
Resident Research Award, NY Neurosurgery Society, 4/2006
Sharma Foundation, Neurooncology Fellowship, $40,000, 6/2005-6/2006
Harold Wolff Research Prize, Cornell Medical School Neuroscience Research Award, 5/2002
Board Certifications
American Board of Neurological Surgery
American Board of Pediatric Neurological Surgery
Clinical Expertise
Chiari Malformation
Pediatric Brain Tumors
Hydrocephalus
Spinal Cord Tumor
Gliomas
Tethered Cord
Spine Injury
Spasticity
Pediatric Head and Neck Tumors
Minimally Invasive (Endoscopic) Neurosurgery
Spina Bifida
Tethered Cord Syndrome
Pineal Tumor
Arnold-Chiari Malformation
Traumatic Brain Injury
Myelomeningocele
Medulloblastoma
Spasticity Treatment
Peripheral Nerve Surgery
Intraventricular Endoscopic Neurosurgery
Craniopharyngioma Surgery
Endoscopic Craniopharyngioma Surgery
Plagiocephaly
Endonasal Endoscopic Tumor Surgery
Lipoma
Baclofen Pump Implantation
Pseudotumor Cerebri
Pseudotumor Cerebri Syndrome
Juvenile Idiopathic Scoliosis
Repair of Scoliosis In Pediatric Patient
Scoliosis Correction
Scoliosis Deformity of Spine
IIH (Idiopathic Intracranial Hypertension)
Pituitary Tumors
Selective Dorsal Rhizotomy
Congenital Hydrocephalus
Hydrocephalus In Newborn
Hydrocephalus, Congenital
Pediatric Hydrocephalus
Education
Weill Cornell Medical College, Cornell University
Appointments
Associate Professor of Neurological Surgery in Pediatrics

Weill Cornell Medical College, Cornell University

Adjunct Associate Clinical Professor of Neurological Surgery

Columbia University College of Physicians and Surgeons

Attending Neurological Surgeon

NewYork-Presbyterian Hospital

Professor of Neurological Surgery

Weill Cornell Medical College, Cornell University
External Relationships
Relationships and collaborations with for-profit and not-for profit organizations are of vital importance to our faculty because these exchanges of scientific information foster innovation. As experts in their fields, WCM physicians and scientists are sought after by many organizations to consult and educate. WCM and its faculty make this information available to the public, thus creating a transparent environment.
No External Relationships Reported