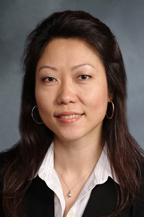 Grace Y. Wang, O.D.
Medical Specialties
Optometry
Pediatric Ophthalmology
Pediatric Failed Vision Test
Medically Necessary Lenses
Specialty Lenses
Locations and Appointments
Insurances Accepted
Please contact the doctor's office to verify that your insurance is accepted.
Blue Access
EPO
HMO
Mediblue (Senior)
PPO
Freedom
Liberty
Medicare Advantage
Metro/Core/Charter
About Grace Y. Wang, O.D.
Personal Statement
I believe that vision is not merely a function that we rely on but a window to our quality of life and happiness. Many times a small improvement in the quality of vision can make a world of difference, and a thorough understanding of eye diseases can put patients' minds more at ease. I strive to provide that kind of care for my patients. As a member of Weill Cornell Medicine Ophthalmology team, I look forward to assisting our patients to improve and understand their overall ocular health and to achieve their best vision
Biographical Info
Grace Y. Wang, OD, attended Northeastern University in Boston, MA, graduating with honors in Biochemistry. She was an accomplished researcher in various fields, including HIV, Cutaneous Biology and Reproductive Biology. After a few years of research to solidify her biophysiology knowledge, she attended State University of New York College of Optometry to pursue her dream of helping people with medical needs. She was awarded with Scholarship for Humanity for her excellence in optometric study. After receiving her doctoral degree in optometry, she extended her optometric training by completing residency program in Ocular Disease, where she gained experiences in various areas of ophthalmology, including Laser vision correction management, cataract co-management, contact lens fitting, glaucoma diagnosis and management, retinal diseases, neuro-ophthalmology, and cornea and anterior segment pathology.
After completing her residency training, Dr. Wang worked at a cornea specialty practice at New York EYE and EAR Infirmary. Besides providing Laser vision correction consultations to healthy patients, she also worked with cornea specialist to treat variety of rare cornea and anterior segment conditions, such as keratoconus, corneal dystrophies, acanthamoeba keratitis, fungal eye infections, and ocular autoimmune diseases. She is familiar with the most advanced surgical and non-surgical options in cornea disease management.
Dr. Wang is now a member of the Weill Cornell Eye Associates. She provides comprehensive optometric care, including glasses prescription, soft contact lens and RGP (Rigid Gas Permeable) lens fitting, LASIK Consultation and diagnosis and treatment of general eye problems. Dr. Wang is currently accepting new patients; appointments can be made by calling Weill Cornell Eye Associates at (646) 962-2020. For additional information please visit our website at www.WeillCornellEye.org
Clinical Expertise
Contact Lenses
Comprehensive Ophthalmology
Education
State University of New York College of Optometry
Appointments
Staff Associate in Ophthalmology

Weill Cornell Medical College, Cornell University

NewYork-Presbyterian Hospital
External Relationships
Relationships and collaborations with for-profit and not-for profit organizations are of vital importance to our faculty because these exchanges of scientific information foster innovation. As experts in their fields, WCM physicians and scientists are sought after by many organizations to consult and educate. WCM and its faculty make this information available to the public, thus creating a transparent environment.
No External Relationships Reported