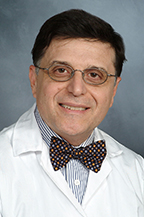 Dr. Inghirami is a practicing hematopathologist, who joined Weill Cornell Medical College in September 2013, as a Professor of Pathology and Laboratory Medicine. He has worked in the field of molecular biology for the last 2O years, defining the role and distribution of pathogenetic defects among lymphoproliferative disorders. Detection of any given abnormality is believed to improve diagnostic accuracy, and helps to provide clinical-proven stratification. Indeed, patient - specific genomic fingerprints will appropriately predict clinical outcomes, pin - point patient selective targets and thus tailor therapies. Restricted defects in individual leukemia/lymphoma patients provide the means to efficiently assess Minimal Residual Disease (MRD) burden and to appropriately adjust therapeutic programs.

Dr. Inghirami has contributed more than 160 peer-reviewed publications, mostly in the area of lymphoma research, to the medical and scientific literature. He has underwritten several international patents and has been the Principal Investigator of several NIH-NCI, EU and Italian grants. He has also been part of a multicentric program sponsored by the Italian Cancer Research Association (AIRC) on "genetics-driven targeted management", and, he is a cofounder of The European T-Cell Lymphoma Study Group.

His laboratory has used a variety of techniques including deep sequencing, Doplet PCR, qRT-PCR, high-density tissue microarrays, SNP arrays, and expression of cDNA arrays and shRNA lentiviral libraries. His group has gained experience using gene knockdown strategies in a variety of in vitro models, and they have generated several mouse models and a large library of human Patient Derived Tumorgrafts from primary T-cell lymphoma (PTCL), B-cell disorders and Non - Small Lung Cancers (NSCLC).Dr. Inghirami had been the Director of Molecular Pathology and Hematopathology at New York University and Director of Anatomic Pathology at the University of Torino, Italy. He has worked as Scientific Director of the Center of Experimental Research and Medical Science (CeRMS) in Torino. Dr. Inghirami has contributed to the development of a specific Pathogen Free Unit and a Functional Genomic Laboratory at the Molecular Biotechnology Center of the University of Torino. He serves as a reviewer for multiple publications including Nature, the New England Journal of Medicine, PNAS, and Blood. He is the recipient of both the Benjamin Castleman Award by the United States and Canadian Academy of Pathology recognizing his contributions to the field of pathology and the Shannon Award from the National Cancer Institute.
Insurances
Insurance Plans Accepted
The following represents most of the managed care plans accepted by this physician. If your insurance carrier does not appear here please contact the physician's office as they may have individual contracts not included on this site.

* indicates this physician is no longer accepting new patients with this insurance plan.
AETNA

[PPO]

AETNA

[Medicare]

AETNA

[HMO]

Aetna - Weill Cornell

[POS]

Affinity Essential
Affinity Health Plan
CIGNA
Empire Blue Cross/Blue Shield

[PPO]

Empire Blue Cross/Blue Shield

[Mediblue (Senior)]

Empire Blue Cross/Blue Shield

[EPO]

Empire Blue Cross/Blue Shield

[HMO]

Fidelis Care
GHI

[CBP]

Health First
Health Insurance Plan of NY (HIP)

[Medicaid]

Health Insurance Plan of NY (HIP)

[Medicare]

Health Insurance Plan of NY (HIP)
Health Plus - Amerigroup

[CHP]

Health Plus - Amerigroup
Health Republic
Oscar
Oxford Health Plans

[Medicare Advantage]

Oxford Health Plans

[Freedom]

Oxford Health Plans

[Liberty]

POMCO
Rockefeller University - CoreSource
UHC Compass
United Empire
United Health Care

[Medicare]

United Health Care
United Health Care

[Community Plan]

VNSNY CHOICE Medicare

[Medicare]

VNSNY CHOICE Medicare

[HMO]
Publications
Tiacci E, Schiavoni G, Forconi F, Santi A, Trentin L, Ambrosetti A, Cecchini D, Sozzi E, Francia di Celle P, Di Bello C, Pulsoni A, Foà R, Inghirami G, Falini. Simple genetic diagnosis of hairy cell leukemia by sensitive detection of the BRAF-V600E mutation. Blood.119:192-5, 2012


Kwee I, Rinaldi A, Rancoita P, Rossi D, Capello D, Forconi F, Giuliani N, Piva R, Inghirami G, Gaidano G, Zucca E, Bertoni F. Integrated DNA copy number and methylation profiling of lymphoid neoplasms using a single array. Br J Haematol. 156:354-357, 2012


Cheng M, Quail MR, Gingrich DE, Ott GR, Lu L, Wan W, Albom MS, Angeles TS, Aimone LD, Cristofani F, Machiorlatti R, Abele C, Ator MA, Dorsey BD, Inghirami G, Ruggeri BA. CEP-28122, a Highly Potent and Selective Orally Active Inhibitor of Anaplastic Lymphoma Kinase with Antitumor Activity in Experimental Models of Human Cancers. Molecular Cancer Therapeutics. In Press


Dal Col J, Mastorci K, Faè DA, Muraro E, Martorelli D, Inghirami G, Dolcetti R. Alpha-interferon/retinoic acid combination inhibits growth and promotes apoptosis in mantle cell lymphoma through Akt-dependent modulation of critical targets. Cancer Res. 2012 Feb 6. [Epub ahead of print] PubMed PMID:


Boi M, Stathis A, Zucca E, Inghirami G, Bertoni F. Genetic alterations in systemic nodal and extranodal non-cutaneous lymphomas derived from mature T- and NK-cells. Cancer Sci. 2012 Aug;103(8):1397-404.


Tabbó F, Barreca A, Piva R, Inghirami G; The European T-Cell Lymphoma Study Group. ALK Signaling and Target Therapy in Anaplastic Large Cell Lymphoma. Front Oncol. 2012;2:41.


Agnelli L, Mereu E, Pellegrino E, Limongi T, Kwee I, Bergaggio E, Ponzoni M, Zamò A, Iqbal J, Piccaluga PP, Neri A, Chan JC, Pileri S, Bertoni F, Inghirami G, Piva R. Identification of a three-gene model as a powerful diagnostic tool for the recognition of ALK negative ALCL. Blood. 2012 Jun 27.


Panciani PF, Fontanella M, Tamagno I, Battaglia L, Garbossa D, Inghirami G, Fagioli F, Pagano M, Ducati A, Lanotte M. Stem cells based therapy in high grade glioma: why the intraventricular route should be preferred? J Neurosurg Sci. 2012 Sep;56(3):221-9.


Rossi D, Trifonov V, Fangazio M, Bruscaggin A, Rasi S, Spina V, Monti S, Vaisitti T, Arruga F, Famà R, Ciardullo C, Greco M, Cresta S, Piranda D, Holmes A, Fabbri G, Messina M, Rinaldi A, Wang J, Agostinelli C, Piccaluga PP, Lucioni M, Tabbò F, Serra R, Franceschetti S, Deambrogi C, Daniele G, Gattei V, Marasca R, Facchetti F, Arcaini L, Inghirami G, Bertoni F, Pileri SA, Deaglio S, Foà R, Dalla-Favera R, Pasqualucci L, Rabadan R, Gaidano G. The coding genome of splenic marginal zone lymphoma: activation of NOTCH2 and other pathways regulating marginal zone development. J Exp Med. 2012 Aug 27;209(9):1537-51.


Laimer D, Dolznig H, Kollmann K, Vesely PW, Schlederer M, Merkel O, Schiefer AI, Hassler MR, Heider S, Amenitsch L, Thallinger C, Staber PB, Simonitsch-Klupp I, Artaker M, Lagger S, Turner SD, Pileri S, Piccaluga PP, Valent P, Messana K, Landra I, Weichhart T, Knapp S, Shehata M, Todaro M, Sexl V, Höfler G, Piva R, Medico E, Ruggeri BA, Cheng M, Eferl R, Egger G, Penninger JM, Jaeger U, Moriggl R, Inghirami G, Kenner L. PDGFR blockade is a rational and effective therapy for NPM-ALK-driven lymphomas. Nat Med. 2012 Nov;18(11):1699-704.


Brusa D, Serra S, Coscia M, Rossi D, D'Arena G, Laurenti L, Jaksic O, Fedele G, Inghirami G, Gaidano G, Malavasi F, Deaglio S. The PD-1/PD-L1 axis contributes to T-cell dysfunction in chronic lymphocytic leukemia. Haematologica. 2013 Jun;98(6):953-63.


Tiacci E, Schiavoni G, Martelli MP, Boveri E, Pacini R, Tabarrini A, Zibellini S, Santi A, Pettirossi V, Fortini E, Ascani S, Arcaini L, Inghirami G, Paulli M, Falini B. Constant activation of the RAF-MEK-ERK pathway as a diagnostic and therapeutic target in hairy cell leukemia. Haematologica. 2013 Apr;98(4):635-9.

Riera L, Marmont F, Toppino D, Frairia C, Sismondi F, Audisio E, Di Bello C, D'Ardia S, Di Celle PF, Messa E, Inghirami G, Vitolo U, Pich A. Core binding factor acute myeloid leukaemia and c-KIT mutations. Oncol Rep. 2013 May;29(5):1867-72.


Voena C, Di Giacomo F, Panizza E, D'Amico L, Boccalatte FE, Pellegrino E, Todaro M, Recupero D, Tabbò F, Ambrogio C, Martinengo C, Bonello L, Pulito R, Hamm J, Chiarle R, Cheng M, Ruggeri B, Medico E, Inghirami G. The EGFR family members sustain the neoplastic phenotype of ALK+ lung adenocarcinoma via EGR1. Oncogenesis. 2013 Apr 8;2:e43.

Kalli F, Machiorlatti R, Battaglia F, Parodi A, Conteduca G, Ferrera F, Proietti M, Tardito S, Sanguineti M, Millo E, Fenoglio D, De Palma R, Inghirami G, Filaci G. Comparative analysis of cancer vaccine settings for the selection of an effective protocol in mice. J Transl Med. 2013 May 12;11:120.


Tabbò F, Ponzoni M, Rabadan R, Bertoni F, Inghirami G; the European T-cell Lymphoma Study Group. Beyond NPM-anaplastic lymphoma kinase driven lymphomagenesis: alternative drivers in anaplastic large cell lymphoma. Curr Opin Hematol. 2013 Jul;20(4):374-381.


Liu C, Iqbal J, Teruya-Feldstein J, Shen Y, Dabrowska MJ, Dybkaer K, Lim MS, Piva R, Barreca A, Pellegrino E, Spaccarotella E, Lachel CM, Kucuk C, Jiang CS, Hu X, Bhagvati S, Greiner TC, Weisenburger DD, Aoun P, Perkins SL, McKeithan TW, Inghirami G, Chan WC. MicroRNA expression profiling identifies molecular signatures associated with anaplastic large cell lymphoma. Blood. 2013 Jun 25. [Epub ahead of print] PubMed PMID: 23801630.
Honors and Awards
Benjamin Castleman Award, 1992
NCI Shannon Award, 1993
Lega Italiana per Lotta Contro I Tumori, 1999
Berlucchi Award, 2005
Contact Info
525 East 68th Street
Starr Pavilion, 715
525 East 68th Street
Starr Pavilion, 715
Appointments
Professor of Pathology and Laboratory Medicine
Weill Cornell Medical College
NewYork-Presbyterian Hospital
Education
M.D., University of Turin Faculty of Medicine and Surgery (Italy), 1981