Dan Goldschlag, M.D.
Reproductive Endocrinology/Infertility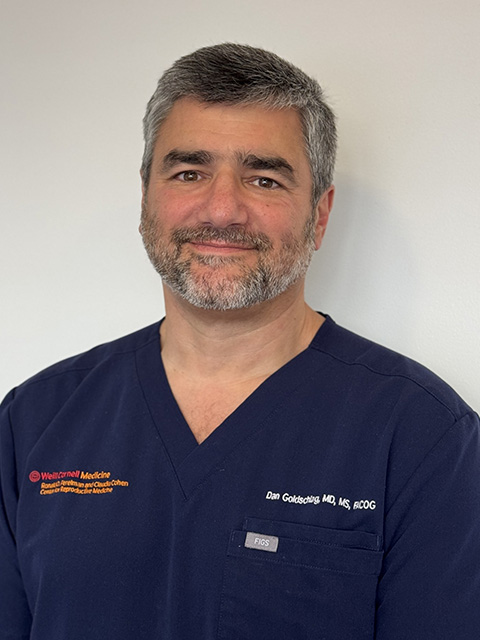 Reproductive Endocrinology/Infertility
Dan Goldschlag, M.D.
Provider of world-class care at NewYork-Presbyterian
Medical Specialties
Reproductive Endocrinology
Reproductive Endocrinology/Infertility
Gynecologic Endocrinology
Minimally Invasive Gynecologic Surgery
Locations and Appointments
Insurances Accepted
Please contact the doctor's office to verify that your insurance is accepted.
Blue Access
Blue Connection
EPO
HMO
PPO
Freedom
Liberty
Metro/Core/Charter
About Dan Goldschlag, M.D.
Personal Statement
Want more information? Email or call (646) 962-3767
"Our goal at The Ronald O. Perelman and Claudia Cohen Center for Reproductive Medicine is to provide compassionate, quality fertility care. Our work in fertility preservation doesn't only preserve eggs and embryos – it also preserves our patients' options."
Biographical Info
Dr. Dan Goldschlag is an Assistant Professor of Obstetrics and Gynecology and Reproductive Medicine at The Ronald O. Perelman and Claudia Cohen Center for Reproductive Medicine (CRM) at Weill Cornell Medical College. A noted fertility specialist, he is board certified in both Obstetrics and Gynecology and Reproductive Endocrinology and Infertility.
Dr. Goldschlag completed his B.A. and M.S. in 1988 and his M.D. in 1992 at Wayne State University in Detroit. After a residency in Obstetrics and Gynecology at Albert Einstein College of Medicine, Dr. Goldschlag received his subspecialty training in Reproductive Endocrinology and Infertility at CRM. In 1999, he joined the Center's faculty. Dr. Goldschlag is a member of numerous medical associations, including the American Society for Reproductive Medicine and the American College of Obstetricians and Gynecologists.
Dr.Goldschlag has a thriving practice in reproductive medicine that includes patients growing their families using in vitro fertilization (IVF), preimplantation genetic diagnosis and egg donation, as well as other advanced assisted reproductive techniques.
Fertility Preservation & Oncofertility
Dr. Goldschlag has an expertise in caring for patients who wish to preserve or extend their fertility using CRM's fertility preservation services. In addition to the preservation of embryos, recent advances in cryopreservation technology have made oocyte (egg) and embryo freezing viable options for women. Oocyte freezing can be of particular help to women wishing to preserve oocytes for later use or women who need medical treatments that may damage ovarian function. For more information about Cornell's fertility preservation services, contact Isaac Jackson at (646) 962-5450.
Dr. Goldschlag also has extensive experience caring for women who wish to become pregnant after cancer treatment (oncofertility).
Minimally Invasive Surgery & Disorders of Delayed Sexual Development
Dr. Goldschlag is an expert in advanced surgical methods and is particularly skilled in the use of minimally invasive surgical techniques. These techniques can be of great help to patients with conditions including uterine anomalies, recurrent miscarriages, endometriosis, ovarian cysts, menstrual disorders and anatomical causes of infertility, including blocked fallopian tubes, adhesions or scar tissue, endometrial polyps and fibroid tumors. He is also an authority on the treatment of young women with disorders affecting normal sexual development, including premature ovarian failure and delayed puberty.
Dr. Goldschlag has published and lectured on a wide range of topics in reproductive health. His current research is focused on early oocyte development and the cryopreservation of oocytes and ovarian tissue. He recently published a groundbreaking article on the retrieval and preservation of oocytes from a pre-pubertal young woman prior to chemotherapy.
Dr. Goldschlag sees patients in CRM's Upper East Side and Garden City, Long Island offices. Please call (646) 962-3767 for more information and to schedule an appointment.
You may also visit http://www.ivf.org, CRM's patient resource website, for more information.
Honors and Awards
1996 - Administrative Chief Resident
1994 - Resident of the Year
1993 - Distinction in Biomedical Research
Clinical Expertise
Cryopreservation
In Vitro Fertilization (IVF)
Assisted Reproductive Technology
Reproductive Genetics
Male Infertility
Ovulation Induction
Reproductive Medicine
Minimally Invasive Gyn Surgery
Reproductive Health
Advanced Gynecologic Surgery
Amenorrhea
Artificial Insemination
Assisted Reproduction
Assisted Reproductive Techniques
Female Hirsutism
Female Hormones
Fertility
Fertilization
Fibroid Surgery
Fibroid Tumor
Gynecologic Hormonal Disorders
Gynecological Laparoscopic Surgery
Hirsutism
Hormone Replacement Therapy
Hormone Testing
Hysteroscopic Procedures
Hysterectomy Surgery
Hysteroscopic-Advanced Surgery
Female Infertility
Infertility Assessment
Infertility Procedures
Infertility Surgery
Intracytoplasmic Sperm Injection (ICSI)
Intrauterine Insemination (IUI)
Irregular Periods/Menstrual Cycles
Irregular Menstrual Bleeding
Laparoscopic Gynecologic Surgery
Laparoscopy
Menorrhagia
Microsurgical Tubal Surgery
Miscarriage
Ovarian Hormone Disorders
Ovulation Induction Monitoring
Pelvic Mass
Polycystic Ovary
Pregnancy Losses
Reproductive Endocrine Abnormality
Reproductive Loss
Reproductive Surgery
Transvaginal Ultrasound
Tubal Ligation Reversals
Tubal Surgery
Tuboplasty
Uterine Ablations
Education
Wayne State University School of Medicine
Appointments
Assistant Attending Obstetrician and Gynecologist

NewYork-Presbyterian Hospital

Assistant Professor of Clinical Obstetrics and Gynecology

Weill Cornell Medical College, Cornell University

Assistant Professor of Clinical Reproductive Medicine

Weill Cornell Medical College, Cornell University
External Relationships
Relationships and collaborations with for-profit and not-for profit organizations are of vital importance to our faculty because these exchanges of scientific information foster innovation. As experts in their fields, WCM physicians and scientists are sought after by many organizations to consult and educate. WCM and its faculty make this information available to the public, thus creating a transparent environment.
No External Relationships Reported