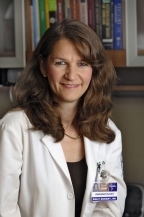 Dr. Dalit Ashany specializes in the treatment of systemic lupus erythematosus, rheumatoid arthritis and osteoarthritis. Dr. Ashany has received numerous awards throughout her career, including the National SLE Foundation Research Grant, NIH-NIAMS Career Development Award, SLE Foundation Career Development Award, and the Merck Sharp and Dohme Arthritis Research Fellow's Award. She is currently an Assistant Attending Rheumatologist at Hospital for Special Surgery.
Publications
Ashany D, Savir A, Bhardwaj N, Elkon KB. Dendritic Cell Resistance to Fas-mediated Apoptosis. J. Immunol. Nov 15;163(10):5303-11, 1999.
Drappa J, Kamen LA, Chan E, Georgiev M, Ashany D, Marti F, King PD. Impaired T Cell Death and Lupus-like Autoimmunity in T Cell-specific Adapter Protein-deficient Mice. J Exp Med. Sep 1;198(5):809-21, 2003.
Georgierv M, Agle LMA, Chu JL, Elkon KB, Ashany D. "Mature Dendritic Cells Readily Break Tolerance in Normal Mice but Do Not Lead to Disease Expression." Arthritis Rheum 52(1): 225-238; 2005.
Honors and Awards
National SLE Foundation Research Grant, 1998
NIH-NIAMS Career Development Award, 1996
SLE Foundation Career Development Award, 1991
Merck Sharp and Dohme Arthritis Research Fellow's Award, 1990
Alpha Omega Alpha Medical Honor Society, 1984
Clinical Expertise
Osteoarthritis
Rheumatoid Arthritis
Systemic Lupus Erythematosus
Appointments
Assistant Attending Physician
NewYork-Presbyterian Hospital
Assistant Professor of Clinical Medicine
Weill Cornell Medical College, Cornell University
Board Certifications
Internal Medicine
Rheumatology
Education
M.D., Albert Einstein College of Medicine of Yeshiva University, 1985