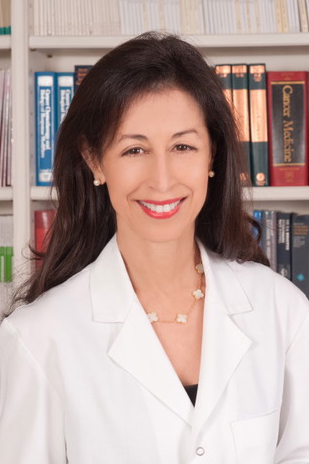 Cora N. Sternberg, M.D.
Provider of world-class care at NewYork-Presbyterian
Medical Specialties
Urological Oncology
Medical Oncology
Locations and Appointments
Insurances Accepted
Please contact the doctor's office to verify that your insurance is accepted.
Blue Access
Blue Connection
EPO
HMO
Mediblue (Senior)
PPO
Freedom
Liberty
Medicare Advantage
Metro/Core/Charter
About Cora N. Sternberg, M.D.
Personal Statement
I was driven to become a medical oncologist and conduct research to cure cancer based on my desire to help people who receive what can be a daunting and life-altering diagnosis. After training and being on staff at Memorial Sloan Kettering Cancer Center in New York, I moved to Rome, Italy, serving as the Chief of a Medical Oncology Department. I have recently returned to the United States, and particularly to Weill Cornell Medicine because the institution offers access to both clinical and scientific excellence, as well as the opportunity for collaboration with experts operating at the highest level in our field.
My practice focuses on treating genitourinary malignancies, including prostate, bladder, kidney and testis cancers. I place the highest value on having a meaningful and strong physician-patient relationship. This is especially important in treating patients with cancer and often involves the entire family. At Weill Cornell Medicine and New York-Presbyterian Hospital, I am able to provide personalized, state-of-the art treatment for my patients, in a compassionate environment.
Through clinical research, I am able to offer my patients access to the latest therapies such as novel targeted and hormonal agents, monoclonal antibodies, immunotherapy and many other emerging treatments. Additionally, my extensive clinical research work has enabled me to offer translational research and clinical trials to investigate promising, new treatments that are not yet widely available. This research allows us to move the field forward in order to find cures for cancer.
By studying the genomics of our patients, we hope to also be able to provide a more precise approach to treatment. It is a priority of mine to not only deliver cutting-edge and compassionate care to my patients, but to enhance the quality of life for patients and their families as they cope with a cancer diagnosis.
At Weill Cornell and NewYork-Presbyterian, I feel privileged to collaborate with a multidisciplinary, world-class team of physicians, nurses, social workers and other cancer sub-specialists. Together, we offer an extraordinarily comprehensive level of expertise and support to our patients across all stages and types of disease.
Biographical Info
Dr. Cora Sternberg is a leading international researcher and world expert in the field of medical oncology, genitourinary (GU) cancers, and drug development. As a key opinion leader in three different types of genitourinary cancers, Dr. Sternberg is known for her influential work in developing novel therapies and targeted agents for the treatment of prostate, renal and bladder cancers.
Dr. Sternberg helped develop the original M-VAC chemotherapy regimen, as well as the double-dose/high-dose/accelerated-dose M-VAC chemotherapy regimens in bladder and urothelial cancers. These treatments are the gold standard, saving many lives and decreasing suffering in patients with these diseases.
Additionally, Dr. Sternberg has served as principal investigator or been involved in numerous practice-changing studies for prostate cancer. These research efforts have led to the FDA approvals of abiraterone acetate and enzalutamide in advanced prostate cancer. Most recently, her publication in the New England Journal of Medicine (NEJM) demonstrated dramatic improvements in metastasis-free survival (MFS) in men with castration resistant prostate cancer (CRPC) without evidence of metastatic disease, but at high risk of developing metastases, a population for whom there were previously no approved therapeutics. This research led to the approval of enzalutamide in the M0 CRPC patient population.
Dr. Sternberg has been instrumental in the development of the drug Pazopanib, an antiangiogenic targeted therapy, for advanced clear cell renal cell carcinoma. Dr. Sternberg served as lead investigator in the large phase 3 international study that demonstrated the efficacy, safety and tolerability of this drug in patients with metastatic kidney cancer, culminating in the FDA approval. She has also participated in the development of other antiagiogenic agents such as sunitinib, cabozantinib, tivozanib and dovitinib to treat renal cell cancer.
At Weill Cornell Medicine and NewYork-Presbyterian Hospital, Dr. Sternberg will facilitate the continued growth and development of clinical and translational research programs in genitourinary (GU) malignancies, with a particular emphasis on expanding the breadth and depth of clinical and translational research. As Clinical Director of the Englander Institute for Precision Medicine (EIPM), Dr. Sternberg will develop strategies to incorporate genomic sequencing and precision medicine throughout the Weill Cornell Medicine and NewYork-Presbyterian healthcare network, including Lower Manhattan, Brooklyn and Queens. In addition to providing her clinical and research expertise in genitourinary oncology, Dr. Sternberg will work closely with Olivier Elemento, PhD, renowned computational biologist and Director of the EIPM, to develop novel strategies and apply precision oncology to optimize cancer prevention, detection and treatment across a variety of tumor types.
Dr. Sternberg previously served as Chief of the Department of Medical Oncology at the San Camillo-Forlanini Hospital in Rome, Italy, and adjunct Professor of Oncology at La Sapienza University in Rome. A graduate of the University of Pennsylvania undergraduate and medical schools, Dr. Sternberg completed her fellowship and previously was on staff at Memorial Sloan Kettering Cancer Center.
Dr. Sternberg has published approximately 400 articles in peer-reviewed publications, including more than 100 first-authored articles. She has co-edited six textbooks, guest edited six others, and has published over 80 book chapters. Dr. Sternberg has lectured extensively at universities and cancer symposia worldwide, having given approximately 750 invited talks at prestigious international venues.
Throughout her career, she has served on the editorial boards of Critical Reviews in Hematology and Oncology, Annals of Oncology, and the Journal of Clinical Oncology, and she currently serves on the editorial boards of Oncology, European Urology, the Harvard Medical School Annual Report on Prostate Diseases, Kidney Cancer, Nature Clinical Practice Urology, and European Urology Oncology. Dr. Sternberg also serves as Reviewer for the New England Journal of Medicine, the Journal of Clinical Oncology, the Lancet Oncology and others.
She currently serves as the Solid Tumor Editor for Critical Reviews in Hematology and Oncology, Section Editor for Urologic Oncology, Associate Editor for Bladder Cancer Clinical Trials Corner, Associate Editor and Genitourinary Oncology Editor for ESMO Open-Cancer Horizons, and Associate Editor for Frontiers in Oncology. Additionally, Dr. Sternberg previously served as Oncology Editor for the British Journal of Urology, Section Editor for Urologic Oncology, and Genitourinary Editor for the European Journal of Cancer.
Dr. Sternberg's leadership in the field is further exemplified by the numerous international committees on which she has served. She was elected to three consecutive terms as Board Member and Executive Board Member of the European Organization for Research and Treatment of Cancer (EORTC) and elected to the nominating committee of the American Society of Clinical Oncology (ASCO) board of directors, currently serving a 3-year term.
This document has been edited with the instant web content composer which can be found at htmleditor.tools - give it a try.
Honors and Awards
1973 Phi Beta Kappa, University of Pennsylvania
1976-1977 Research Fellowship, Section of Immunology, National Institute of Health, Bethesda, Maryland
1987 – 1988 European Community Grant: Standards, Biomeasures and Testing Programme:
1989 Fellow of the American College of Physicians
1994 Folke Edsmyr Memorial Award, Karolinska Institute, Stockholm, Sweden
1996 American Cancer Society Career Development Award
2003 Investigator I.S.S, with USA- Italian Proteonomic Grant
2003 Rome American International Citizen Award for Service in Medicine
2004 Investigator, AIRC Prostate Cancer Grant.
2004 Grande Ufficiale al Merito della Repubblica Italiana
2007 Premio Minerva Award for Achievements in Science
2011 Premio R.O.S.A. (Risultati Ottenuti Senza Aiuti) Canova Club, Roma
2013 European Society of Medical Oncology: ESMO Award
2017 Pieter De Mulder award at the European International Kidney Cancer Symposium (EIKCS)
Board Certifications
American Board of Internal Medicine
American Board of Internal Medicine (Medical Oncology)
National Board of Medical Examiners
Clinical Expertise
Prostate Cancer
Urologic Cancer
Bladder Cancer
Urothelial Cancer
Kidney Cancer
Immunotherapy
Testicular Cancer
Genomics
Education
University of Rome Faculty of Medicine and Surgery (Italy)

University of Pennsylvania

University of Pennsylvania
Appointments
Weill Cornell Medical College, Cornell University

NewYork-Presbyterian Hospital
External Relationships
Relationships and collaborations with for-profit and not-for profit organizations are of vital importance to our faculty because these exchanges of scientific information foster innovation. As experts in their fields, WCM physicians and scientists are sought after by many organizations to consult and educate. WCM and its faculty make this information available to the public, thus creating a transparent environment.
No External Relationships Reported