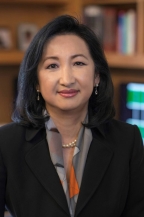 Mary E. Choi, M.D.
Provider of world-class care at NewYork-Presbyterian
Locations and Appointments
Insurances Accepted
Please contact the doctor's office to verify that your insurance is accepted.
Blue Access
EPO
HMO
Mediblue (Senior)
PPO
Freedom
Liberty
Medicare Advantage
Metro/Core/Charter
About Mary E. Choi, M.D.
Personal Statement
I have spent my career taking care of patients, educating young physicians and researching the cellular and molecular mechanisms of kidney injury. My clinical expertise is in diagnosis and treatment of glomerular disorders and chronic kidney disease.
I currently serve as the attending physician on the Nephrology Inpatient Consultation Service at NewYork-Presbyterian Hospital/ Weill Cornell Medical Center as well as conducting teaching rounds and the supervision of clinical fellows, residents/interns, and medical students.
Biographical Info
Dr. Mary E. Choi is a Professor of Medicine at Weill Cornell Medical College (WCMC) and an Attending Physician at NewYork-Presbyterian Hospital. Dr. Choi received her medical degree from the University of Kansas School of Medicine. She completed residencies at the University of California San Francisco and VAMC and Duke University Medical Center. She was a Clinical and Research Fellow in Nephrology at the Johns Hopkins School of Medicine.
Dr. Choi is a National Institute of Health (NIH) funded physician scientist whose expertise includes cellular and molecular mechanisms of kidney injury, inflammation and fibrosis, TGF beta signaling and autophagy. She serves on several committees in the WCMC Department of Medicine including the Medicine Ground Rounds Award Committee, Research Executive Committee and the Medicine Research Retreat Program Committee.
She is the Director of the Basic Science Research Core Curriculum in the Internal Medicine Residency Program. Dr. Choi is also a permanent member of the NIH Study Section, Molecular and Integrative Signal Transduction (MIST) and an Editorial Board Member of the Kidney Research & Clinical Practice in Physiological Reports.
Board Certifications
American Board of Internal Medicine
Education
University of Kansas School of Medicine
Appointments
Weill Cornell Medical College, Cornell University
External Relationships
Relationships and collaborations with for-profit and not-for profit organizations are of vital importance to our faculty because these exchanges of scientific information foster innovation. As experts in their fields, WCM physicians and scientists are sought after by many organizations to consult and educate. WCM and its faculty make this information available to the public, thus creating a transparent environment.
No External Relationships Reported