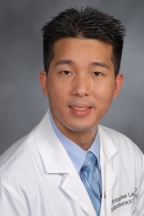 Christopher Lau, M.D.
Provider of world-class care at NewYork-Presbyterian
Medical Specialties
Cardiac Surgery
Cardiothoracic Surgery
Thoracic and Cardiothoracic Surgery
Surgery, Thoracic Cardiovascular
Heart Surgery
Video Visits Available
Locations and Appointments
Insurances Accepted
Please contact the doctor's office to verify that your insurance is accepted.
Blue Access
Blue Connection
EPO
HMO
Mediblue (Senior)
PPO
Freedom
Liberty
Medicare Advantage
Metro/Core/Charter
About Christopher Lau, M.D.
Personal Statement
"I take great pride in being a cardiac surgeon in the Department of Cardiothoracic Surgery at Weill Cornell Medicine and New York Presbyterian Hospital, as I am practicing with a group of the finest cardiac and thoracic surgeons in the country. I am committed to providing excellent comprehensive care to all of our patients and I emphasize a patient-centered approach, striving to provide the best care possible for each patient's individual needs. This is made possible by our group's distinguished ability to take care of the most complex situations at any time of the day or night and the fantastic staff, including the nurses, anesthesiologists, critical care physicians, surgeons, and technicians at all levels."
Biographical Info
Dr. Christopher Lau is an Associate Professor of Cardiothoracic Surgery at New York Presbyterian – Weill Cornell Medical Center and the Director of Endovascular Surgery for the Department of Cardiothoracic Surgery.
Dr. Lau completed his undergraduate studies at New York University where he obtained a degree in Psychology and Philosophy. He then earned his medical degree at Downstate Medical Center, where he remained to complete his General Surgery residency. During this time, he received multiple awards for his performance and the Thomas W. Pollock Award for professionalism, compassion and dedication. Subsequently, he completed his Cardiothoracic Surgery Fellowship at Weill Cornell Medical College, New York Presbyterian Hospital, and Memorial Sloan Kettering Cancer Center. He remained at Weill Cornell for an Advanced Cardiovascular/Aortic Aneurysm Surgery Fellowship and was recruited to stay on staff as an Attending Cardiothoracic Surgeon at New York Presbyterian – Weill Cornell Medical Center.
Dr. Lau takes a particular interest in surgery of the aorta and aortic aneurysms. He has published numerous articles and book chapters and he has presented his work at regional, national, and international conferences. He manages the aortic surgery center and performs a variety of open surgical procedures and minimally invasive endovascular repairs of the aorta and aortic aneurysms. He and his team are experienced in managing problems in any part of the aorta extending from the aortic root to the ascending aorta, aortic arch, descending thoracic aorta, thoracoabdominal aorta, and infrarenal abdominal aorta down to the aortic bifurcation. In the aortic root, he performs valve sparing aortic root reconstruction, which provides a durable result while preserving the patient's own valve. If the valve must be replaced, he utilizes the latest generation biologic or mechanical composite materials. For aortic arch aneurysms, well-established and time-tested techniques are used for effective cerebral protection to minimize the risk of cerebral injury. In the thoracic, thoracoabdominal,or abdominal aorta, he offers endovascular or open repair techniques, depending on the optimal approach for each individual patient's anatomic needs.
Dr. Lau has extensive experience in many other areas of cardiac surgery and cardiovascular surgery. These include coronary artery bypass grafting (CABG), multiple arterial bypass grafting, use of bilateral internal mammary artery (BIMA) or radial artery conduits, aortic stenosis, aortic insufficiency, bicuspid aortic valves, aortic valve repair/replacement, mitral stenosis, mitral insufficiency, mitral valve repair, aortic aneurysm repair, aortic root replacement (Bentall procedure), valve-sparing aortic root replacement (David procedure), descending thoracic and thoracoabdominal aneurysm surgery, thoracic endovascular aneurysm repair (TEVAR), endovascular abdominal aortic aneurysm repair (EVAR), aortic dissections, cardiac tumors, ventricular assist devices, ECMO, minimally invasive cardiac surgery, surgical treatment of atrial fibrillation (Maze), and cardiac complications of connective tissue disorders such as Marfan Syndrome.
Honors and Awards
New York University Founder's Day Award, 2003
General Surgery Resident of the Year, 2010
General Surgery Resident of the Year, 2011
Thomas W. Pollock Award, 2012
Board Certifications
American Board of Surgery
American Board of Thoracic Surgery (Thoracic and Cardiac Surgery)
Clinical Expertise
Aortic Aneurysm Surgery
Thoracic Aortic Surgery
Thoracoabdominal Aortic Aneurysm Surgery
Valve Sparing Aortic Root Replacement
Endovascular Stent Graft Repair of Descending Thoracic Aorta
Aortic Stent Graft
Aortic and Mitral Valve Surgery
Mitral Valve Repair (Complex)
Aortic Valve Repair
Valve Replacement, Aortic and Mitral
Coronary Artery Bypass Grafting
Aortic Root Replacement
Aortic Arch Surgery
Aortic Dissection Repair
Bloodless Cardiothoracic Surgery
Heart Valve Repair
Heart Valve Replacement
Minimally Invasive Adult Cardiothoracic Surgery
Cardiac Bypass Surgery
Endovascular Repair For Abdominal Aortic Aneurysm
Open Heart Surgery
Aneurysm of Heart
Aneurysm Stent Grafting
Cardiac Surgery
CABG (Coronary Artery Bypass Graft)
Structural Heart Disease
Cardiac Valve Surgery
Aortic Valve Surgery
Mitral Valve Surgery
Cardiac Tumor
Pericardial Disease
ECMO Procedure
Languages
English
Chinese (Cantonese)
Education
State University of New York Health Science Center at Brooklyn
Appointments
Associate Attending Cardiothoracic Surgeon

NewYork-Presbyterian Hospital

Associate Professor of Cardiothoracic Surgery

Weill Cornell Medical College, Cornell University
External Relationships
Relationships and collaborations with for-profit and not-for profit organizations are of vital importance to our faculty because these exchanges of scientific information foster innovation. As experts in their fields, WCM physicians and scientists are sought after by many organizations to consult and educate. WCM and its faculty make this information available to the public, thus creating a transparent environment.
No External Relationships Reported