Chaya Gopin, Ph.D, ABPP-CN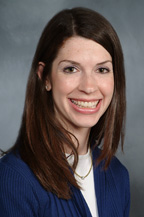 Chaya B. Gopin, Ph.D., ABPP-CN is a board certified clinical neuropsychologist and a board certified subspecialist in pediatric neuropsychology. She conducts comprehensive neuropsychological evaluations designed to understand her patients' unique pattern of strengths and weaknesses. Based on the results of those assessments, in conjunction with an understanding of general psychology, neurodevelopment, neuroanatomy, and cognitive neuroscience, she provides treatment recommendations and intervention strategies that optimize her patients' potential.
Dr. Gopin obtained her doctoral degree in Clinical Psychology: Neuropsychology from the Graduate School and University Center of the City University of New York. She completed her clinical internship and a two-year postdoctoral fellowship at North Shore Long Island Jewish Health System within the Departments of Neurology and Psychiatry. Dr. Gopin, an Assistant Professor of Psychology in the Department of Psychiatry, is currently a clinical neuropsychologist at NYP/Weill-Cornell Medical College. Additionally, she is an active member of several national neuropsychology organizations, as well as a board member of two local neuropsychology groups. Dr. Gopin has extensive research experience; she has published in peer reviewed journals and has presented on a variety of topics related to the field of neuropsychology at conferences around the country. Her clinical work and research interests include clinical neuropsychology, Attention-Deficit/Hyperactivity Disorder, affective disorders, movement disorders, epilepsy, and other conditions affecting cerebral functioning.
Office Location:
315 E. 62nd Street, 5th Floor646-962-2820
Insurances
Insurance Plans Accepted
The following represents most of the managed care plans accepted by this physician. If your insurance carrier does not appear here please contact the physician's office as they may have individual contracts not included on this site.

* indicates this physician is no longer accepting new patients with this insurance plan.
Aetna - Weill Cornell

[POS]

Empire Blue Cross/Blue Shield

[NYPH Employees Only]

Medicare
Rockefeller University - CoreSource
Publications
Gopin, C.B., Berwid, O., Marks, D.J., Mlodnicka, A., & Halperin, J.M. (2012) ADHD preschoolers with and without ODD: Do they act differently depending upon degree of task engagement/ reward? Journal of Attention Disorders. Prepublished February, 8, 2012, DOI: 10.1177/1087054711432140

Gopin, C.B. & Healey, D.M. (2011). The neural and neurocognitive determinants of ADHD. Infant, Child, and Adolescent Psychotherapy, 10: 13-31.
Gopin, C.B., Healey, D.M., Grossman, B.R., Campbell, S.B., & Halperin, J.M. (2011). Task palatability, but not structure, differentially influences mother-child interactions in ADHD children with and without ODD. Journal of Infant and Child Development. Prepublished November 15, 2011, DOI: 10/1002/icd.759
Healey, D., Gopin, C.B., Grossman, B., Campbell, S.B., & Halperin, J.M. (2010). The Role of Parent-Child Interactions in the Level of Impairment Experienced by Preschoolers with ADHD. Journal of Child Psychology and Psychiatry, 51, 1058-1066.

Gopin, C.B., Burdick, K., DeRosse, P., Goldberg, T.E, & Malhotra, A.K. (2011). Emotional modulation of response inhibition in stable patient with bipolar I disorder: A comparison study with healthy and schizophrenia subjects. Bipolar Disorders, 13, 164-172.

Burdick, K.E., Gopin, C.B., & Malhotra, A.K. (2011). Pharmacogenetic approaches to cognitive enhancement in schizophrenia. Harvard Review of Psychiatry, 19: 102-108.

Brand, J., Goldberg, T.E., Gunawardane, N., Gopin, C.B., Powers, R., Malhotra, A.K., & E. Burdick, K.E. (In Press). Emotional Modulation of Response Inhibition in Unaffected Siblings of Patients with Bipolar I Disorder. Journal of Attention Disorders.

Gopin, C.B., Healey, D., Policaro-Castelli, K., Marks, D., & Halperin, J.M. (2010). Psychometric Properties and Clinical Utility of the Behavioral Rating Inventory for Children (BRIC). Journal of Attention Disorders, 13, 479-488.

Burdick, K.E., Goldberg, T.E., Cornblatt, B.A., Keefe, R.S., Gopin, C.B., DeRosse, P., Braga, R.J., & Malhotra, A.K. (2011). The MATRICS consensus cognitive battery in patients with Bipolar I disorder. Neuropsychopharmacology, 1-6.

Mattis, P.J., Gopin, C.B., & Mirra, K. (In Press). Neuropsychological considerations for Parkinson's disease patients being considered for surgical intervention with deep brain stimulation. In L. Ravdin & H.L. Katzen (Eds.), Clinical Handbook on the Neuropsychology of Aging and Dementia. Springer Science + Business Media.
Burdick, K.E., Braga, R.J., Gopin, C.B., & Malhotra, A.K. (2014). Dopaminergic influences on emotional decision-making in euthymic bipolar patients. The America Journal of Psychiatry, 39, 274-282.
Nitzburg, G.C., DeRosse, P., Burdick, K.E., Peters, B.D., Gopin, C.B., & Malhotra, A.K. (2014). Co-norming the MATRICS cognitive consensus battery (MCCB) in children, adolescents, and young adults. Schizophrenia Research, 152, 223-228.
Specialties
Neuropsychology
Psychology
Clinical Expertise
Attention Deficit Hyperactivity Disorder
Learning Disabilities
Psychiatric Disorder
Dementia
Neurological Disorder
Contact Info
Weill Cornell Psychiatry Specialty Center
315 East 62nd Street
5th Flr
Appointments
Assistant Attending Psychologist
NewYork-Presbyterian Hospital
Assistant Professor of Psychology in Clinical Psychiatry
Weill Cornell Medical College, Cornell University
Education
B.A., Yeshiva University, 2004
M.A., City University of New York, 2007
Ph.D., City University of New York, 2010