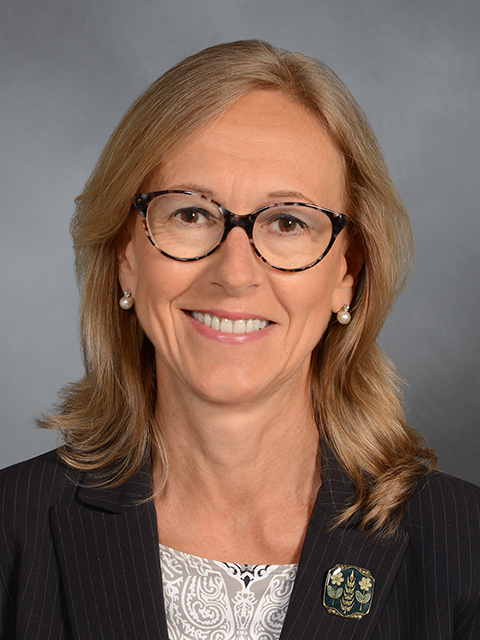 Anna Miari, MD is Associate Professor of Clinical Psychiatry at the Weill Cornell Medical College, where she maintains a practice in General Adult Psychiatry. Her practice is open for consultations, pharmacological treatment, psychotherapy and psychoanalysis.
In addition Dr. Miari is Associate Attending for the Weill Cornell Students' Mental Health Service.
Dr. Miari formerly trained in neurology and completed a post-doctoral degree in neuro-psychopharmacology at Mario Negri Institute in Milan. Her published research includes studies on the pharmacology of serotonin and benzodiazepines, and on the role of glutamate receptors in neurodegenerative diseases.
After completing training in psychiatry at the Weill Cornell Medical College, Dr. Miari trained in Adult Psychoanalysis at The New York Psychoanalytic Institute, where she continues to be an active faculty member and teacher.
Dr. Miari teaches general psychiatry to Weill Cornell Medical students and supervises psychiatry residents in training. She is a contributing member of the Women's Mental Health Program, specializing in Reproductive Psychiatry.
Dr. Miari is currently a member of the Departmentof Psychiatry Faculty Council.
She practices in English and Italian.
Office hours by appointment only.
Office address:
525 East 68th St, F1323
New York, NY 10065
To schedule appointments:
Call - (212) 746-9947
Insurances
Insurance Plans Accepted
The following represents most of the managed care plans accepted by this physician. If your insurance carrier does not appear here please contact the physician's office as they may have individual contracts not included on this site.

* indicates this physician is no longer accepting new patients with this insurance plan.
Aetna - Weill Cornell

[POS]

Medicare
Rockefeller University - CoreSource
Publications
A. Mazzucchi, E. Sinforiani, P. Zinelli, C. Agostinis, F. Granella, A. Miari, G.C. Manzoni, and M. Parma. "Interhemispheric Attentional Functioning in Classic Migraine Patients during Paroxysmal and Interparoxysmal Phases." Headache. vol. 28 (1988): 488-493.

S.G. Cella, T. Mennini, A. Miari, S. Cavanus, V. Arce, E.E. Muller. "Down Regulation of Alpha 2-adrenoceptors involved in Growth Hormone Control in the Hypothalamus of Infant Rats Receiving Short Term Clonidine Administration." Developmental Brain Research. vol. 53 (1990): 151-156.

M. Gobbi, S. Cavanus, A. Miari, T. Mennini. "Effect of Acute and Chronic Buspirone Administration on Benzodiazepine and Serotonin Receptor Subtypes in the Rat Brain: an Autoradiographic Study." Neuropharmacology. vol. 30 (1991): 313-321.

T. Mennini, A. Miari. "Modulation of 3H-Glutamate Receptor Binding by Serotonin in the Rat Hippocampus: An Autoradiographic Study." Life Science. vol. 49 (1991): 283-292.

A. Miari, A. Reggiani, E. Ratti, T. Mennini. "Temporal Profile of Glutamate Receptor Subtypes and Mitochondrial Benzodiazepine Receptors in a Model of Transient Ischemia in the Gerbil." Neuroscience Research Communications. vol. 11 (1992): 27-36.

R. Spreafico, T. Mennini, L. Danober, A. Cagnotto, M.C. Regondi, A. Miari, A. De Blasi, M. Vergnes, G. Avanzini. "GABA A Receptor Impairment in the Genetic Absence Epilepsy Rats from Strasbourg (GAERS): An Immunocytochemical and Receptor Binding Autoradiographic Study." Epilepsy Research. vol. 15 (1993): 229-238.

C. Bendotti, S. Baldessarini M. Pende, G. Tarizzo, A. Miari, M.L. Presti, T. Mennini, and R. Samanin. "Does GFAP mRNA and Mitochondrial Benzodiazepine Receptor Binding detect Serotoninergice Neuronal Degeneration in Rats." Development Brain Research. vol. 34 (1994): 389-394.

T. Mennini, A. Miari, M.L. Presti, M. Rizzi, R. Samanin, A. Vezzani. "Adaptive Changes in the NMDA Receptor Complex in Rat Hippocampus after Chronic Treatment with CGP 39551." European Journal of Pharmacology. vol. 271 (1994): 93-101.
Honors and Awards
2/96 VETERANS' AFFAIRS grant for a research fellowship on post-traumatic stress disorder
5/91 European Economic Community-Regione Abruzzo two-year scholarship for a biomedical research project abroad.
1986: "Dino Alinovi" prize for best graduating medical student from Parma University Medical School.
Specialties
General Psychiatry
Adult Psychiatry
Women's Psychiatry
Psychotherapy
Psychopharmacology
Clinical Expertise
Anxiety Disorder
Personality Disorder
Bipolar Disorder
Borderline Personality Disorder
Mood and Anxiety Disorders
Mood Disorder
Psychoanalysis
Obsessive-Compulsive Disorder
Post Traumatic Stress Disorder (PTSD)
Post-Traumatic Stress Disorder
Psychodynamic Psychotherapy
Women's Mental Health
Appointments
Associate Professor of Clinical Psychiatry
Weill Cornell Medical College
Associate Attending Psychiatrist
NewYork-Presbyterian Hospital
Education
M.D., University of Parma, Faculty of Medicine and Surgery (Italy), 1986