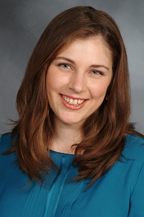 Alison D. Hermann, M.D.
Medical Specialties
Adult Psychiatry
Psychotherapy
Locations and Appointments
Insurances Accepted
Please contact the doctor's office to verify that your insurance is accepted.
About Alison D. Hermann, M.D.
Personal Statement
Dr. Alison Hermann, MD is an Assistant Professor in Psychiatry at Weill Cornell Medicine and an Assistant Attending Psychiatrist at New York Presbyterian Hospital. She currently oversees the Payne Whitney Women's Program and maintains a clinical practice in General Adult Psychiatry and Reproductive Psychiatry. She is open for consultations, psychotherapy, and medication management.
Biographical Info
Dr. Hermann began her training in the basic neurosciences, earning a bachelor's degree in Psychobiology at The Ohio State University and subsequently working as a full-time research assistant in translational neurotrauma at the Cincinnati Children's Hospital Medical Center and University of Cincinnati Department of Neurosurgery. She went on to receive her medical degree at the State University of New York Health Sciences Center at Brooklyn, where she graduated with Distinction in Neuroscience and was recognized with the American Psychiatric Association Award for Outstanding Achievement in Psychiatry.
Dr. Hermann completed her internship and residency training at Columbia University Medical Center and New York State Psychiatric Institute. There she pursued additional intensive psychotherapy training in multiple modalities including interpersonal psychotherapy, dialectical behavioral therapy, brief dynamic psychotherapy, and group psychotherapy. Dr. Hermann served as Chief Resident in her final year of residency. Following residency, Dr. Hermann completed fellowship training in Reproductive Psychiatry at Columbia University Medical Center where she developed expertise in treating psychiatric conditions during periods of reproductive transition in a variety of clinical settings.
Currently, Dr. Hermann is involved in national efforts to increase reproductive psychiatry education and training for mental health practitioners, primary medical practitioners, obstetrician-gynecologists, and the general public, as well as local efforts to improve screening and access to psychiatric care for pregnant and postpartum women of all backgrounds.
Dr. Hermann believes in an integrative, collaborative approach to treating psychiatric illness and prefers to view psychopathology through a developmental perspective. She appreciates the integral connections between mind and body as well as between individuals and the social network within which they live. For these reasons, her evaluations include a thorough assessment of biological, psychological, and social contributors to active symptomatology and, when appropriate, include collaboration with other healthcare providers. When making treatment recommendations, she takes a great deal of care to consider the personal preferences of her clients and is sensitive to cultural factors that may influence these preferences. She believes in a comprehensive approach to psychiatric treatment, including complimentary and alternative medicine approaches as well as more traditional psychotherapy, medication, and behavioral wellness strategies.
For an appointment with Dr. Hermann, please call (646) 962-2820.
Honors and Awards
2016- Award for Excellence in Teaching by the New York-Presbyterian Hospital Weill Cornell Medical Center Psychiatry Residents
2008- APA Award for Outstanding Achievement in Psychiatry, State University of New York Health Science Center, Brooklyn
Board Certifications
American Board of Psychiatry & Neurology
American Board of Psychiatry & Neurology (Psychiatry)
Clinical Expertise
Mood Disorder
Anxiety and Depression
Problems of Adjustment to Life-Cycle Transitions
Psychopharmacology
Grief
Bereavement
Supportive Psychotherapy
Psychodynamic Psychotherapy
Cognitive Behavioral Psychotherapy
Interpersonal Psychotherapy
Postpartum Depression
Premenstrual Dysphoric Disorder
Reproductive Psychiatry
Education
State University of New York Health Science Center at Brooklyn
Appointments
Associate Attending Psychiatrist

NewYork-Presbyterian Hospital

Associate Professor of Clinical Psychiatry

Weill Cornell Medical College, Cornell University
External Relationships
Relationships and collaborations with for-profit and not-for profit organizations are of vital importance to our faculty because these exchanges of scientific information foster innovation. As experts in their fields, WCM physicians and scientists are sought after by many organizations to consult and educate. WCM and its faculty make this information available to the public, thus creating a transparent environment.